YVR imagines the future
The Vancouver Airport Authority works with a futurist to build excitement for a new master plan.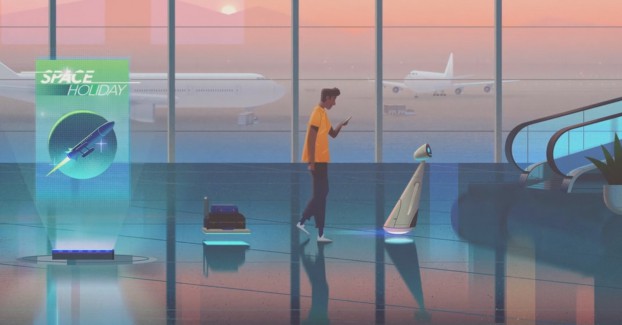 Public consultations are an important component of civic projects, but often the majority of the enthusiasm they generate comes from opponents.
The Vancouver Airport Authority (YVR) was facing this challenge when it launched a process in 2015 to update its master plan for the next 20 years.
"It's really difficult to get people out to these events," says Ryan Semeniuk, CD at Edelman, the agency hired to generate interest in the process. "Usually the people you draw are the naysayers."
But what if there were a way to generate enthusiasm from those who traditionally stay on the sidelines? And what if it relied on conjuring up a "what if" scenario that captured Vancouverites' imaginations?
Enter the futurists. YVR sought help from creative agencies and, after a competitive bid, Edelman was selected with a pitch to work with futurist Nikolas Badminton to create stories about how travellers would use the airport in 2037.
The team created five stories pulled from the observations compiled during the consultation's first round. Each story was aimed at a different type of stakeholder and could be pitched to a different type of media.
"We didn't want to go into science fiction," Semeniuk says. "We wanted to stick with design fiction, which is really about taking stuff that is current and exists today, and just extrapolating, over 20 years, and imagining what happens."
The story about a first-time visitor shows him using his AR glasses to access the YVR Storyteller, a holographic customer service representative that walks him through the airport. A travelling family admires the multi-story, tubular vertical farm, fuelled by rainwater and solar panels.
The second round of the consultation wraps up at the end of October. The hyperlocal campaign has so far resulted in 13.5 million earned media impressions across print, online, radio and TV, and more than 440,000 views of the video across YVR's Facebook, YouTube and Vimeo. The event registration was full and YVR had to add an extra consultation to accommodate everyone.
Robyn McVicker, YVR's director of marketing and communications, said in a statement that there had been a "marked surge in direct engagement and awareness" during the consultation's second phase, "as well as a tangible feeling of excitement about our airport of the future, which I believe we can attribute directly to this creative campaign."
Edelman will continue to work on the consultation's third phase, which continues next year.
"I think we pivoted that conversation to be more around the 'what if,'" Semeniuk says. "People want to be involved in that."