Walmart taps into personalization
The retailer teams up with a 3D printing company on a new holiday program.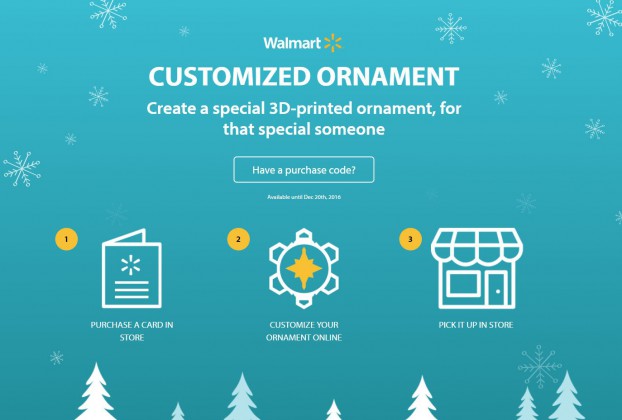 Personalization is all the rage these days. Coke's doing it, as is Nutella, and now Walmart is getting personal, too.
The retailer is "very curious how customers would respond to personalized goods," says its CIO and EVP of ecommerce  Rick Neuman, which is why shoppers at a new store in Ancaster, Ontario are being offered the ability to create Christmas tree ornaments from the comfort of their homes, for pick-up in-store after about a week.
Walmart worked with Toronto-based tech company Symbility Intersect and 3DMakeable to offer 3D-printed holiday mementos that customers can design online. They have to purchase a card inside the Walmart store first before they can use the unique code (inside the card) to use the ornament customising tool online.
Neuman said the program is a great way to partner with store teams and have them try something new and innovative. "Simultaneously, we are learning how we can partner with startups and quickly innovate together to change how we do business, because we can't do everything ourselves."
Neuman explained that the retailer's customers are evolving along with its business, and "today we cater to the technology savvy mum and dad, constantly on the lookout for cool new products and services."
The program is only being offered to customers at the Ancaster store as a prototype project, in addition to other testing Walmart is doing in stores, from assortment to layout, says Fareena Contractor, technology strategy at Walmart Canada.
"Retail is very dynamic and Walmart is constantly trying to reinvent itself," she adds. "One of our major strategic projects is the Prototype Project (which includes the 3D-printed ornaments). We have been testing, iterating and learning in order to better position ourselves for our customers today and in the future."