Roots hits the skies with Air Canada
Inside the retailer's holiday travel strategy.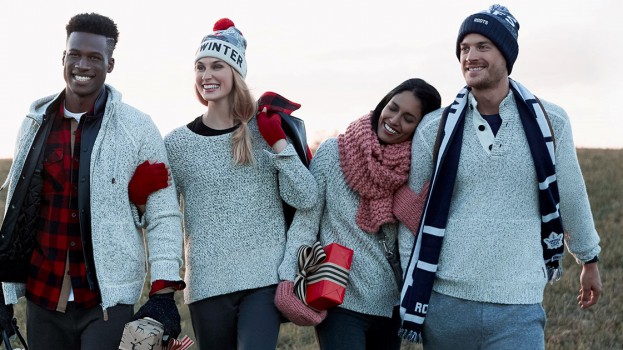 Roots has partnered with Air Canada to offer passengers easy access to its products during the holidays.
Beginning last week and until the end of December, passengers on any Air Canada flight within North America enabled with the airline's GoGo WiFi service will be able to access Roots' website and e-commerce platform free of charge (the WiFi service for other sites is a paid service).
Customers who make purchases while flying can choose to have their orders shipped anywhere in North America (which is free for orders over $50) or use a click-and-collect option to pick up their order at any Roots location.
The shipping and collection options are aimed at providing convenience, as they don't require passengers to carry extra baggage through the airport or go through extra security checks. The click-and-collect option also makes in-flight purchases available within four hours of purchase, whereas "terrestrial" click-and-collect purchases are available within 24 hours.
While Roots has done some promotions and contests around travel in the past, this is the first time the company has made its e-commerce platform available to passengers in this way. James Connell, VP of marketing and e-commerce at Roots, says there is a significant degree of overlap between the Air Canada passenger and the typical Roots customer when it comes to the kinds of things they might be interested in and the mindset they might have.
"We know that travel is the number one interest for our consumers," he says. "We also know that Canadians buy Roots products when they plan to travel outside of Canada, to sort of represent their national pride, and that international travellers make Roots a destination as a place to find souvenirs and commemorate their trip. So the opportunity to put all those pieces together was perfect for the holiday environment, when a lot of people are flying around the continent."
To promote the partnership, this year's Roots Holiday Gift Guide will be available in Air Canada Maple Leaf Lounges in Toronto, Vancouver and Montreal, and ads from retailer will be placed in the December issue of the enRoute in-flight magazine and featured on the GoGo platform.
The partnership also allows Roots to offer added value to passengers. On the one hand, being available for free through the GoGo platform removes a barrier of entry passengers would otherwise have during a period when they are looking for entertainment, which can be fulfilled by shopping on the site or accessing Roots' online content, which includes videos and other content about Ontario's Prince Edward County, a destination it is already promoting this season in its Gift Guide. On the other hand, the idea was also to make the shopping experience as convenient as possible during a time when consumers are looking to manage and save time as best they can.
"We're always looking for methods to offer consumers new innovative ways to shop and connect with us in ways that add value," Connell says. "We're also prioritizing orders made in-flight to make them quick and effective and really emphasize the convenience. If we offer a fantastic experience in the air, we hope they will want to continue that experience when they're back on the ground."
Connell adds that the holiday partnership is also serving as something of testing ground for pursuing similar offers at other times of the year, namely during next year's Canada 150 celebrations.
"We're an iconic Canadian brand, and so is Air Canada, and we're both associated with Canada worldwide. If we can figure out how to do this for a domestic audience this year, we might also find ways to expand it and take advantage of celebrations next year," he says.
Image via Roots Canada's Facebook page