What's on trend for Loblaws in 2017?
The retailer will bring its five new food-related themes to life under the "Taste the New Next" tagline.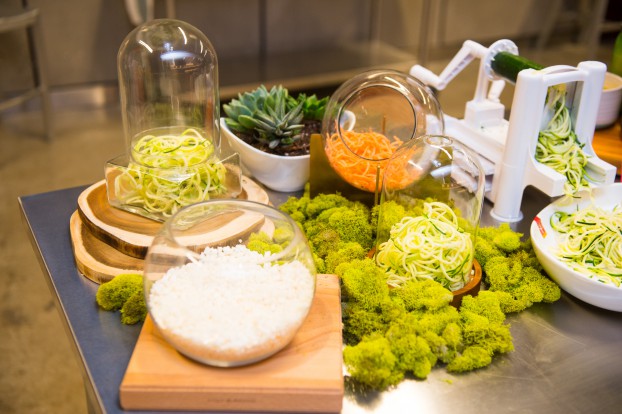 Pictured: Displays related to the Loblaw Food Trends 2017 at the retailer's Maple Leaf Gardens location.
Loblaw Companies will be rolling out several in-store initiatives in the next year, centred around themes that have emerged from its new food trends initiative.
In celebrating the five-year anniversary of its Maple Leaf Gardens store in Toronto, the retail giant created the Loblaw Food Council, a group of chefs, influencers and a futurist, to help establish five food trends for 2017.
The first is "the new conscious consumer," an evolution of Canadian consumers' interest in where their food comes from and how it's grown. This could mean increased interest in alternative proteins, including plant-based products and insects, along with more interest in "root-to-stem" or "snout-to-tail" cooking to help reduce food waste.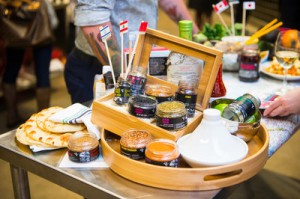 The next is "the new mindful foodie," or an emphasis on food's role in improving physical and mental health. This could spell boosted popularity for additive-free and raw products, such as seaweed.
"The new home chef," also had a place on the list, describing what Loblaw called "a weekend food warrior," interested in slow cooking, preserving and canning. Meal kits and delivery services will also continue to prove popular, adding personalization – as consumers seek out new ingredients and want to be adventurous – but without the prep. The retailer doesn't currently have a specific meal kit delivery service, but does offer a click-and-collect program and meal options in-store.
Unsurprisingly, "the new connected shopper" also had a place among the trends, referring to Canadians' increasing demand for personalization in their shopping experience, from digital hubs with content related to meals and recipes to pre-ordering and same-day delivery options.
Last is "the new Canadian cuisine." International flavours and products will continue to be important for shoppers, with flavours such as za'atar (a Middle Eastern spice blend) and Japanese spice mixture togarashi making their way onto home shelves. Turmeric, for example, is already proving trendy in restaurants meals and on mixologist menus.
Some of the trends have already come to life in the Maple Leaf Gardens store but they will also continue to be marketed at Loblaws locations across Canada, under the "Taste the New Next" tagline, says Wes Brown, VP, brand marketing, retail.
The retailer will have a 360-degree go-to-market plan including in-store, online and offline, with "rich media and content" around the trends, Brown says. In-store programs will include both merchandising initiatives and experiential activations, such as sampling.
The year will kick off with a focus on "the mindful foodie," with "the conscious consumer" being incorporated into programs around Earth Day in the spring and "the new Canadian cuisine" coming to life close to Canada's 150th celebrations in the summer. "The new home chef" will be part of Loblaw's marketing initiatives in the fall, with events like Thanksgiving at the forefront. Speaking to the desires of "the new connected shopper," meanwhile, will be a year-round initiative for the retailer, Brown says.
The programs will incorporate Loblaw-owned President's Choice products, national brand partners and unbranded products (such as produce and deli meats), he says.
"As much as we're announcing the food trends, we want to have a dialogue all year with Canadians around these trends," he says. "If and when people are asking for the new kale, we hope we're going to be there with an answer."
Loblaw relies on intel from its 12 millions customers but wanted to formalize its attempts to be connected to what shoppers want with the launch of the Food Council and trend report, Brown says. While some trends are already in the zeitgeist among foodies (think cold pressed oils or seaweed), the idea is to bring those things more to the mainstream.
"If you come in with a list, our hope is that we might challenge you."