Nissan brings new signage to the dealership
A new partnership aims to improve the customer experience and better leverage local insights.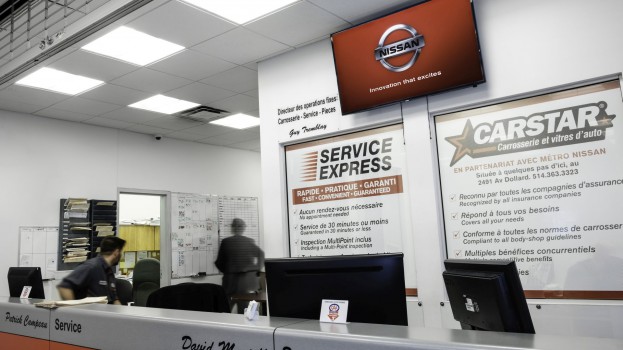 Nissan Canada has partnered with iGotcha Media on a dealership signage network that it hopes will not only improve its dealership experience across the country, but allow it to better capitalize on local insights.
The partnership will see iGotcha provide a turnkey signage network and content management system for Nissan's dealerships in Canada. The signage can display standard content like news and weather reports, but it can also include content like national advertising, educational material on when a vehicle should be serviced and messaging that's more relevant on a regional level or even dealership to dealership (like local promotions or unique service offerings). That flexibility also allows it display personalized messaging to individual customers, like when their serviced vehicle is ready for pick-up.
The signage already been installed at nearly half of Nissan's dealerships across Canada, with the number expected to rise through the year.
While the new signage network provides another touchpoint where Nissan can reinforce its national brand positioning with customers, Carey Lamoureux, senior manager of sales and marketing in Nissan Canada's Aftersales division, says the flexibility and customization opportunities make it a particularly effective way to tailor the dealership experience to local insights.
"A customer from the west is looking for different things from a customer in the middle of the country or in Atlantic Canada," she says. "So we're trying to make sure the information we are providing to them is geared to the customer. Not all Nissan customers are the same. They are individuals and using this we can speak to them and to what they might value."
Lamoureux says that like many automotive brands, Nissan is continually working to improve the experience for customers in the dealership, from remodeling its locations to providing free WiFi and tablets in customer lounges. While the screens add something to the customer experience whether they are looking to purchase a new car or servicing their existing one, Lamoureux says the iGotcha signage will be particularly helpful in improving the experience on the service side.
"If you're there to buy, you're looking at the vehicles and there's something to capture to you if you're not already being engaged by a salesperson," she says. "On the service side, after you have your initial interaction with a service advisor, there's a point where you are free and can either walk the sales floor or enjoy the lounges while you wait. We try to make the sales and service as warm and friendly as possible. This just adds to that experience and the engagement in the lounges."