Behind Red Urban's burger collaboration
Creative director Christina Yu on how the agency worked with Omnicom's dedicated McDonald's unit on its first campaign.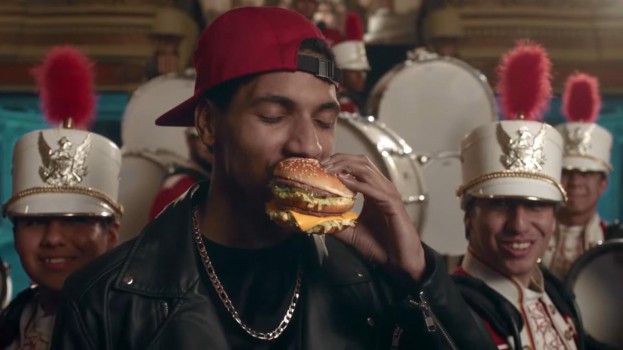 Late last August, Omnicom won a pitch for McDonald's U.S. business, with the holding company announcing it would create We Are Unlimited, a new dedicated agency unit to service the business.
We Are Unlimited's leadership was created from a mix of senior staff at Omnicom agencies like DDB and BBDO, as well as those from other agencies. John Hansa, who led the McDonald's account at its previous U.S. AOR Leo Burnett, was hired by We Are Unlimited to be the full-time ECD and creative lead.
But the work that won the pitch – and subsequently aired as McDonald's U.S. Super Bowl commercial this year – was crafted by a team led by Christina Yu, creative director at fellow Omnicom agency Red Urban Toronto. In fact, a number of Red Urban staff rounded out the creative team for the spot, including creative Jennifer Rossini, art directors Patrick Shing, Eric Carriere and Meagan Patry, and copywriters Phil Hahn and Angeline Parsons.
"The core creative approach remained very much intact," Yu says about differences between the work that was pitched and what eventually aired. "It was exciting to shepherd the idea through all the different TV, digital and social executions leveraging the context of the media environment to tailor our messaging."
The context Yu refers to is around major cultural events, and not just the Super Bowl. A new spot released earlier this week following the Grammy's looks to tap in to awards show season.
The broader campaign will use Google's new Vogon ad units, which target six-second pre-roll videos on YouTube based on a user's search. Dedicated social content will be created from a mix of work that has already been shot and new content around cultural moments, as they happen (teams from the major social networks are "embedded" within We Are Unlimited, presumably to help with that tailor-made social content).
"There's a cultural trend towards modularity and customization," Yu says. That's something that has definitely been seen in the Canadian market, and "There's A Big Mac For That" is focused on some new U.S.-exclusive Big Mac varieties that help satiate that need for variety. The creative approach allows the ads to celebrate the QSR's iconic burger while also by fitting it into everyday moments both big and small, something the media plan helps support, she says. "Contextual targeting of the message heightened the relevance for individual groups and the upbeat nature of the music and the imagery definitely had the feel-good moment we were all looking for."
Ad agencies that are created to dedicate the majority of their time to a single client are not anything new. TBWA\Media Arts Lab, for example, was created as a spin-off from the agency's Los Angeles office in 2006 to serve Apple. The business ecosystem in South Korea has also resulted in a number of companies based there launching or backing ad agencies that have received varying portions of their creative work, depending on the market (like Innocean for Hyundai and Cheil for Samsung).
It's also not unheard of for holding companies to create these dedicated units by pulling from multiple sources. WPP created Team Detroit and Blue Hive (which rebranded last year to become GTB) to handle its Ford business, pulling talent from agencies Y&R, Wunderman and Mindshare in Canada (talent from other WPP shops like JWT and Ogilvy were involved with the agency in other markets).
The model of We Are Unlimited is one that encourages sharing talent and resources, so it's possible Yu and members of her Red Urban team could be tapped in the future. Omnicom pulled talent from a number of its agencies on the "There's a Big Mac For That" campaign, including Alma Ad, OMD and Resolution Media, as well as agencies outside the holding company that had existing relationships with McDonald's including The Marketing Store, Burrell, IW Group, The Narrative Group, Golin and Boden Agency. Omnicom has said roughly 60% of its talent will come from agencies it owns, which also include DDB, BBDO, Sparks & Honey and Critical Mass.
"It's called the Flex Model, which allows for the best of the best to come together," Yu says. "If the timing works and we have the resources we will definitely be working with We Are Unlimited again, especially after gaining so much industry and client knowledge throughout this intense process."