Consolidation of specialties a mixed blessing
Mergers and consolidations. If you're looking to compile a list of the major business trends of the past five years, that one would definitely have to rank somewhere near the top. Whether the industry in question is telecommunications, transportation or entertainment,...
Mergers and consolidations. If you're looking to compile a list of the major business trends of the past five years, that one would definitely have to rank somewhere near the top.
Whether the industry in question is telecommunications, transportation or entertainment, the big seem to keep on getting bigger. And no one – regulators included – seems to know just how big is too big.
In the realm of specialty television, certainly, this whole issue has sparked considerable discussion and debate.
If CTV succeeds in its attempt to acquire NetStar Communications – the deal still awaits approval from the Canadian Radio-television and Telecommunications Commission – the broadcaster will add The Sports Network (TSN), Discovery Channel and Reseau des Sports to its stable of specialty channels, which already includes CTV Sportsnet, CTV Newsnet and Outdoor Life Network.
This comes on the heels of last year's merger agreement between Alliance Communications Corporation and Atlantis Communications, which brought together four specialty services – Life Network, HGTV Canada, Showcase Television and History Television – under the broadcasting division of a single corporate owner: Alliance Atlantis Communications.
This is by no means the last word in consolidation of ownership, either. Indeed, industry watchers foresee many more such deals in specialty TV during the years to come.
'No one specialty network can probably exist on its own these days,' says Bruce Baumann, vice-president, media director with Toronto-based Ammirati Puris Lintas. 'The only way to stay current is to have multiple entities under one corporate banner.'
Ultimately, it's about 'optimum utilization,' Baumann says. When specialty services share equipment, infrastructure and behind-the-scenes personnel, the cost efficiencies for the broadcaster are considerable.
There are, however, concerns about what increased ownership consolidation means for advertisers and their agencies.
On the one hand, Baumann says, it works to the advantage of media buyers by reducing the number of individuals they need to deal with when executing plans in specialty TV.
If, on the other hand, broadcasters grow too large and powerful through consolidation, buyers could find themselves negotiating from a position of relative weakness. 'We've had situations in the past where some broadcasters have gotten a little big for their britches,' Baumann says.
Still, this may not be quite so grave a risk as it appears to be. Specialty programming options are now more abundant in Canada than ever. If an advertiser doesn't feel like paying the rates that, for example, the Alliance Atlantis channels are charging…well, there are plenty of other places to shop. Nothing is a must-buy anymore.
'We are reaching a time where there's an abundance of signals out there, and therefore an abundance of choice for the advertiser,' Baumann says. 'This makes it difficult for any one player to be as dominant as they might have been [previously], or to charge exorbitant increases from year to year.'
The desire on the part of the major broadcasters to snap up ownership of specialty services is understandable, says Hugh Dow, president of Toronto-based Initiative Media. The future of television, it's generally agreed, is in specialty. And besides, from a pure bottom-line perspective, these channels are attractive properties, given that they have two separate revenue streams: cable subscriptions and advertising.
For advertisers, he says, specialty offers opportunities for more creative use of media than traditional network television. And consolidation of ownership may add to those opportunities, by making it possible for an advertiser to buy across a broadcaster's entire specialty portfolio.
While no one in the advertising community is exactly overjoyed to see broadcasters acquiring more clout, it should be noted that there is a counterbalancing trend – namely, consolidation of media management agencies.
'Consolidated buyers are dealing with consolidated owners,' Dow says. 'The concern is that the playing field between the two stays level.'
Sunni Boot, president of Toronto-based Optimedia Canada, agrees. Whether a firm is in broadcasting or media buying, she says, consolidation is probably the only way to ensure survival anymore.
While concentration of ownership in specialty TV inevitably exerts upward pressure on pricing, Boot shares the view that this will be offset by the plethora of choice in the medium. But she does see other risks associated with consolidation, the most serious of which can be summed up in a single word: influence. As individual broadcasters gain control of more channels, growing in size and power, there is the danger that a single large player could exert undue influence in areas of collective industry concern, such as research and measurement.
'You can become the architect of a policy that might not necessarily be in the best interest of the industry as a whole,' she says.
Significant changes to the specialty ownership picture are almost certain to continue, Baumann predicts, as major broadcasters move to acquire established services or launch new ones of their own.
CanWest Global Communications, he says, is one player that can be expected to move into the specialty arena much more aggressively in the near future. 'They have all the equipment and personnel and what they don't have they can certainly hire.'
Specialty channels in general, he adds, will proliferate further – but not until the framework for digital distribution is fully in place.
Also in this report:
- It's a harsh realm: In today's network television environment, the chances of a show's success are slimmer than ever p.TV2
- Spotlight on…Televion Creative p.TV18
- Specialties take branding to the Web: Treat online presence as destination in and of itself p.TV21
- Drop the Beat busts an interactive move: Alliance Atlantis hip-hop drama invites viewers to participate via Web site and interactive TV p.TV23
Zulu grows its team and makes a slate of promotions
A director of interactive production for Zulubot is among dozens of new faces and roles at the agency, in response to recent wins.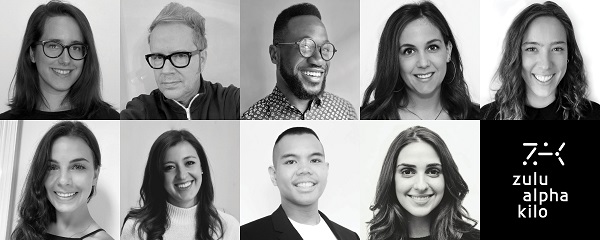 Toronto indie shop Zulu Alpha Kilo had made several new hires and promotions on the heels of new business and also organic growth from existing clients.

Zulu could not officially announce the account wins at this time.

However, it can report that Ece Inan, most recently at Toronto design and tech shop Array of Stars, has been named the agency's new director of interactive production for Zulubot, the agency's production arm. In the new role, Inan will lead AR, VR, voice and other digital innovation projects.

Also on the production side, James Graham, who has spent the last 17 years with Grip, has joined the agency as its studio director.

Zulu has also made numerous additions on the client services side, led by Michael Brathwaite, also from Grip, as account director.

It's also announced a spate of new account supervisors, including Hayley Blackmore (from G Adventures), Risa Kastelic (from BT/A), Kara Oddi (also from BT/A), Emily Anzarouth (also from Grip), Chris Rosario (from FCB/Six) and Sarah Shiff (from Rethink).

In addition to the new hires (pictured above), the agency has also announced several promotions: Alyssa Guttman moves from account director to group account director, while Nina Bhayana, Michelle Fournier, Jenn Gaidola-Sobral and Erin McManus have all been promoted to account director, and Haley Holm to account supervisor. On the strategy team, strategists Carly Miller and Spencer MacEachern have both been promoted to strategy director, while Shaunagh Farrelly, who has been with Zulu for two years in a client service role, moves into a new role as a digital strategist.

In December, the shop also announced that Stephanie Yung would be returning to the agency after a stint in New York as its head of design. Recent wins the agency has been able to announce including work as AOR for the Ottawa Senators, as well as a new arrangement with existing client Consonant Skincare, setting up an in-house team to support growth after taking an equity stake in the company.

Zulu president Mike Sutton says it's wonderful, in a new year, to welcome new faces and energy to the team and says the agency is fortunate to have had so many people across the agency step up to support its clients.

"Simply put, they were rock stars, and the promotions are very well deserved," Sutton says.