Labatt media account shift reverberates across industry
In the wake of the announcement last week by Labatt Breweries of Canada that it is moving its estimated $55-million media account from Harrison, Young, Pesonen & Newell (HYPN) to Initiative Media to strengthen its media bargaining power in the U.S.,...
In the wake of the announcement last week by Labatt Breweries of Canada that it is moving its estimated $55-million media account from Harrison, Young, Pesonen & Newell (HYPN) to Initiative Media to strengthen its media bargaining power in the U.S., word has come that the Initiative Media brand, itself, will soon disappear in Canada.
After Labatt Breweries North America announced last week that it was forging an international alignment with the McCann-
Erickson network of agencies, Initiative president Hugh Dow told Strategy that the unit he heads up will soon change its name to Universal McCann to better reflect its affiliation with the global network.
'We will be aligning ourselves closer with the Universal brand name around the world, and once the dust has settled on the brewery situation, we'll be moving forward on that,' explains Dow. 'Because this is a worldwide branding of the McCann media product, we'll emphasize some of the common resources and common tools that will be made available around the world.'
Meanwhile, David Kincaid, vice-president of marketing with Toronto-based Labatt, says the brewer's alignment with McCann-
Erickson will give it greater purchasing clout as it seeks to become a more formidable player in the U.S. market.
'Don [Kitchen, president of Labatt Breweries North America] is really pushing to get that full integration on both sides of the border, so it's a huge opportunity,' he says. 'Obviously, the buying power of an aligned McCann network in the U.S. and in Canada gives us the opportunity to add some further innovation and muscle to the media buy.'
Initiative, which had been handling media responsibilities for Molson Canada, promptly resigned the account last week, leaving Labatt's main rival only 90 days to find a new media agency of record.
It was a vindication of sorts for both MacLaren, which was fired by Molson last year after serving as the brewer's creative agency for nearly four decades, and for Tony Miller, the former president of MacLaren who left the agency in January to become executive vice-president, regional director of McCann
Erickson North America.
'It puts us in a position where we can grow in the beer category again. The prospect of being able to do things beyond media is great for us,' says Dom Caruso, president and COO of MacLaren. 'With our previous client, we couldn't do that,' he adds.
A spokesperson for Molson, meanwhile, says the brewer was 'completely surprised' by the news, and hasn't decided how it will select a new shop to service its media business, which is also believed to be worth over $55 million.
'We're looking at our options right now and [figuring out] what to do next,' says Molson spokesperson Paul Thomson, who concedes a media review could be in the offing.
The decision clearly rocked HYPN, a shop which had worked with Labatt for more than 10 years, and which was actually owned by the brewer between 1990 and 1994.
'We're road kill on the global highway,' says David Harrison, president and CEO of the agency. 'Naturally, we're extremely disappointed.'
Harrison would not comment on whether HYPN would pursue the Molson account, except to say, 'You can make your own assessment about that. We certainly have openings for a brewery.'
Labatt's alignment with the McCann network has also spurred some changes on the creative side. As first reported in Strategy (See 'Labatt USA expected to tap Ammirati for Blue, Blue Light,' Jan. 31, '00), the Toronto office of Ammirati Puris Lintas has been named creative AOR on Labatt USA's Blue, Blue Light, and John Labatt Classic brands. APL New York had previously handled these labels, but was forced to resign them after it merged last November with Lowe & Partners, which counts Heineken as one of its clients.
Toronto-based Ammirati, meanwhile, is expected to drop the 'Lintas' portion of its name and will be henceforth known as Ammirati Puris. The shop will function as an independent agency of New York-based Interpublic Group and will service the needs of both McCann and Lowe Lintas where necessary, says Bill Durnan, president of Ammirati Puris.
As part of the alignment, Labatt USA will hand McCann-Erickson creative assignments on a number of its brands, including Rolling Rock, Dos Equis and Lowenbrau.
Zulu grows its team and makes a slate of promotions
A director of interactive production for Zulubot is among dozens of new faces and roles at the agency, in response to recent wins.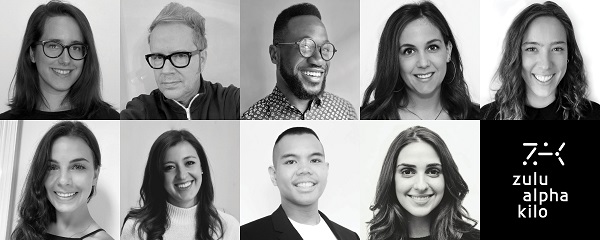 Toronto indie shop Zulu Alpha Kilo had made several new hires and promotions on the heels of new business and also organic growth from existing clients.

Zulu could not officially announce the account wins at this time.

However, it can report that Ece Inan, most recently at Toronto design and tech shop Array of Stars, has been named the agency's new director of interactive production for Zulubot, the agency's production arm. In the new role, Inan will lead AR, VR, voice and other digital innovation projects.

Also on the production side, James Graham, who has spent the last 17 years with Grip, has joined the agency as its studio director.

Zulu has also made numerous additions on the client services side, led by Michael Brathwaite, also from Grip, as account director.

It's also announced a spate of new account supervisors, including Hayley Blackmore (from G Adventures), Risa Kastelic (from BT/A), Kara Oddi (also from BT/A), Emily Anzarouth (also from Grip), Chris Rosario (from FCB/Six) and Sarah Shiff (from Rethink).

In addition to the new hires (pictured above), the agency has also announced several promotions: Alyssa Guttman moves from account director to group account director, while Nina Bhayana, Michelle Fournier, Jenn Gaidola-Sobral and Erin McManus have all been promoted to account director, and Haley Holm to account supervisor. On the strategy team, strategists Carly Miller and Spencer MacEachern have both been promoted to strategy director, while Shaunagh Farrelly, who has been with Zulu for two years in a client service role, moves into a new role as a digital strategist.

In December, the shop also announced that Stephanie Yung would be returning to the agency after a stint in New York as its head of design. Recent wins the agency has been able to announce including work as AOR for the Ottawa Senators, as well as a new arrangement with existing client Consonant Skincare, setting up an in-house team to support growth after taking an equity stake in the company.

Zulu president Mike Sutton says it's wonderful, in a new year, to welcome new faces and energy to the team and says the agency is fortunate to have had so many people across the agency step up to support its clients.

"Simply put, they were rock stars, and the promotions are very well deserved," Sutton says.