Great Canadian Bagel makes slow but sure gains in Moscow
Everyone's heard the clichés before. 'We're living today in a world without borders.' 'There is no such thing as a Canadian company anymore.' 'The whole world is our marketplace now.' But what, exactly, does all of this mean in terms of...
Everyone's heard the clichés before.
'We're living today in a world without borders.' 'There is no such thing as a Canadian company anymore.' 'The whole world is our marketplace now.'
But what, exactly, does all of this mean in terms of concrete, day-to-day reality? What do Canadian firms go through in the effort to market their products and services internationally? How do they build brands on a global basis? What are the challenges – and the rewards?
For this special report, Strategy's writers profile the global marketing activities of several noteworthy Canadian companies.
They send us hockey stars, we send them bagels. Seems fair.
Granted, The Great Canadian Bagel hasn't yet scored the kind of success in Moscow that, say, Pavel Bure enjoys in the arenas of the NHL. But then, turning profits from a global marketing venture is just a little more complicated than winning big-league hockey games.
'Any international endeavour is a marathon,' says Glenn Tucker, director of franchising and vice-president of international operations for The Great Canadian Bagel. 'You have to be patient, and your expectations have to be realistic – because there's not going to be an immediate payback.'
That's especially true if – as happened in this instance – you get cross-checked by current events.
Founded in 1993, The Great Canadian Bagel of Markham, Ont. operates nearly 160 stores across Canada; a sister company, The Great American Bagel, has 58 outlets in the U.S. (Both are owned by the same Canadian family, the Flatleys.) In 1997, the two formed a joint venture called – what else? – The Great International Bagel, to take their particular brand of doughy goodness to markets outside of North America. The first two Great Canadian Bagel franchises overseas opened in London, England in 1998.
As it happened, a franchise deal for the Moscow market had also been signed the previous year. When the agreement was inked, the Russian economy was in the midst of a boom – but by the time the company got around to opening its first two Moscow outlets in January 1999, things had taken a dramatic turn for the worse.
'Because of escalating costs as the currency devalues, coupled with inflation, we've had to pass on modest price increases periodically,' Tucker explains. 'And right now the market is incredibly price-sensitive.'
The North American expatriate community – a significant portion of the potential customer base in Moscow – has also declined significantly since the economic downturn, as U.S. and Canadian companies attempting to do business in Russia have scaled back or pulled out their operations.
The result of all this has been somewhat disappointing returns. While the 'Canadski Bagel' outlet in the Tverskaya Street shopping district has done moderately well, the store located near the Bialoruskie International Train Station has performed below expectations. (As in Canada, the company also has a wholesaling operation in place to supply local supermarkets with product; the results have, so far, been promising.)
It could take as long as five to seven years for the Russian government to get its economic house in order. Nevertheless, Tucker says The Great Canadian Bagel remains committed to its Moscow venture. 'We view this as a long-term proposition,' he says. 'And we're working with our franchisees to put them in a position so that when the market does improve, they're primed for growth.'
Before joining The Great Canadian Bagel, Tucker worked for five years with Pizza Hut International on the launch of franchises in Eastern Europe and Russia. It was during this period that he first did business with the investors who would become Russia's first Great Canadian Bagel franchisees.
The opening of the Moscow stores last year was supported with a good old North American-style marketing blitz. The franchisees hired a local advertising and public relations agency to orchestrate media coverage and develop a launch campaign that included outdoor and radio advertising, cross-promotional activities with a local cinema and a student-targeted campus promotion. Since then, there have been further efforts in radio and print, as well as ongoing sampling.
Tucker says one of the long-term goals of the Russian initiative is to establish a beachhead that will allow the chain to expand into other Eastern European markets, such as Poland. 'We believe our concept has the ability to be transplanted into many overseas markets.'
Similar thinking prompted the decision to enter the U.K. market. From its base in London, Tucker says, The Great Canadian Bagel hopes ultimately to extend itself to other parts of Western Europe.
As in Moscow, however, there have been challenges. Real estate costs, for one, are prohibitive. And Londoners, as a rule, have little familiarity with the bagel. ('It's perceived as an ethnic food item,' Tucker says.) Neither of those factors has had disastrous implications – the store in the city's financial district is thriving, while its counterpart in the suburb of Barnet is at least holding its own – but they have limited the returns.
Still, Tucker is optimistic. The breakfast baked goods category is growing rapidly in the U.K., he notes. And the Brits have also embraced the coffee craze – a trend that The Great Canadian Bagel may be able to exploit. Here in Canada, the company has recently aligned with A.L. Van Houtte to bring a branded coffee offering into its outlets, and it may look at introducing a similar program into its international units as well.
Plans for a third Great Canadian Bagel store in London – most likely in the trendy Islington area – are now in development. The company has also recently entered into discussions about future franchise opportunities in the Middle East and Singapore.
For any franchise operation considering global expansion, Tucker says, taking the long-term view is key.
'In many instances, the royalty stream we anticipate from day one just does not happen,' he says. 'Franchisees are often more inclined to reinvest in the business to build the brand, and the cost for us can be substantial. So we view it in terms of a five-year return. We certainly don't see it as a get-rich-quick scheme.'
Also in this report:
- Tim Hortons issues wakeup call: Builds underdeveloped breakfast category p.25
- Faces adapts to local market: Cosmetics retailer leverages awareness of cultural differences p.25
- Honeydew pegs future on U.S. sales p.26
- Buckley's takes bad taste message abroad: Cough syrup marketer making steady inroads in U.S. and overseas p.27
- Southbrook Farms and Winery proves its worth abroad: Ontario winemaker uses foreign success to boost sales at home p.28
- Seagull Pewter sells at shows: Family-run giftware operation does business in over 20 territories p.28
- Clearly Canadian launches in U.S. first p.28
Zulu grows its team and makes a slate of promotions
A director of interactive production for Zulubot is among dozens of new faces and roles at the agency, in response to recent wins.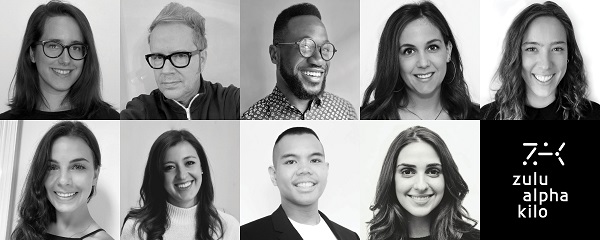 Toronto indie shop Zulu Alpha Kilo had made several new hires and promotions on the heels of new business and also organic growth from existing clients.

Zulu could not officially announce the account wins at this time.

However, it can report that Ece Inan, most recently at Toronto design and tech shop Array of Stars, has been named the agency's new director of interactive production for Zulubot, the agency's production arm. In the new role, Inan will lead AR, VR, voice and other digital innovation projects.

Also on the production side, James Graham, who has spent the last 17 years with Grip, has joined the agency as its studio director.

Zulu has also made numerous additions on the client services side, led by Michael Brathwaite, also from Grip, as account director.

It's also announced a spate of new account supervisors, including Hayley Blackmore (from G Adventures), Risa Kastelic (from BT/A), Kara Oddi (also from BT/A), Emily Anzarouth (also from Grip), Chris Rosario (from FCB/Six) and Sarah Shiff (from Rethink).

In addition to the new hires (pictured above), the agency has also announced several promotions: Alyssa Guttman moves from account director to group account director, while Nina Bhayana, Michelle Fournier, Jenn Gaidola-Sobral and Erin McManus have all been promoted to account director, and Haley Holm to account supervisor. On the strategy team, strategists Carly Miller and Spencer MacEachern have both been promoted to strategy director, while Shaunagh Farrelly, who has been with Zulu for two years in a client service role, moves into a new role as a digital strategist.

In December, the shop also announced that Stephanie Yung would be returning to the agency after a stint in New York as its head of design. Recent wins the agency has been able to announce including work as AOR for the Ottawa Senators, as well as a new arrangement with existing client Consonant Skincare, setting up an in-house team to support growth after taking an equity stake in the company.

Zulu president Mike Sutton says it's wonderful, in a new year, to welcome new faces and energy to the team and says the agency is fortunate to have had so many people across the agency step up to support its clients.

"Simply put, they were rock stars, and the promotions are very well deserved," Sutton says.