South Asian films a hit for AMC
So there you are, in the lobby of your friendly neighbourhood suburban multiplex on a Saturday night. What should you see? Supernova? Magnolia? Deuce Bigalow: Male Gigolo? Or the 9:40 showing of Phir Bhi Dil Hai Hindustani? Toronto-based AMC Theatres of...
So there you are, in the lobby of your friendly neighbourhood suburban multiplex on a Saturday night. What should you see? Supernova? Magnolia? Deuce Bigalow: Male Gigolo? Or the 9:40 showing of Phir Bhi Dil Hai Hindustani?
Toronto-based AMC Theatres of Canada is the first of this country's major cinema chains to regularly screen movies targeted specifically to an ethnic Canadian community. The lineup at several of the company's suburban Toronto facilities now routinely includes at least one South Asian feature film, alongside the usual array of Hollywood product.
There is a significant South Asian population in the areas where these multiplexes are located, explains Larry Whittenberger, AMC's operations manager for Canada. And the AMC Theatres organization – which is headquartered in Kansas City, Mo. – does attempt, where possible, to tailor its offerings according to the demographic makeup of the local market.
'We decided to try [running South Asian films] on an experimental basis,' Whittenberger says, 'and thus far it has worked out very well. It's not really rocket science. It's just looking at your customers and trying to offer them films they'd like to see. It's basic marketing.'
'They've recognized the impact of being reflective of their market,' says Melanie Farrell, director, business development language sales with Toronto-based multicultural broadcaster CFMT-TV, who first heard about the phenomenon when her daughter returned from a visit to the AMC Interchange 30 north of Toronto and reported seeing young South Asian Canadians lined up more than two hours in advance for a late screening. 'That's just very smart.'
Whittenberger, for his part, says the decision was prompted in part by suggestions from a prominent local South Asian entrepreneur. He's cagey when asked to reveal the name, but does acknowledge that this individual has provided invaluable assistance in selecting appropriate feature films, and in spreading the word to the community.
All of the features presented so far have been in Hindi. Where possible, the company attempts to get subtitled prints – the better to appeal to younger viewers who may be more fluent in English than in their mother tongue.
AMC has somewhat greater scope to present more specialized offerings than its competitors, Whittenberger adds, because its locations generally have a larger number of screens. Its suburban Toronto multiplexes, for example, boast 20-30 each.
Given its success so far with South Asian films, the company could well begin to look at offerings for other cultural groups in the near future, Whittenberger says.
AMC Theatres began its expansion into Canada in late 1998. The company now operates four multiplexes in the Toronto area, and another in the Ottawa suburb of Kanata.
Also in this report:
- Marketers overlooking youth audience: Youth ethnic Canadians retain strong ties to their cultures: So why don't more advertisers target them in their own media? p.29
- Face of Chinese market is changing p.30
- Telelatino tires more mainstream fare: Hopes to build advertiser base with subtitled movies, music videos p.33
Zulu grows its team and makes a slate of promotions
A director of interactive production for Zulubot is among dozens of new faces and roles at the agency, in response to recent wins.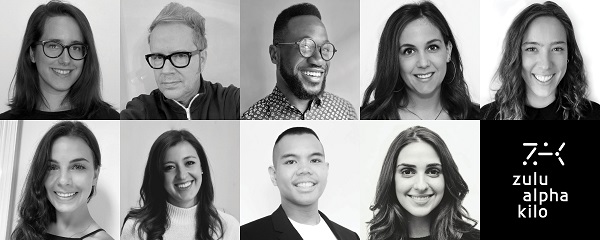 Toronto indie shop Zulu Alpha Kilo had made several new hires and promotions on the heels of new business and also organic growth from existing clients.

Zulu could not officially announce the account wins at this time.

However, it can report that Ece Inan, most recently at Toronto design and tech shop Array of Stars, has been named the agency's new director of interactive production for Zulubot, the agency's production arm. In the new role, Inan will lead AR, VR, voice and other digital innovation projects.

Also on the production side, James Graham, who has spent the last 17 years with Grip, has joined the agency as its studio director.

Zulu has also made numerous additions on the client services side, led by Michael Brathwaite, also from Grip, as account director.

It's also announced a spate of new account supervisors, including Hayley Blackmore (from G Adventures), Risa Kastelic (from BT/A), Kara Oddi (also from BT/A), Emily Anzarouth (also from Grip), Chris Rosario (from FCB/Six) and Sarah Shiff (from Rethink).

In addition to the new hires (pictured above), the agency has also announced several promotions: Alyssa Guttman moves from account director to group account director, while Nina Bhayana, Michelle Fournier, Jenn Gaidola-Sobral and Erin McManus have all been promoted to account director, and Haley Holm to account supervisor. On the strategy team, strategists Carly Miller and Spencer MacEachern have both been promoted to strategy director, while Shaunagh Farrelly, who has been with Zulu for two years in a client service role, moves into a new role as a digital strategist.

In December, the shop also announced that Stephanie Yung would be returning to the agency after a stint in New York as its head of design. Recent wins the agency has been able to announce including work as AOR for the Ottawa Senators, as well as a new arrangement with existing client Consonant Skincare, setting up an in-house team to support growth after taking an equity stake in the company.

Zulu president Mike Sutton says it's wonderful, in a new year, to welcome new faces and energy to the team and says the agency is fortunate to have had so many people across the agency step up to support its clients.

"Simply put, they were rock stars, and the promotions are very well deserved," Sutton says.