Sports sponsorship: The final frontier
Michael Gouinlock is with Lang & Associates, a Toronto-based international associative marketing agency with offices in Vancouver, Montreal, Edmonton, Atlanta, Dusseldorf, Tokyo and Sydney. Contributions, ideas, media releases and feedback should be directed to Tracey Grimshaw at (416) 962-0060 or fax...
Michael Gouinlock is with Lang & Associates, a Toronto-based international associative marketing agency with offices in Vancouver, Montreal, Edmonton, Atlanta, Dusseldorf, Tokyo and Sydney. Contributions, ideas, media releases and feedback should be directed to Tracey Grimshaw at (416) 962-0060 or fax (416) 962-1210.
With apologies to Gene Roddenberry, the next few years will be, without a doubt, the most critical time period facing both amateur and professional sport – and, by extension, sports sponsorship – in Canada for the past 50 years. Several issues that have been heating up for the past decade are about to explode and the resulting blast may very well leave a markedly different sports sponsorship environment than the one we have now.
Some of these factors include:
- The growing reality gap between fans and athletes;
- Industry convergence;
- Continued massive growth of rights fees as a result of networks fighting for market share in sports properties;
- The Internet and its effect on how – and how fast – we communicate;
- Government recognition that societal issues such as homelessness, health care and education can benefit from the co-operation and partnership of the private sector;
- Growing marketing savvy on the part of the not-for-profit sector;
- The increasing need on the part of marketers to see immediate
results.
All of these factors will have an impact on the future of Canada's professional sports teams as well as amateur sport and its grassroots programs. But they will also have a profound effect on you, the marketer, and how you connect with your consumers. They will force you to rethink your associative strategies and possibly realign them in non-traditional areas or with organizations that can truly deliver what they say they can.
Given the issues that are coming to the fore, what are the most important questions for the marketer to address? Consider the following as a start:
- Will consumers continue to relate to multi-million-dollar athletes who give nothing back, and to what extent will they tolerate the exorbitant cost of tickets and merchandise?
- What will be the effect on sponsorship of mergers and co-marketing arrangements in the financial services, insurance, telecommunications, retail and other sectors?
- Will the not-for-profit sector counter the emotion and expense of sport with a more relevant and meaningful method of reaching consumers?
Of course, there's no such thing as a sure bet, but here are six predictions that you can take or leave:
1) The polarization of sponsorship opportunities will continue. Casualties will pile up, especially among those properties that have fallen into the infamous sponsorship twilight zone – too expensive to be small and too small to create impact. Will all of Canada's current sports franchises survive? I expect not. There will, however, still be the desire for an association with the 'Big Seven' (NFL, NBA, MLB, NHL, PGA Tour, NASCAR, the Olympics) and their member teams.
Forward thinkers and value-conscious corporations, for their part, will focus their efforts on building strong associative links at the grassroots level. Probable winners will include the following:
- Soccer, which will finally come of age as Canada produces its own Ronaldo;
- Basketball, which will flourish behind the yet-to-be-created 'Vince Carter Basketball League';
- Female sports – yes, guys, your wives will also be playing Thursday-night hockey, among other things – which will achieve unprecedented recognition;
- And the ubiquitous hockey, which will survive in spite of organizational challenges and jurisdictional politics because it remains the last real vestige of Canadian culture. (You may even see lacrosse make a comeback as many search for a 'quieter, simpler past.')
2) Merger mania will continue. The continued proliferation of corporate mergers in both the property and corporate sectors will provide sponsors and rights holders alike with a roller coaster ride that Paramount Canada's Wonderland would be proud of.
Let's take a look at one example: Nobody would disagree with the statement that the CTV takeover of Netstar would revolutionize the Canadian broadcast industry. But will that drive rights fees up? Not necessarily. Many experts believe sports advertising and promotional rights fees were artificially driven up in the first place because properties successfully created bidding wars between competing networks and, in the end, those costs were passed on to corporate sponsors under the guise of 'integrated marketing.' Others see rights fees continuing to rise because there will be only one true media supplier.
I tend to agree with the latter position but for a different reason. We are joined at the hip to – and, to a certain extent, at the mercy of – our brethren to the south. As long as there are professional teams in Canada competing with American teams, the Canadian teams will be forced to elevate their prices and pay better salaries or risk losing their best players to the States.
As marketers, you need to watch for properties 'unbundling' categories in order to generate more revenue. Ten years ago, there was a telecommunications category. Now, there's a hardware supplier category, a wireless category, a local category, etc. In addition, category exclusivity will most likely be replaced by program exclusivity. The most important addition to your sponsorship team will be your corporate lawyer. As always, knowing what you want prior to negotiation remains crucial.
3) The CFL will finally get its 'Radically Canadian' positioning right. The league will be a beneficiary of merger mania and increasing rights fees, provided it keeps its salary costs under control and sticks to its Canadian positioning.
What's more, in an effort to build up player recognition, the league will enter an integrated marketing and broadcast partnership with the top 12 schools in the Canadian Interuniversity Athletic Union (CIAU). Critics will denounce the league's new policy that restricts imports to 10 spots per team, but the resulting joint venture will provide sponsors and fans alike with a consistent and marketable product, including recognizable student athletes. Sponsorship opportunities will include the ability to underwrite athletic scholarships.
4) NASCAR comes to Canada – although not before the good ol' boys invade Mexico and Europe. Many European corporations dabble in this new form of 'grunge sponsorship.' Marketers can expect NASCAR to continue to outperform the other members of the Big Seven in terms of associative linkage.
5) Title sponsorships of facilities will be adopted by the not-for-profit and public sectors. Government cutbacks will force the not-for-profit and public sectors to seek new, creative associative partnerships. Given the public's concern over employment, education and health care, look for a move from sponsorship of facilities to hospitals and schools. While this may seem a bit far-fetched, remember there was a time when athletic facilities were not titled, when the Royal Canadian Golf Association said that it would not have a title sponsor for the Canadian Open, and when playing fields and athletes' uniforms were not cluttered with corporate logos. This may be a sensitive one for marketers, but it's the wave of the future and you may want to be the first one in.
6) Toronto wins the right to host the Summer Olympics. Not the 2008 event, but the 2012 Games. The 2008 Summer Olympics will be awarded to China, which will please many of the sponsors who hope to gain access to the world's largest consumer market.
However, Toronto puts up a great fight and the homework pays off when Microsoft (which has bought GE, which owns NBC, the broadcast rights holder) demands a return to an eastern North American time zone. Still upset at the U.S. government for its anti-trust allegations of the late 1990s, Microsoft supports a Toronto bid over a Hillary Rodham Clinton-led New York City bid. Look for local sponsorship rights to top $150 million in the highly sought-after e-commerce category.
Are my predictions plausible or mindless drivel? That's up to you to decide. But here's what you can do to take more control of your organization's sponsorship destiny: Get out and do your homework. Find out what your customers want. Take a risk and partner with an organization where your investment can really pay out.
Oh, and by the way, be prepared, just in case Beijing fumbles the ball and Toronto does win 2008. A lot of experts made the mistake of betting against John Bitove once before!
RBC, TD and Lululemon among most valuable brands
Once again, the financial institutions and apparel brand landed in Kantar's top 10 lists for their sectors.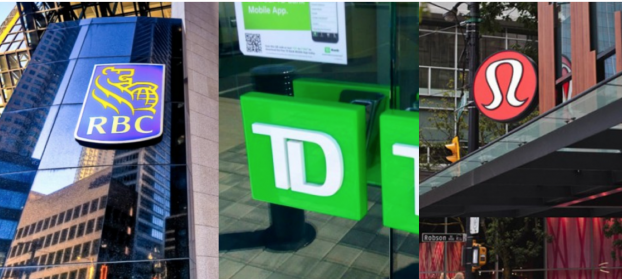 In the recently released 2022 edition of the Kantar BrandZ Top 100 Most Valuable Global Brands survey, several Canadian companies landed in the top rankings, namely in the financial institutions and apparel categories.
Two Canadian brands made an appearance in the survey's global banks rankings: RBC holds second position (57th overall), while TD ranks eighth (72nd overall), with brand values worth US$39.5 billion (up 43% from last year) and US$29.7 billion (up 47%), respectively. TD was among the fastest risers in the overall Top 100 survey, climbing 18 positions.
Lululemon takes fourth place as the most valuable apparel brand, behind Nike, Zara and Adidas. The Canadian athletic-wear company is valued at US$20.4 billion.
"Our 2022 rankings demonstrate both the resilience of our Canadian banking brands and their ability to create brand value by connecting with consumers to outperform other brands on the world stage," said Scott Megginson, president of Kantar Canada in a release. "They are leaders among brands in the global financial services sector and the number one position is coming within reach for RBC.
"It is also encouraging to see how Lululemon has continued to build brand value as people return to work," adds Megginson. "Its reputation for innovation, quality and reliability allows them to command a premium in the market."
Overall, Apple has landed in the #1 position and is projected to become the first trillion-dollar brand. It's brand value sits at US$947.1 billion, and is commended in the survey for its ongoing diversification strategy across its hardware, software and services portfolio. Apple moved up from second position in 2021.
Google has taken the second top spot, up one from the previous year, increasing its brand value by 79% to US$819.6 billion. In third place, Amazon dropped down two spots from last year's #1 position, and this year its brand value equates to US$705.6 billion.
In 2022, more than three quarters of brand value originated from U.S. companies, with media and entertainment, business solutions and technology providers and retail categories contributing to over half the total value of the Top 100.
According to Kantar, sector leaders emerged from a variety of industries, with technology and luxury brands growing the fastest – 46% for consumer technology and 45% for luxury. Automotive growth grew by 34%, and banks by 30%, compared to other sectors such as apparel at 20% and personal care by 17%.
Combined, the value of the world's Top 100 most valuable brands has increased by 23% to US$8.7 trillion in the last year. Set for release in October 2022, Kantar will rank Canada's top 40 most valuable brands, along with reports and insights for its market.