AGF paints its canvas with pure branding message
I was driving west on Bloor Street the other day, headed into downtown Toronto, and I think I did exactly what the creative group wanted me to do. I saw a billboard with a scaffold hanging there in front of it,...
I was driving west on Bloor Street the other day, headed into downtown Toronto, and I think I did exactly what the creative group wanted me to do.
I saw a billboard with a scaffold hanging there in front of it, and I figured it was a paperhanger's work-in-progress. I also figured, since the billboard was about a hundred feet from Mediacom's head office, that the workman had better get his gluepot in gear.
Then I looked a little more closely. (I happened to do all this in one exposure, because I'm interested in advertising. I think the average dude would take two or three trips before the penny dropped. That's OK, it's a repeat-travel street.)
Anyway, I stopped looking at the main eye-catcher – the scaffold – and I looked at the ad itself. It was for AGF Mutual Funds. It had their slogan 'EVENTUALLY EVERYONE RETIRES', but the lettering wasn't quite complete. 'Aha,' said I, brightly. I get it. The guy putting up the billboard retired in the middle of the job.' Nice.
I like the new AGF campaign a lot – and also, I like it a lot better than its predecessor. ('My retirement dream is to make retirement commercials.') That one won a lot of awards, but I always thought it was too much of an in joke to play in Flin Flon, and it kind of wore its cynicism on its sleeve.
The 'EVENTUALLY EVERYONE RETIRES' stuff delights me, though. It still pokes fun at those getting on in years, but it does it with warmth instead of a stiletto. They show us our folk heroes – Santa Claus and Spiderman, Gumby and Quasimodo – and I smile to see them struggling with the real-life difficulties of a retirement speech or a sand trap. It also makes me think a little about AGF's premise. I'm not 26 anymore, and come to think of it, how are my RRSPs?
In a very few years, we've seen a major evolution in mutual fund advertising, and I think AGF has the new era right. A dozen years ago, the advertiser pretty much had to start by explaining what a mutual fund was. Then as investor sophistication grew, it became a claim game: we have the best system, we have the best analysts, we have the best service, we have the best performance (yeah, maybe yesterday, but I didn't own you yesterday, how about tomorrow?), and so forth.
Now we've become so flooded by mutual fund claims that I think we're into a pure branding phase. 'Lemme see, I need soup, which one do I want, that red-and-white can looks familiar, the name rings a bell, I think I'll buy Campbell's.' 'Charlie, you've suggested I put a few bucks into AGF, I've heard of them, they seem like a pretty good company to me (can't really remember why), sure, I'll drop in a mil or two.'
Much of the tragically unhip, such as the general public and account executives, would guess that pure brand-building is easier and more fun for the creative guys. After all, you don't even have to send much of a message. You can play around for the whole 30 seconds, and if you're really eloquent, maybe you can talk the media department into a sixty for the awards shows.
Wrong. It's actually easier to build a commercial around a supplied message than it is to paint a blank canvas. And some mutual fund companies have really stumbled recently, trying to do the latter.
Fidelity hired Lily Tomlin, who used to be funny, and paired her with their resident guru, Peter Lynch. It was like the scientist who crossed a sole with a jellyfish, hoping for boneless sole, and got a bony jellyfish. Lynch made Tomlin unfunny and Tomlin made Lynch dumb. They pulled it.
A usually good Toronto agency created an over-the-hill old lady who nattered endlessly about how she made her money by ripping off her husbands. Cut to logo for CI Funds, with some line about how they don't do it this way. Swing and a miss. They pulled it.
It's not easy to do what AGF has done, and kudos to them for doing it. Now if they would only make the logo bigger.
(Joke! Joke! Joke!)
John Burghardt's checkered resumé includes the presidency of a national agency, several films for the Shah's government in Iran, collaboration with Jim Henson to create the Cookie Monster, and a Cannes Gold Lion. The letterhead of his thriving business now reads 'strategic planning -creative thinking'. He can be reached by phone at (416) 693-5072, by fax at (416) 693-5100 or by e-mail at burgwarp@aol.com
Zulu grows its team and makes a slate of promotions
A director of interactive production for Zulubot is among dozens of new faces and roles at the agency, in response to recent wins.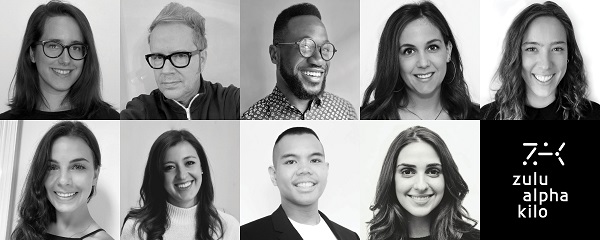 Toronto indie shop Zulu Alpha Kilo had made several new hires and promotions on the heels of new business and also organic growth from existing clients.

Zulu could not officially announce the account wins at this time.

However, it can report that Ece Inan, most recently at Toronto design and tech shop Array of Stars, has been named the agency's new director of interactive production for Zulubot, the agency's production arm. In the new role, Inan will lead AR, VR, voice and other digital innovation projects.

Also on the production side, James Graham, who has spent the last 17 years with Grip, has joined the agency as its studio director.

Zulu has also made numerous additions on the client services side, led by Michael Brathwaite, also from Grip, as account director.

It's also announced a spate of new account supervisors, including Hayley Blackmore (from G Adventures), Risa Kastelic (from BT/A), Kara Oddi (also from BT/A), Emily Anzarouth (also from Grip), Chris Rosario (from FCB/Six) and Sarah Shiff (from Rethink).

In addition to the new hires (pictured above), the agency has also announced several promotions: Alyssa Guttman moves from account director to group account director, while Nina Bhayana, Michelle Fournier, Jenn Gaidola-Sobral and Erin McManus have all been promoted to account director, and Haley Holm to account supervisor. On the strategy team, strategists Carly Miller and Spencer MacEachern have both been promoted to strategy director, while Shaunagh Farrelly, who has been with Zulu for two years in a client service role, moves into a new role as a digital strategist.

In December, the shop also announced that Stephanie Yung would be returning to the agency after a stint in New York as its head of design. Recent wins the agency has been able to announce including work as AOR for the Ottawa Senators, as well as a new arrangement with existing client Consonant Skincare, setting up an in-house team to support growth after taking an equity stake in the company.

Zulu president Mike Sutton says it's wonderful, in a new year, to welcome new faces and energy to the team and says the agency is fortunate to have had so many people across the agency step up to support its clients.

"Simply put, they were rock stars, and the promotions are very well deserved," Sutton says.