OJC exercises horse sense
So there you are, walking along the street, minding your own business, and suddenly you spy a toonie on the sidewalk. Do you race right over to the bank and apply it to your mortgage or do you spend it on...
So there you are, walking along the street, minding your own business, and suddenly you spy a toonie on the sidewalk. Do you race right over to the bank and apply it to your mortgage or do you spend it on something a little more frivolous?
The Ontario Jockey Club is betting they know the answer. Which is why they decided to prime the pump of 1,500 bettors whose HorsePlayer Interactive accounts had been dormant for at least six months.
Launched in 1997, HorsePlayer Interactive allows telephone wagering on all live and simulcast races at the OJC's two tracks: Woodbine in Toronto and Mohawk Raceway in Campbellville, Ont. Players can log on to the OJC's site for up-to-the-minute odds, and watch live video coverage of their chosen race. The system has about 7,000 registered users.
Lapsed customers were sent a colourful direct mail piece headlined with the words every bettor worth his salt loves to hear: 'There's money in your account.'
The package directed the recipient to his or her own profile on the HorsePlayer Interactive Web site (www.675bets.com) where they were asked to complete a survey.
'The OJC needed to determine why a large segment of their HorsePlayer Interactive customer base had stopped using the system,' explains Warren Cartwright, product development manager for PG(E), the interactive division of PG Communications, the Toronto agency that handled the HorsePlayer campaign. 'They also wanted to gather important demographic data.'
When players logged on to the site, they were asked to choose the reasons why they had stopped using the system. For each reason they chose, they were presented with a way in which the system had been improved to address the problem, says Cartwright.
On the second screen, they were presented with information to help make telephone wagering easier. On the third screen, in exchange for additional money being credited to their account, they were asked to supply some general demographic information.
'With real-time reporting, we enabled the OJC to monitor each response as it happened,' he says. 'If clients did not respond after two weeks, we sent a second postcard with a slightly different message. ['There's money in your account. Why haven't you called?'] The response was excellent – we received a 23% response rate after phase one, and the response grew to 32% after phase two.'
The OJC is also setting up a rewards program to further promote HorsePlayer, which it is doing with a direct mail campaign engineered by Michael Shaw of Ranscombe & Co.'s partner agency Directer.
'It will become an excellent relationship marketing tool for us,' says Helen Bacik, director of advertising and marketing for the 119-year-old OJC. 'Horseracing is geared to a targeted group of people, so it's not going to be mass marketed.'
Under the plan, bettors will earn one point for every dollar they wager at the track or through the telephone. As their points accumulate, they become eligible for cash-back or merchandise, says Bacik.
'It's part of our push to do more e-commerce and to continue to build relationships and strengthen our database.'
Ranscombe & Co. is working with the OJC on revamping the Club's Web site and helping design and implement an overall marketing plan.
'We needed a refresh,' says Bacik. 'Even our name gave the impression of a club, the old horseracing elite. But we're not a club. We are a corporation.'
Sidebar: Racetracks in turf war for leisure buck
The Ontario Jockey Club isn't the only racetrack operator engaged in a spirited competition for the sporting dollar.
'A few years ago, we were the only game in town,' says Brian Pound, a spokesman for the Hastings Park Racecourse in Vancouver. 'But now, with NHL hockey and pro basketball and other sports, the entertainment dollar doesn't go as far as it used to.'
And unlike the OJC's Woodbine and Mohawk racetracks, Hastings Park can't even install slot machines to attract the casual bettor. Its landlord, the City of Vancouver, 'is dead-set against slot machines,' and the province announced it wouldn't expand the form of gaming.
'We have no problem keeping the customers we have,' says Pound. 'But the big thing for us is attracting newer, younger customers. That goes throughout the industry.'
But the industry seems to be responding. That's why now, when talking to race track officials and marketers, terms such as 'consolidation,' 'product,' and 'synergy' are bandied about as much as 'trifecta', 'triactor' and 'win, place or show.'
'There is a real paradigm shift going on right now in the industry,' says John Walzak, associate co-ordinator with the Racetrack Industry Program at the University of Arizona in Tucson, Ariz. 'People are saying you have to look at this as a product. Live racing and betting are two strengths of the business nobody else can offer.'
Walzak adds that the OJC 'is way beyond what most other tracks' are doing in marketing itself.
'They are more in the league of the Churchill Downs, and Magna Entertainment (Ontario native Frank Stronach's horseracing group). The OJC is probably one of the top five racing organizations in the world.' DE
RBC, TD and Lululemon among most valuable brands
Once again, the financial institutions and apparel brand landed in Kantar's top 10 lists for their sectors.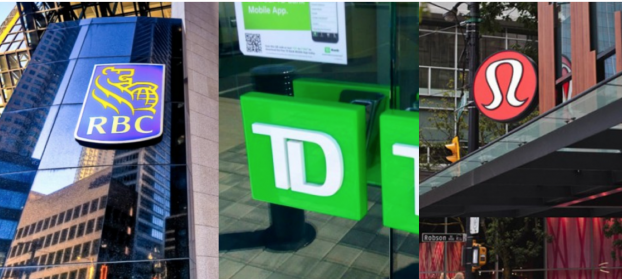 In the recently released 2022 edition of the Kantar BrandZ Top 100 Most Valuable Global Brands survey, several Canadian companies landed in the top rankings, namely in the financial institutions and apparel categories.
Two Canadian brands made an appearance in the survey's global banks rankings: RBC holds second position (57th overall), while TD ranks eighth (72nd overall), with brand values worth US$39.5 billion (up 43% from last year) and US$29.7 billion (up 47%), respectively. TD was among the fastest risers in the overall Top 100 survey, climbing 18 positions.
Lululemon takes fourth place as the most valuable apparel brand, behind Nike, Zara and Adidas. The Canadian athletic-wear company is valued at US$20.4 billion.
"Our 2022 rankings demonstrate both the resilience of our Canadian banking brands and their ability to create brand value by connecting with consumers to outperform other brands on the world stage," said Scott Megginson, president of Kantar Canada in a release. "They are leaders among brands in the global financial services sector and the number one position is coming within reach for RBC.
"It is also encouraging to see how Lululemon has continued to build brand value as people return to work," adds Megginson. "Its reputation for innovation, quality and reliability allows them to command a premium in the market."
Overall, Apple has landed in the #1 position and is projected to become the first trillion-dollar brand. It's brand value sits at US$947.1 billion, and is commended in the survey for its ongoing diversification strategy across its hardware, software and services portfolio. Apple moved up from second position in 2021.
Google has taken the second top spot, up one from the previous year, increasing its brand value by 79% to US$819.6 billion. In third place, Amazon dropped down two spots from last year's #1 position, and this year its brand value equates to US$705.6 billion.
In 2022, more than three quarters of brand value originated from U.S. companies, with media and entertainment, business solutions and technology providers and retail categories contributing to over half the total value of the Top 100.
According to Kantar, sector leaders emerged from a variety of industries, with technology and luxury brands growing the fastest – 46% for consumer technology and 45% for luxury. Automotive growth grew by 34%, and banks by 30%, compared to other sectors such as apparel at 20% and personal care by 17%.
Combined, the value of the world's Top 100 most valuable brands has increased by 23% to US$8.7 trillion in the last year. Set for release in October 2022, Kantar will rank Canada's top 40 most valuable brands, along with reports and insights for its market.