PostScript
Last Year's Headline: Royal Bank to beef up e-commerce efforts Synopsis: Royal Bank Financial Group strikes strategic alliances and acquires U.S.-based technology providers to beef up its own Internet presence. The bank also establishes an e-commerce business unit to expand...
Last Year's Headline: Royal Bank to beef up e-commerce efforts
Synopsis: Royal Bank Financial Group strikes strategic alliances and acquires U.S.-based technology providers to beef up its own Internet presence. The bank also establishes an e-commerce business unit to expand its Web-based offerings throughout North America, in part to help cut $400 million in expenses over the next two years. Meanwhile, Royal Direct expands the bank's online service in Canada, where 340,000 Canadians are using Royal Bank's online banking or trading services. Customers sign on at a rate of 600 to 700 a day.
One Year Later: The online plan is on track, says Richard Wilson, head of the Internet properties group at Royal Bank. In July, the bank picked up a 20% stake in AOL Canada, and announced a co-branded product offering. It also launched Prime Street, an online loan auction service, in the U.S. No word on how the Internet strategy is contributing to cost-cutting, but Wilson says the number of online banking and brokerage customers is up to 630,000 and growing by about 1,000 users a day. In December, Royal Bank rolled out a new direct mail campaign promoting online banking. It's also supporting its Internet brokerage with a television campaign, which started in January. Monthly visits to the bank's Web site have grown to 2.75 million from about one million a year ago. The bank also named Tom Wolf its new senior vice-president for e-commerce, in an effort to bring the bank's systems and business components closer together.
Last Year's Headline: Canadian software threatens to foil online marketers
Synopsis: Zero-Knowledge Systems (ZKS) of Montreal develops software that prevents commercial Web sites from collecting personal data from site visitors. The software, called Freedom, lets users mask their identity and block 'cookies' – the digital tags downloaded to the user's hard drive that marketers employ to track the user's activities. Since Freedom provides users anonymity, they are more likely to be honest when asked to volunteer personal information, ZKS president Austin Hill argues. He adds that user profiles are often distorted, since most family members use the same computer, leading advertisers to send inappropriate messages to children, for example, based on a parent's Internet use. Using Freedom to assign different pseudonyms to each family member, however, will allow marketers to better target their efforts.
One Year Later: The software finally went up on the company's Web site in December, six months later than forecast. Hamnet Hill, ZKS executive vice-president and chief operating officer says that's because the company wanted to perfect it before the launch. He wouldn't say how many users have registered for the software, but said 80,000 people used the test version on a three-month, free-trial basis. The company now employs 150 people, and was successful in interesting investors. Hill says the company's now screening agencies for the April launch of a $30-million advertising campaign targeting five U.S. cities, plus Canada.
Last year's headline: Pharmacia & Upjohn takes pharma info online
Synopsis: Pharmaceutical manufacturer Pharmacia & Upjohn (P&U) launches a Web site to provide information to consumers about its Depo-Provera contraceptive, as well as other forms of birth control. The site allows Depo-Provera users to register and receive e-mail reminders when it's time for their quarterly injections. According to Dr. W. John Reeves, president of site designer Infinet Communications, the strategy creates a relationship between the manufacturer and the user. In the months following the site's launch, it logged about 1,000 visitors a week, with each visitor spending an average of about seven minutes at the site. Traffic was driven with ads in women's magazines. In the U.S., where regulations restricting direct-to-consumer marketing are less stringent, P&U's campaign for the injectable contraceptive boosted sales by 11%.
One year later: The Depo-Provera site is 'a big success,' says Steve Melles, a partner in Infinet. He says the product is doing 'record sales' in Canada, for which he credits a combination of efforts, including the direct-to-consumer Web site. Monthly hits have doubled, and the client has asked for a redesign to boost the direct mail side of things. 'Before, you got an e-mail every three months to remind you it's time to refill on your injection,' he says. 'Now we're taking a much more timely approach, (including) sending out e-mails on a weekly basis to educate (patients) about the products and side effects.' Infinet spokesman Mark De Wolf says there are plans to expand the site's marketing to include new demographics, although the client is still reviewing various approaches. Last fall, Infinet launched another site for P&U to promote Dettrol, a pharmaceutical product for women with urinary incontinence. 'We're getting to take our ideas and strategies on a global basis,' Melles says, pointing out that three new pharmaceutical companies have been added to Infinet's roster.
RBC, TD and Lululemon among most valuable brands
Once again, the financial institutions and apparel brand landed in Kantar's top 10 lists for their sectors.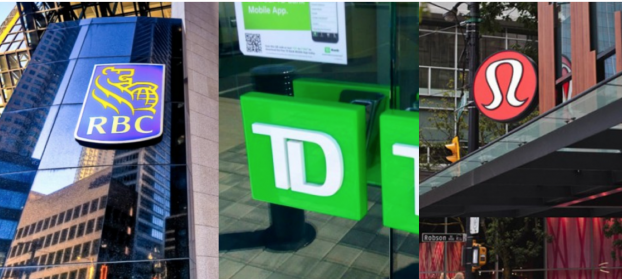 In the recently released 2022 edition of the Kantar BrandZ Top 100 Most Valuable Global Brands survey, several Canadian companies landed in the top rankings, namely in the financial institutions and apparel categories.
Two Canadian brands made an appearance in the survey's global banks rankings: RBC holds second position (57th overall), while TD ranks eighth (72nd overall), with brand values worth US$39.5 billion (up 43% from last year) and US$29.7 billion (up 47%), respectively. TD was among the fastest risers in the overall Top 100 survey, climbing 18 positions.
Lululemon takes fourth place as the most valuable apparel brand, behind Nike, Zara and Adidas. The Canadian athletic-wear company is valued at US$20.4 billion.
"Our 2022 rankings demonstrate both the resilience of our Canadian banking brands and their ability to create brand value by connecting with consumers to outperform other brands on the world stage," said Scott Megginson, president of Kantar Canada in a release. "They are leaders among brands in the global financial services sector and the number one position is coming within reach for RBC.
"It is also encouraging to see how Lululemon has continued to build brand value as people return to work," adds Megginson. "Its reputation for innovation, quality and reliability allows them to command a premium in the market."
Overall, Apple has landed in the #1 position and is projected to become the first trillion-dollar brand. It's brand value sits at US$947.1 billion, and is commended in the survey for its ongoing diversification strategy across its hardware, software and services portfolio. Apple moved up from second position in 2021.
Google has taken the second top spot, up one from the previous year, increasing its brand value by 79% to US$819.6 billion. In third place, Amazon dropped down two spots from last year's #1 position, and this year its brand value equates to US$705.6 billion.
In 2022, more than three quarters of brand value originated from U.S. companies, with media and entertainment, business solutions and technology providers and retail categories contributing to over half the total value of the Top 100.
According to Kantar, sector leaders emerged from a variety of industries, with technology and luxury brands growing the fastest – 46% for consumer technology and 45% for luxury. Automotive growth grew by 34%, and banks by 30%, compared to other sectors such as apparel at 20% and personal care by 17%.
Combined, the value of the world's Top 100 most valuable brands has increased by 23% to US$8.7 trillion in the last year. Set for release in October 2022, Kantar will rank Canada's top 40 most valuable brands, along with reports and insights for its market.