Knight's off base
After reading Bob Knight's rant on the Billi Awards' call for entries in the Jan. 31 issue of Strategy DirectResponse, I felt compelled to defend myself. Why? Maybe it was the fact that he was completely off base in his assessment...
After reading Bob Knight's rant on the Billi Awards' call for entries in the Jan. 31 issue of Strategy DirectResponse, I felt compelled to defend myself. Why? Maybe it was the fact that he was completely off base in his assessment of this 'DM' piece or that I just fear the day that I am walking down the street and somebody hits me in the face with a slab of meat ('Unfortunately, the reproduction of the sample billboard is so abominable you want to throw pork in the chops of whomever OK'd the proof.')
I believe that the first rule of 'Direct Marketing', or any other marketing for that matter is to know your target. This was a poster sent mainly to creative departments at ad agencies. These people make ads, read ads, and dissect ads every day, so we tried to do something that they would appreciate and hopefully tack up on the wall. Maybe we should have included a two-page personalized letter with plenty of italics, a tipped-in reminder card, a message from the president, another reminder card and a postage-paid envelope, but we felt the cleaning staffs at these agencies were overworked enough.
Admittedly, the quality of reproduction was not the greatest. That factor was weighed against the quality of the idea and we felt that we could live with the reproduction. We also reasoned that maybe in some way the poorer quality of the photograph helped to reinforce the idea of the 'bad ad'.
Bob Knight mentioned that the ad was succinct, and I'm not sure how to respond. The last time I checked, that's the name of the game, whether it be in direct mail, print, television or outdoor. Isn't the idea to interest the reader, convey your information in a single-minded manner and move on? The ad told people how to enter (on the Web site: www.billiawards.com), where and when the show is (Feb. 24 at the ROM) and who to call for more information (I'm sure Susan Blanchard would tell you that the ROM is the Royal Ontario Museum). How much more information do you need?
Chris Hall
Art Director
Ambrose Carr Linton Carroll
Toronto, Ont.
Zulu grows its team and makes a slate of promotions
A director of interactive production for Zulubot is among dozens of new faces and roles at the agency, in response to recent wins.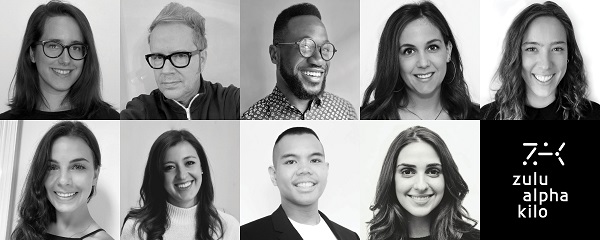 Toronto indie shop Zulu Alpha Kilo had made several new hires and promotions on the heels of new business and also organic growth from existing clients.

Zulu could not officially announce the account wins at this time.

However, it can report that Ece Inan, most recently at Toronto design and tech shop Array of Stars, has been named the agency's new director of interactive production for Zulubot, the agency's production arm. In the new role, Inan will lead AR, VR, voice and other digital innovation projects.

Also on the production side, James Graham, who has spent the last 17 years with Grip, has joined the agency as its studio director.

Zulu has also made numerous additions on the client services side, led by Michael Brathwaite, also from Grip, as account director.

It's also announced a spate of new account supervisors, including Hayley Blackmore (from G Adventures), Risa Kastelic (from BT/A), Kara Oddi (also from BT/A), Emily Anzarouth (also from Grip), Chris Rosario (from FCB/Six) and Sarah Shiff (from Rethink).

In addition to the new hires (pictured above), the agency has also announced several promotions: Alyssa Guttman moves from account director to group account director, while Nina Bhayana, Michelle Fournier, Jenn Gaidola-Sobral and Erin McManus have all been promoted to account director, and Haley Holm to account supervisor. On the strategy team, strategists Carly Miller and Spencer MacEachern have both been promoted to strategy director, while Shaunagh Farrelly, who has been with Zulu for two years in a client service role, moves into a new role as a digital strategist.

In December, the shop also announced that Stephanie Yung would be returning to the agency after a stint in New York as its head of design. Recent wins the agency has been able to announce including work as AOR for the Ottawa Senators, as well as a new arrangement with existing client Consonant Skincare, setting up an in-house team to support growth after taking an equity stake in the company.

Zulu president Mike Sutton says it's wonderful, in a new year, to welcome new faces and energy to the team and says the agency is fortunate to have had so many people across the agency step up to support its clients.

"Simply put, they were rock stars, and the promotions are very well deserved," Sutton says.