Hewlett-Packard tries paperless approach
Printers might be a large part of Hewlett-Packard's business, but in a recent marketing campaign, the company didn't use a lot of paper. Instead, the Mississauga, Ont.-based vendor - consistently a top-ranked inkjet and laser printer manufacturer, according to industry analysts...
Printers might be a large part of Hewlett-Packard's business, but in a recent marketing campaign, the company didn't use a lot of paper.
Instead, the Mississauga, Ont.-based vendor – consistently a top-ranked inkjet and laser printer manufacturer, according to industry analysts – teamed up with Toronto-based FloNetwork (formerly Media Synergy) to implement a permission-based e-mail marketing campaign. It was HP (Canada)'s first foray into the permission-based e-mail marketing medium.
The results? Not bad. Not bad, at all.
'If we could do anything differently, it would have been to increase the customer target,' says Cathy Malgi, programs manager for HP (Canada). 'It shows one-to-one marketing can be a competitive advantage if it's done right using a soft-sell approach.'
Peter Evans, marketing vice-president for FloNetwork, says HP's approach is the most cost-efficient way to establish a direct connection between the customer and the database.
'And once marketers start increasing their use of segmentation models with behavioural feedback they can get through e-mail marketing, they can start to cross-sell and upsell because they can target better,' he adds.
In HP's case, Malgi says the company 'had an exciting message to tell,' and it wanted to tell it in a hurry.
The campaign revolved around a number of value-added initiatives offered to its customers that go beyond the sale to round out what Malgi calls the 'HP total experience.'
The permission-based e-mail marketing campaign was designed to drive traffic to HP's Creative Print Contest, an online promotion developed to motivate people to use their HP printers and HP supplies. The contest also encouraged people to visit 'Printsville' (www.printsville.com), an HP Web site filled with ready-made templates and creative print project ideas – especially suitable for the small office and home office user of HP colour inkjet printers.
According to Malgi, HP gathered customer information, including e-mail addresses, through its HP Idea Kit promotion, aimed at personal printer users. Customers who bought a personal printer or ink cartridge could, using a reply card, send away for the HP Idea Kit. The kit contained two desktop publishing software CDs, sample papers and special media, and a project booklet with step-by-step instructions.
'We were able to collect a database of customers interested in creative printing ideas from the Idea Kit,' says Malgi. 'We sent out the Idea Kits twice a year over the past three years, so the information we collected fit in well with our Creative Print Contest campaign. We knew they would likely be interested in the ideas Printsville could give them.'
HP ended up with 19,000 opted-in names with e-mail addresses for its campaign, which began last spring. The e-mail messages gave recipients a choice – they could either download the message in plain-text format, or as an animated attachment. In either case, HP customers who received the e-mail were directed to Printsville, where they could download and print various projects, such as T-shirt iron-ons, gift-wraps, greeting cards and picture frames.
Three-quarters of the e-mail was successfully sent, with Malgi attributing the returned messages to respondents changing their Internet Service Provider (and thus having a new e-mail address) or data entry errors. But what of the remaining 75%?
'Sixty-eight per cent of the original 19,000 actually responded to our call to action,' says Malgi. 'We had an unsubscribe rate of only half a per cent. We were obviously respectful of not sending out the message if it wasn't wanted.' Several hundred recipients also forwarded the e-mail to friends and associates, she adds, noting that HP was projecting a response rate of about 30%.
An impressive result, and one that seems to support a study by Stamford, Conn.-based IMT Strategies which says that permission-based e-mail marketing, when done properly, may well be the 'killer app' of the direct response industry.
'Unlike Web banners, e-mail is an elegant and universal 'push technology' that puts the marketer back in control of what messages the customer sees when,' states the report, which surveyed more than 160 e-mail marketers and 400 customers. 'At a cost of pennies per message sent, permission e-mail offers marketers the chance to improve their marketing economics by five times or more compared to direct mail, and as much as 20 times Web banners.'
But permission-based e-mail marketing is still relatively new and that means marketers haven't yet worked out their expectations. HP improved its chances of success by targeting people who already owned printers and crafting a message that was relevant to them.
'I don't think HP believes that this is the right marketing tool for [every] initiative,' says Malgi. 'Reputable businesses will do their research when it comes to this type of tool – a lot of the success depends on it.'
Zulu grows its team and makes a slate of promotions
A director of interactive production for Zulubot is among dozens of new faces and roles at the agency, in response to recent wins.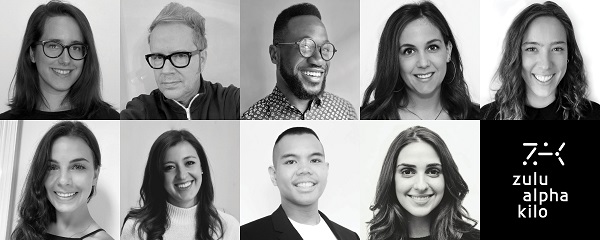 Toronto indie shop Zulu Alpha Kilo had made several new hires and promotions on the heels of new business and also organic growth from existing clients.

Zulu could not officially announce the account wins at this time.

However, it can report that Ece Inan, most recently at Toronto design and tech shop Array of Stars, has been named the agency's new director of interactive production for Zulubot, the agency's production arm. In the new role, Inan will lead AR, VR, voice and other digital innovation projects.

Also on the production side, James Graham, who has spent the last 17 years with Grip, has joined the agency as its studio director.

Zulu has also made numerous additions on the client services side, led by Michael Brathwaite, also from Grip, as account director.

It's also announced a spate of new account supervisors, including Hayley Blackmore (from G Adventures), Risa Kastelic (from BT/A), Kara Oddi (also from BT/A), Emily Anzarouth (also from Grip), Chris Rosario (from FCB/Six) and Sarah Shiff (from Rethink).

In addition to the new hires (pictured above), the agency has also announced several promotions: Alyssa Guttman moves from account director to group account director, while Nina Bhayana, Michelle Fournier, Jenn Gaidola-Sobral and Erin McManus have all been promoted to account director, and Haley Holm to account supervisor. On the strategy team, strategists Carly Miller and Spencer MacEachern have both been promoted to strategy director, while Shaunagh Farrelly, who has been with Zulu for two years in a client service role, moves into a new role as a digital strategist.

In December, the shop also announced that Stephanie Yung would be returning to the agency after a stint in New York as its head of design. Recent wins the agency has been able to announce including work as AOR for the Ottawa Senators, as well as a new arrangement with existing client Consonant Skincare, setting up an in-house team to support growth after taking an equity stake in the company.

Zulu president Mike Sutton says it's wonderful, in a new year, to welcome new faces and energy to the team and says the agency is fortunate to have had so many people across the agency step up to support its clients.

"Simply put, they were rock stars, and the promotions are very well deserved," Sutton says.