Cadillac takes the long view
If you're a luxury car owner, then chances are you read the business pages of one of Canada's national dailies. Such is the reasoning that led General Motors of Canada to put its entire media budget for Cadillac into newspaper last...
If you're a luxury car owner, then chances are you read the business pages of one of Canada's national dailies.
Such is the reasoning that led General Motors of Canada to put its entire media budget for Cadillac into newspaper last year. Specifically, the automaker executed a 52-week buy in both The Globe and Mail's Report on Business and The Financial Post.
Approximately 80% of luxury car buyers read one of these products, says Doug Turney, director of client services with GM's Toronto-based agency, MacLaren McCann. Some read both – and they read them in depth, like magazines.
Communicating with the target audience on an ongoing basis through a single medium made more sense in this case than a short-term effort in multiple media, Turney says. And it allowed the creative team to develop its message over time. 'It was using the frequency of the medium creatively by telling a different story every week,' he explains.
The approach also had the advantage of being unusual for the category, Turney adds. 'It allowed us to do something that we've never seen done in newspaper before.'
All of the ads in the series were full-page black and white. The first featured the Cadillac logo, and some copy outlining the brand's illustrious history. The Cadillac name, it pointed out, has entered our everyday lexicon, as a means of denoting superior quality. (How often have you heard something referred to as 'the Cadillac of -'?)
After that, each weekly ad highlighted a different aspect of Cadillac – from the overall design to technological features such as the OnStar tracking and concierge system.
The campaign tagline – 'That's right. Cadillac' – wasn't intended as a positioning statement for the brand, Turney says. Rather, the goal was to drive consumer response. 'What we needed to do was take people on a journey,' he explains. 'We needed to get their attention, gain awareness for Cadillac and ultimately persuade them that Cadillac has changed.'
Why the urgency? In a word, imports.
As in most other automotive categories, Japanese and European vehicles – in this case, the likes of Infiniti, Lexus and Audi – have become a powerful presence in the luxury market, forcing domestic automakers to put pedal to the metal in order to maintain market share.
Cadillac had to prove itself to be at least on par with the imports – if not actually more prestigious. And it had to make the point often, Turney says. 'We wanted to be seen regularly and create a presence.'
The marketing team (which includes MacLaren's media management unit, Initiative Media) locked in the same placement every week. The ad in Report on Business appeared on Tuesdays, while the one in the Post ran on weekends. 'It bridged the week really well,' Turney says.
Because the target audience is highly educated, he adds, the creative needed to eschew bold declarations, and give due credit to the reader's intelligence. 'Otherwise the B.S. meter goes off,' he says.
Mike Speranzini, brand manager for Cadillac with Oshawa, Ont.-based General Motors, says the newspaper buy proved a highly effective means of reaching the brand's target audience. 'We are delighted with the results from a brand-building and sales point of view.'
Perceptions of Cadillac have improved markedly, he says, and sales of those vehicles spotlighted in the campaign – the Deville, Seville and Escalade – have all climbed.
Also in this report:
- Launch of Post good news for advertisers: Upstart daily has jump-started the industry, prompting offers of better rates, bonus ads and new loyalty programs p.NP3
- Stop the presses: Dailies are changing: No longer acting as simple order-takers p.NP4
- Picture perfect: It's obvious that visually driven creative works well in newspaper. So why don't more advertisers use it? NP5
- Telcos reward readers with a laugh: MTT and Bell Mobility employ unusual formats to nab attention p.NP6
- Savingumoney.com builds awareness offline: Coupon portal uses newspapers as linchpin of media strategy p.NP7
- Edmonton Journal: Time for a change: Daily goes for a facelift p.NP10
- Whistler taps fast turnaround times: Newspaper lets ski resort react quickly to changing circumstances p.NP13
- Talvest co-brands funds with FP Index: Helped Montreal financial services provider to crack Ontario market p.NP14
Zulu grows its team and makes a slate of promotions
A director of interactive production for Zulubot is among dozens of new faces and roles at the agency, in response to recent wins.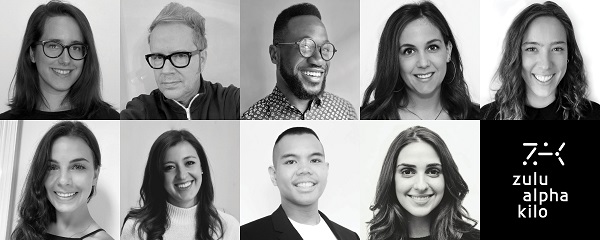 Toronto indie shop Zulu Alpha Kilo had made several new hires and promotions on the heels of new business and also organic growth from existing clients.

Zulu could not officially announce the account wins at this time.

However, it can report that Ece Inan, most recently at Toronto design and tech shop Array of Stars, has been named the agency's new director of interactive production for Zulubot, the agency's production arm. In the new role, Inan will lead AR, VR, voice and other digital innovation projects.

Also on the production side, James Graham, who has spent the last 17 years with Grip, has joined the agency as its studio director.

Zulu has also made numerous additions on the client services side, led by Michael Brathwaite, also from Grip, as account director.

It's also announced a spate of new account supervisors, including Hayley Blackmore (from G Adventures), Risa Kastelic (from BT/A), Kara Oddi (also from BT/A), Emily Anzarouth (also from Grip), Chris Rosario (from FCB/Six) and Sarah Shiff (from Rethink).

In addition to the new hires (pictured above), the agency has also announced several promotions: Alyssa Guttman moves from account director to group account director, while Nina Bhayana, Michelle Fournier, Jenn Gaidola-Sobral and Erin McManus have all been promoted to account director, and Haley Holm to account supervisor. On the strategy team, strategists Carly Miller and Spencer MacEachern have both been promoted to strategy director, while Shaunagh Farrelly, who has been with Zulu for two years in a client service role, moves into a new role as a digital strategist.

In December, the shop also announced that Stephanie Yung would be returning to the agency after a stint in New York as its head of design. Recent wins the agency has been able to announce including work as AOR for the Ottawa Senators, as well as a new arrangement with existing client Consonant Skincare, setting up an in-house team to support growth after taking an equity stake in the company.

Zulu president Mike Sutton says it's wonderful, in a new year, to welcome new faces and energy to the team and says the agency is fortunate to have had so many people across the agency step up to support its clients.

"Simply put, they were rock stars, and the promotions are very well deserved," Sutton says.