Edmonton Journal
A daily newspaper can be a great source of comfort to its faithful readers - a familiar fixture in their hectic lives. But familiarity can also breed contempt. These are the twin truths that confront any newspaper planning a redesign. 'It's...
A daily newspaper can be a great source of comfort to its faithful readers – a familiar fixture in their hectic lives. But familiarity can also breed contempt.
These are the twin truths that confront any newspaper planning a redesign.
'It's always risky to make changes to a paper,' says Linda Hughes, publisher of The Edmonton Journal. 'People don't like change.'
Sometimes, however, change is necessary. Certainly that's the conclusion Hughes and her colleagues reached when they began contemplating an overhaul last year.
The Journal's previous face-lift had been a full decade earlier, in 1989. The need for a change then had been fairly obvious. 'The paper was just unattractive,' says Hughes, a Journal editor at the time.
The Southam-owned broadsheet had an outdated nameplate, old-fashioned fonts and not nearly enough art or local news, she recalls. 'It was a mess.'
This time around, however, the need for change wasn't so readily apparent. Reader polls, in fact, showed little dissatisfaction with the product.
There was, of course, the small matter of heightened competition. True, the Journal was successfully holding its own against The Edmonton Sun, a scrappy Sun Media-owned tabloid (NADbank figures show 335,000-plus weekday Journal readers, versus 191,000 Sun readers). But the National Post's arrival had changed the whole newspaper playing field – just as it had in the country's other major English-speaking markets.
Still, Hughes says the decision to revamp had far less to do with the launch of the Post than with timing. Simply put, 10 years is a long time to stick with the same design – probably too long. 'We had a sense that it was time for renewal,' she says. (There was promotional value, too, in the fact that the changes would come just prior to the dawn of a new century.)
'Intuitively, we just knew it was time,' affirms Pat Hutchison, the paper's vice-president of marketing.
The Journal faced the same dilemma that confronts every other daily in the country: More and more people simply have no time to read. Somehow, the paper had to make itself more appealing to these individuals, without turning off the loyal readers who'd stuck with it for years.
The first step was assigning an in-house committee to develop ideas for improvement, Hutchison says.
These discussions pointed to the need for more modern and eye-catching graphics. Placement, size and colour of photographs and other graphics also emerged as important issues. 'It's a more graphics-oriented audience today,' she says.
In addition to bumping up the use of colour, running larger photos and placing graphics more prominently, the Journal has adopted the old adage that a picture is worth a thousand words. Page A2, for example, is now devoted almost exclusively to photos from around the world, each telling its own story.
Significant content improvements have also been made. For example, the various 'lifestyle' sections that used to run on specific days of the week – such as fashion, food, parenting and health – have now been folded into an overall 'Living' section, to allow for greater editorial flexibility.
While the front page of 'Living' is still generally devoted to a single topic, depending on the day of the week (Food on Wednesdays, for instance), no longer is the entire section given over to the subject. 'This allows us more freedom,' Hutchison says.
The Journal has also added a Sunday Reader section, with more magazine-style feature articles and heavy use of graphics and photographs. And it has renewed its commitment to its major areas of strength – local news and entertainment – by expanding the City section and increasing its frequency to seven days a week. (That's more or less the same strategy that The Toronto Star adopted in its own market just prior to the birth of the National Post.)
To promote its new, improved product, the Journal hired Edmonton-based agency Calder Bateman.
'It was a big challenge, because we didn't want to rock the boat with current readers,' says Ernie Pasemko, a partner with Calder Bateman.
Advertising for the new-look Journal appeared in television, radio and outdoor, he says. The campaign tagline, 'The new face of Edmonton,' reinforced the paper's status as the source for local content.
Pasemko says the agency also created several events on the launch day to raise awareness with key audiences, including advertisers.
The Journal's makeover is a positive development, says Robyn Ferry, media manager with Edmonton-based Mediactive. There's no sign, however, that it has prompted a sudden rush of new advertisers. 'It hasn't had an effect on rates or advertising in general,' she says.
What it has done, according to Ferry, is generate some excitement around the paper – which, in turn, should help promote an increase in circulation numbers.
The Journal's renewed emphasis on local news is also a smart move that should increase its appeal to regional advertisers, Ferry adds.
Still, she says, clients pay more attention in the end to things like NADbank figures than to newspaper redesigns. WC
Also in this report:
- Launch of Post good news for advertisers: Upstart daily has jump-started the industry, prompting offers of better rates, bonus ads and new loyalty programs p.NP3
- Stop the presses: Dailies are changing: No longer acting as simple order-takers p.NP4
- Picture perfect: It's obvious that visually driven creative works well in newspaper. So why don't more advertisers use it? NP5
- Telcos reward readers with a laugh: MTT and Bell Mobility employ unusual formats to nab attention p.NP6
- Savingumoney.com builds awareness offline: Coupon portal uses newspapers as linchpin of media strategy p.NP7
- Cadillac takes the long view: Used frequency of newspaper creatively by telling a different story every week p.NP10
- Whistler taps fast turnaround times: Newspaper lets ski resort react quickly to changing circumstances p.NP13
- Talvest co-brands funds with FP Index: Helped Montreal financial services provider to crack Ontario market p.NP14
Zulu grows its team and makes a slate of promotions
A director of interactive production for Zulubot is among dozens of new faces and roles at the agency, in response to recent wins.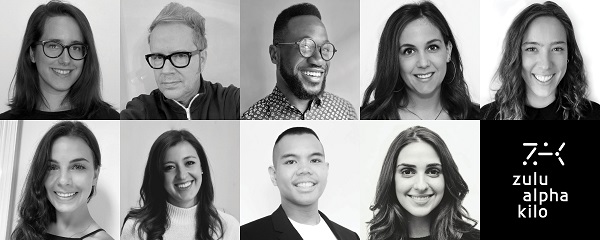 Toronto indie shop Zulu Alpha Kilo had made several new hires and promotions on the heels of new business and also organic growth from existing clients.

Zulu could not officially announce the account wins at this time.

However, it can report that Ece Inan, most recently at Toronto design and tech shop Array of Stars, has been named the agency's new director of interactive production for Zulubot, the agency's production arm. In the new role, Inan will lead AR, VR, voice and other digital innovation projects.

Also on the production side, James Graham, who has spent the last 17 years with Grip, has joined the agency as its studio director.

Zulu has also made numerous additions on the client services side, led by Michael Brathwaite, also from Grip, as account director.

It's also announced a spate of new account supervisors, including Hayley Blackmore (from G Adventures), Risa Kastelic (from BT/A), Kara Oddi (also from BT/A), Emily Anzarouth (also from Grip), Chris Rosario (from FCB/Six) and Sarah Shiff (from Rethink).

In addition to the new hires (pictured above), the agency has also announced several promotions: Alyssa Guttman moves from account director to group account director, while Nina Bhayana, Michelle Fournier, Jenn Gaidola-Sobral and Erin McManus have all been promoted to account director, and Haley Holm to account supervisor. On the strategy team, strategists Carly Miller and Spencer MacEachern have both been promoted to strategy director, while Shaunagh Farrelly, who has been with Zulu for two years in a client service role, moves into a new role as a digital strategist.

In December, the shop also announced that Stephanie Yung would be returning to the agency after a stint in New York as its head of design. Recent wins the agency has been able to announce including work as AOR for the Ottawa Senators, as well as a new arrangement with existing client Consonant Skincare, setting up an in-house team to support growth after taking an equity stake in the company.

Zulu president Mike Sutton says it's wonderful, in a new year, to welcome new faces and energy to the team and says the agency is fortunate to have had so many people across the agency step up to support its clients.

"Simply put, they were rock stars, and the promotions are very well deserved," Sutton says.