Clutter on the rise
Advertisers who continue to pay big bucks for airtime they know is cluttered with too many television commercials are just wasting their money, says a media management expert. David Stanger, a Vancouver-based consultant, says it's a losing proposition to buy ads...
Advertisers who continue to pay big bucks for airtime they know is cluttered with too many television commercials are just wasting their money, says a media management expert.
David Stanger, a Vancouver-based consultant, says it's a losing proposition to buy ads in an environment that's cluttered with competing messages.
'The worst enemy of the advertiser are commercial breaks that start people racing around the dial with the remote. The more commercials, the more clutter, the more it's going to fragment the viewing and take away time spent watching the commercials we want them to see as advertisers.'
Unfortunately, says Stanger, he doesn't see the situation changing until the balance shifts between inventory demand and availability. And he doesn't see demand ebbing as long as advertisers have a competitive bone in their bodies.
'For every advertiser that steps up to take a stand, there are two waiting to grab the available airtime,' he says.
The Association of Canadian Advertisers, which monitors ad minutes per hour through an annual study, has been a vocal opponent of clutter creep for the past few years, although it has not launched a formal complaint with the Canadian Radio-television and Telecommunications Commission or directly approached offending broadcasters.
The ACA's latest study, based on data collected last fall, shows that 80% of measured programming continues to contain more than the regulation 12 minutes per hour of advertising.
Bob Reaume, vice-president, media and research for the ACA, pegs the national average at 14 minutes and 40 seconds per hour across all dayparts.
He says the clutter isn't quite as noticeable in the Toronto market where there is a larger inventory of airtime, but in markets like Calgary and Vancouver, the offences are staggering.
In Calgary, the study found an average of 15 minutes, 30 seconds per hour in the 4-6 p.m. period and 15 minutes, eight seconds from noon to 4 p.m.
A full 93% of all hours measured in Vancouver, Monday to Friday, noon to 4 p.m. were over the 12-minute limit, with the average being 16 minutes, 15 seconds.
'We [the advertisers] have an investment in this medium and it's just a shame that no one wants to take steps to shore this up,' says Reaume. 'It's really very short-sighted.
'The viewer is jaded enough,' he says, adding: 'We have research that shows that the more commercials that run in a program, the less likely that the consumer will remember your commercial.
'Twelve minutes seems like a reasonable amount of time to us. But when it gets up to 20 minutes [as in the U.S.], I can't blame the consumer for using the remote control to start looking for other programming.'
In the U.S., clutter has soared to its highest level ever, 16.43 minutes per prime time hour (59 seconds higher than the previous year) according to the annual Television Commercial Monitoring Report from the American Association of Advertising Agencies and the Association of National Advertisers.
The report also states that U.S. daytime network clutter rose to a new level of 20.53 minutes per hour on average.
That disparity between the amount of U.S. ad time and the allowable number of minutes in Canada has contributed to the problem in this country.
Broadcasters importing U.S. programming have had to fill those gaps. To that end, last summer, the CRTC added several exclusions to its 12-minute-per-hour rule, including the promotion of any Canadian program or feature film and cross-promotions between stations and networks.
Ken Johnson, vice-president of sales for Global Television Network says Global stays within the CRTC guidelines and fills the gaps using promotional messages, news and weather breaks, sports and entertainment minutes, or other vignettes.
'This country is affected by U.S. product. We buy U.S. product and they determine how much commercial time to run in it. We don't. We're allowed 12 minutes and that's what we run.'
Zulu grows its team and makes a slate of promotions
A director of interactive production for Zulubot is among dozens of new faces and roles at the agency, in response to recent wins.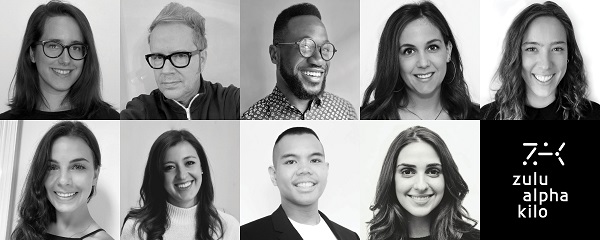 Toronto indie shop Zulu Alpha Kilo had made several new hires and promotions on the heels of new business and also organic growth from existing clients.

Zulu could not officially announce the account wins at this time.

However, it can report that Ece Inan, most recently at Toronto design and tech shop Array of Stars, has been named the agency's new director of interactive production for Zulubot, the agency's production arm. In the new role, Inan will lead AR, VR, voice and other digital innovation projects.

Also on the production side, James Graham, who has spent the last 17 years with Grip, has joined the agency as its studio director.

Zulu has also made numerous additions on the client services side, led by Michael Brathwaite, also from Grip, as account director.

It's also announced a spate of new account supervisors, including Hayley Blackmore (from G Adventures), Risa Kastelic (from BT/A), Kara Oddi (also from BT/A), Emily Anzarouth (also from Grip), Chris Rosario (from FCB/Six) and Sarah Shiff (from Rethink).

In addition to the new hires (pictured above), the agency has also announced several promotions: Alyssa Guttman moves from account director to group account director, while Nina Bhayana, Michelle Fournier, Jenn Gaidola-Sobral and Erin McManus have all been promoted to account director, and Haley Holm to account supervisor. On the strategy team, strategists Carly Miller and Spencer MacEachern have both been promoted to strategy director, while Shaunagh Farrelly, who has been with Zulu for two years in a client service role, moves into a new role as a digital strategist.

In December, the shop also announced that Stephanie Yung would be returning to the agency after a stint in New York as its head of design. Recent wins the agency has been able to announce including work as AOR for the Ottawa Senators, as well as a new arrangement with existing client Consonant Skincare, setting up an in-house team to support growth after taking an equity stake in the company.

Zulu president Mike Sutton says it's wonderful, in a new year, to welcome new faces and energy to the team and says the agency is fortunate to have had so many people across the agency step up to support its clients.

"Simply put, they were rock stars, and the promotions are very well deserved," Sutton says.