The ABCs of sponsorship research
Daniel Buckley and Christopher Rigney are the principals of R.O.I. Sports & Entertainment Research Canada, which opened an office in Toronto last September. The firm provides sponsorship research services for such clients as General Motors of Canada, Air Canada, Sears Canada...
Daniel Buckley and Christopher Rigney are the principals of R.O.I. Sports & Entertainment Research Canada, which opened an office in Toronto last September. The firm provides sponsorship research services for such clients as General Motors of Canada, Air Canada, Sears Canada and Tim Hortons.
As an industry, sponsorship marketing is still quite young. Sponsorship research, however, is even younger.
In recent years, corporations have placed their sponsorship programs under increasing scrutiny. Their understandable desire to measure the return on investment from sponsorship – particularly in light of the way that rights fees are growing – has resulted in the rapid evolution of the sponsorship measurement industry.
As in any new industry, the body of knowledge upon which methods and practices are based remains very much in development. Right now, sponsorship research is still striving to find a balance between art and science in its use of qualitative and quantitative research methods.
Based on what we've learned to date, here are the ABCs (and Ds) of sponsorship research.
(A)ccumulate and employ normative data to evaluate sponsorship performance.
Companies with a broad sponsorship portfolio should make a concerted effort to develop normative measures against which they can evaluate the performance of their sponsorship programs.
Having the ability to analyze the results of a sponsorship against a reliable benchmark is vastly preferable to evaluating sponsorship in a vacuum. Comparing data from a specific event or program to normative data lends invaluable context to the findings, and answers the inevitable question: 'Are these results good or bad compared to other events or programs?'
A key is understanding which elements of a company's sponsorships are critical to measure, and then constructing research questions that will effectively address these issues. Take the necessary time to develop good questions early on: A poorly constructed question is difficult to eliminate from a research survey once it's being used for benchmarking and trending purposes.
(B)e sure to establish sponsorship objectives up front.
To measure the performance of an event sponsorship, a company must articulate its specific objectives before the program actually launches.
While this may sound like a basic step, convincing a company (or its agency) to take it can prove a challenge. But without an understanding of what the organization hopes to achieve through sponsorship efforts, it is virtually impossible to conduct the post-event measurement exercise.
Measurement of the sponsorship program should be based on its performance against this pre-determined set of objectives. Did the sponsorship increase awareness, improve the corporate or brand image, fuel product trials and drive sales? Or all of the above?
(C)onduct 'pre-search' whenever possible.
Many organizations now commit a portion of their sponsorship budget to the return-on-investment post-measurement of programs. But few actually conduct research prior to making a sponsorship investment.
Research at this stage may not seem like a necessity, but it offers an invaluable opportunity to gain consumer insight into the investment that the corporation or brand is pondering. In some cases, it may raise concerns that prompt organizations to back away from investments, thereby 'saving' themselves a considerable amount of money.
By establishing a line of communication with consumers – whether through surveys, focus groups or in-depth interviews – companies can answer a number of key questions. Do the target consumers see a natural alignment between the organization and the property that it plans to sponsor? Does the sponsorship make sense to them? Does the idea resonate with them in any meaningful way?
Corporations and brands should also ask their target audience what they would like to see offered as part of a sponsorship program. Promotions? Ticket or travel giveaways? In-store athlete appearances? Online contesting? Try to assess this input from consumers objectively – don't discount what they have to say. By gaining an understanding of the targeted consumer's behaviour and attitudes toward sponsorship, organizations can decide whether investment in a property is worth pursuing, and determine which activation strategies merit consideration.
(D)on't rely solely upon on-site research.
In some ways, measuring the impact of an event sponsorship can prove a good deal easier than measuring other types of marketing programs, given that the universe of consumers affected by the event is generally quite well-defined: People either attended the event or they didn't.
Where problems arise, they often have to do with the means by which we collect information from attendees. All too frequently, sponsoring organizations try to conduct quick-and-dirty consumer research on-site. This generally entails writing their own questionnaire, and deploying 'interviewers' armed with clipboards and pens to intercept as many event participants as possible.
If all we wanted to do was to collect general behavioural information (who accompanied the respondent to the event, how far they travelled to get there, how they obtained tickets, and so on) this approach would be perfectly acceptable. To get a true evaluation of the program, however, the event sponsor needs to pose a battery of key questions that are best asked off-site – questions dealing with issues such as sponsorship recall, general attitudes toward the sponsor and willingness to try the sponsor's product or service.
For this reason, sponsors should consider employing a 'recruit and callback' method, whereby respondents are recruited at the event, and then interviewed later by phone. Conducting the interview process a week or so after the event increases the likelihood that respondents will give 'true' responses, rather than the ones they think the on-site interviewer wants to hear. The 'recruit and callback method' also offers a more accurate measure of sponsorship awareness, since the interview takes place away from the actual venue, with all of its readily visible sponsor exposure.
Sponsorship research is capable of delivering relevant, timely and accurate information that helps corporations and their brand marketers gain a better understanding of their sponsorship investments. In the years ahead, sponsorship research will continue to employ both qualitative and quantitative techniques. But as the knowledge base matures and grows, methodologies and practices will be refined and standardized.
- Get Carter: Toronto Raptor is proving Vince Carter is proving to be just as hot off the court as on p.25
- Does it work for the brand? There's no point spending the money if the event doesn't further your brand's objectives p.29
- Creative Trust pools fundraising resources p.30
Zulu grows its team and makes a slate of promotions
A director of interactive production for Zulubot is among dozens of new faces and roles at the agency, in response to recent wins.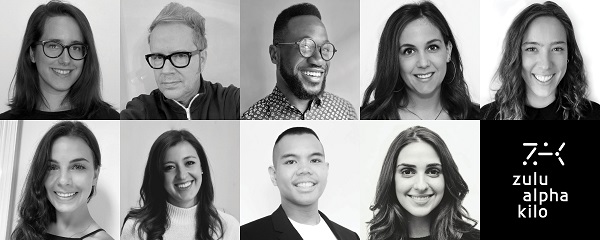 Toronto indie shop Zulu Alpha Kilo had made several new hires and promotions on the heels of new business and also organic growth from existing clients.

Zulu could not officially announce the account wins at this time.

However, it can report that Ece Inan, most recently at Toronto design and tech shop Array of Stars, has been named the agency's new director of interactive production for Zulubot, the agency's production arm. In the new role, Inan will lead AR, VR, voice and other digital innovation projects.

Also on the production side, James Graham, who has spent the last 17 years with Grip, has joined the agency as its studio director.

Zulu has also made numerous additions on the client services side, led by Michael Brathwaite, also from Grip, as account director.

It's also announced a spate of new account supervisors, including Hayley Blackmore (from G Adventures), Risa Kastelic (from BT/A), Kara Oddi (also from BT/A), Emily Anzarouth (also from Grip), Chris Rosario (from FCB/Six) and Sarah Shiff (from Rethink).

In addition to the new hires (pictured above), the agency has also announced several promotions: Alyssa Guttman moves from account director to group account director, while Nina Bhayana, Michelle Fournier, Jenn Gaidola-Sobral and Erin McManus have all been promoted to account director, and Haley Holm to account supervisor. On the strategy team, strategists Carly Miller and Spencer MacEachern have both been promoted to strategy director, while Shaunagh Farrelly, who has been with Zulu for two years in a client service role, moves into a new role as a digital strategist.

In December, the shop also announced that Stephanie Yung would be returning to the agency after a stint in New York as its head of design. Recent wins the agency has been able to announce including work as AOR for the Ottawa Senators, as well as a new arrangement with existing client Consonant Skincare, setting up an in-house team to support growth after taking an equity stake in the company.

Zulu president Mike Sutton says it's wonderful, in a new year, to welcome new faces and energy to the team and says the agency is fortunate to have had so many people across the agency step up to support its clients.

"Simply put, they were rock stars, and the promotions are very well deserved," Sutton says.