Everyone has a great Internet idea
1. Why I'm already dubious about Making Big Money Fast on the Internet: My cousin, Ron Base, spent years writing movie reviews for The Toronto Star. Then, he decided to write books about movies, and to get a closer look, went...
1. Why I'm already dubious about Making Big Money Fast on the Internet:
My cousin, Ron Base, spent years writing movie reviews for The Toronto Star. Then, he decided to write books about movies, and to get a closer look, went and lived in Hollywood, Calif. for the best part of a decade.
When he came back, he observed that Hollywood is a different kind of place. Because for one thing, in Hollywood, everybody is writing a screenplay. Commuters write screenplays in traffic jams on the freeways. Students write screenplays in coffee shops. Sunbathers write screenplays on the beach at Malibu. People who do not, according to any reasonable definition of the term 'Speak English' are walking around Hollywood with a sheaf of paper under their arms containing a second draft of their freaking screenplay.
This is the only analogy I can think of for the phenomenon we are now witnessing, worldwide, with the Internet. Let's face it, you, I, and everybody we know are walking around with an Interesting Internet Concept under development in their heads.
In a recent Ad Age, I counted 17 pages of dot-com biz advertising, out of a total of 35 pages of advertising in the entire issue.
The rate of proliferation of dot-com companies is such that one can only equate it to a scenario where Hollywood releases a thousand new movies every week. And if the average Hollywood movie costs, oh, a hundred and fifty million dollars to make, and another 50 million to promote in the media, for even half the new movies to break even you'd need to triple the world population, put a cinema complex on every street corner, and charge a thousand bucks a piece for a ticket, right?
Somebody once said the fast-food industry's big problem was that people didn't know they needed six meals a day. I think the Internet's big problem is that there are a kazillion mega-million-dollar Web sites out there that won't ever flicker across our little monitors once 'cause none of us are going to live that long and we're not really that interested either.
In addition to its insatiable appetite for money, the other thing the Internet eats up is time or didn't cha know.
There was a great bit in the satirical pseudo-newspaper The Onion (www.theonion.com) recently. The Onion's typical McNewspaper reporter-speak headline was something like Local man uses Internet to get information. It seems this guy and his wife were headed out to dinner at a new restaurant and didn't know the address. The wife was about to pick up the phone and call the restaurant, but the guy said no no wait and went onto the Internet. It goes on Only fourteen minutes later, he had located the restaurant and pinpointed its location at the corner of Main and Elm!!!
If, in a few short years, the hubub dies down and the Internet reverts back to being a repository for obscure research papers, a way your kids send greetings to school friends who just moved back to Hong Kong, and the world's biggest pornography store, don't say I didn't warn you! And hey, don't sell those Bell stocks!
2. Why I still believe there's hope for print advertising:
Have you seen that knockout newspaper ad for Stockhouse.ca? The entire ad is done as a lovely, steel-engraved stock certificate. Framed by the soft purple decorative border is the headline Unlike your brother-in-law we actually do know everything about stocks beneath a highly unflattering illo of said brother-in-law the know-it-all slob that he is. Then, there's a very long but very nicely written piece of copy that invites you to get your stock info, for free, on the only stock site created for fanatics, by fanatics.
3. Why I still believe there's hope for TV advertising, in spite of my wife.
Have you seen the very odd, very brave spot for Diet Pepsi? A beautiful, exotic young woman is a passenger in a New York-style taxi cab. One of those bulletproof glass partitions separates her from the driver, with only a small opening to pass the fare though. The driver of the cab is a raving weirdo, with spiky hair and leathers. He's sucking a lollipop, too. The woman opens a Pepsi, takes a sip, and sees an old VW Beetle pulling away from the curb out the window. Suddenly, she hauls off and punches the driver, really hard, through the little opening. PUNCH BUGGY!!! She yells.
Cheryl is watching Ally McBeal with me when this thing goes by. What did she say? I asked. Punch Buggy! said Cheryl. But she didn't say Punch Buggy no punch back! Don't these people have kids? Anyway, the super comes on saying Diet Pepsi. Forever young.
Wouldn't make me buy Pepsi muttered Cheryl. But it wouldn't stop me, either. In our house, that's at least a nine!
Barry Base creates advertising campaigns for a living. He creates this column for fun, and to test the unproven theory that clients who find the latter amusing may also find the former to their liking. Barry can be reached at (416) 924-5533, or faxed at (416) 960-5255, at the Toronto office of Barry Base & Partners.
Kraft Heinz beats the street, but reports slight sales slide
The company's Q2 net sales, while down slightly, reveal continued demand for snacks and pre-packaged meals.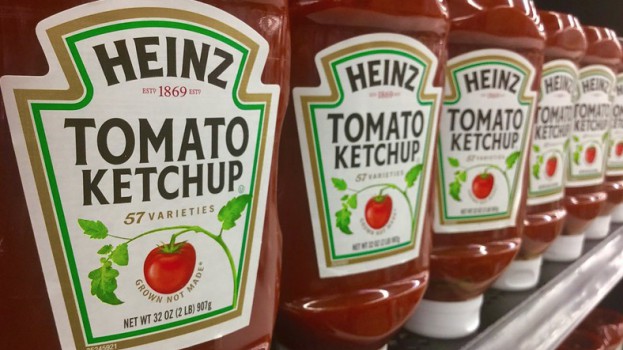 Kraft Heinz is reporting earnings of 78 cents a share, beating Wall Street's estimate of 72 cents a share, thanks to continued demand for snacks and pre-packaged meals. However, the company also reported a net sales decline of 0.5% compared with the same period last year, to $6.6 billion, according to its latest Q2 earnings report, released Tuesday.

The company experienced a favourable 2.3 percentage point impact from currency and a negative 0.7 percentage point impact from its February divestiture of Hormel Foods – including the Planters peanut brand – which closed in the second quarter of 2021.

Its cheese divestiture – which included the sale of its natural cheese division to Lactalis – is expected to close in the second half of 2021, says Kraft Heinz Global CEO Miguel Patricio in this morning's conference call.

Adjusted EBITDA slumped 5.2% versus the year-ago period to $1.7 billion and increased 6.6% versus the comparable 2019 period. Higher transportation and inflation-related goods costs continue to affect the company's bottom line.

Kraft Heinz' organic net sales declined 3.6% in Canada over the last three months compared with a comparable period last year, this as total net sales rose 8.8% year over year. 

However, its overall organic net sales slipped 2.1% compared with 2020 figures. This includes the negative impact stemming from exiting its McCafé licensing agreement. However, this decline was partly offset, Kraft Heinz reports, by "partial recovery in foodservice channels and retail consumption trends."

"Food service is recovering, and recovering fast," Patricio stressed in today's earnings call. He said "the bet to support QSR" early in the pandemic, with individual packets of ketchups and sauces, is paying off.

Channel trends are still normalizing, he warns, and it's too early to see how at home or away from home, will net out. "We have big ambitions for away from home business," he said. Consumers continue to evolve how they eat, with Patricio saying that Kraft Heinz is collaborating with a popular DTC brand for its Philadelphia cream cheese.

Accrued marketing costs, the company reports, rose to $968 million from $946 million in December 2020.

"We are investing more in our brands, and better as well, building a much more creative company," Patricio reported.

Kraft Heinz is also strengthening and diversifying its media presence, he said, driving repeat rates for those discovering and rediscovering the brand. Patricio added that the company is continuing to drive its transformation program forward, modernizing its brands and better connecting with its consumers.