Everyone has a great Internet idea
1. Why I'm already dubious about Making Big Money Fast on the Internet: My cousin, Ron Base, spent years writing movie reviews for The Toronto Star. Then, he decided to write books about movies, and to get a closer look, went...
1. Why I'm already dubious about Making Big Money Fast on the Internet:
My cousin, Ron Base, spent years writing movie reviews for The Toronto Star. Then, he decided to write books about movies, and to get a closer look, went and lived in Hollywood, Calif. for the best part of a decade.
When he came back, he observed that Hollywood is a different kind of place. Because for one thing, in Hollywood, everybody is writing a screenplay. Commuters write screenplays in traffic jams on the freeways. Students write screenplays in coffee shops. Sunbathers write screenplays on the beach at Malibu. People who do not, according to any reasonable definition of the term 'Speak English' are walking around Hollywood with a sheaf of paper under their arms containing a second draft of their freaking screenplay.
This is the only analogy I can think of for the phenomenon we are now witnessing, worldwide, with the Internet. Let's face it, you, I, and everybody we know are walking around with an Interesting Internet Concept under development in their heads.
In a recent Ad Age, I counted 17 pages of dot-com biz advertising, out of a total of 35 pages of advertising in the entire issue.
The rate of proliferation of dot-com companies is such that one can only equate it to a scenario where Hollywood releases a thousand new movies every week. And if the average Hollywood movie costs, oh, a hundred and fifty million dollars to make, and another 50 million to promote in the media, for even half the new movies to break even you'd need to triple the world population, put a cinema complex on every street corner, and charge a thousand bucks a piece for a ticket, right?
Somebody once said the fast-food industry's big problem was that people didn't know they needed six meals a day. I think the Internet's big problem is that there are a kazillion mega-million-dollar Web sites out there that won't ever flicker across our little monitors once 'cause none of us are going to live that long and we're not really that interested either.
In addition to its insatiable appetite for money, the other thing the Internet eats up is time or didn't cha know.
There was a great bit in the satirical pseudo-newspaper The Onion (www.theonion.com) recently. The Onion's typical McNewspaper reporter-speak headline was something like Local man uses Internet to get information. It seems this guy and his wife were headed out to dinner at a new restaurant and didn't know the address. The wife was about to pick up the phone and call the restaurant, but the guy said no no wait and went onto the Internet. It goes on Only fourteen minutes later, he had located the restaurant and pinpointed its location at the corner of Main and Elm!!!
If, in a few short years, the hubub dies down and the Internet reverts back to being a repository for obscure research papers, a way your kids send greetings to school friends who just moved back to Hong Kong, and the world's biggest pornography store, don't say I didn't warn you! And hey, don't sell those Bell stocks!
2. Why I still believe there's hope for print advertising:
Have you seen that knockout newspaper ad for Stockhouse.ca? The entire ad is done as a lovely, steel-engraved stock certificate. Framed by the soft purple decorative border is the headline Unlike your brother-in-law we actually do know everything about stocks beneath a highly unflattering illo of said brother-in-law the know-it-all slob that he is. Then, there's a very long but very nicely written piece of copy that invites you to get your stock info, for free, on the only stock site created for fanatics, by fanatics.
3. Why I still believe there's hope for TV advertising, in spite of my wife.
Have you seen the very odd, very brave spot for Diet Pepsi? A beautiful, exotic young woman is a passenger in a New York-style taxi cab. One of those bulletproof glass partitions separates her from the driver, with only a small opening to pass the fare though. The driver of the cab is a raving weirdo, with spiky hair and leathers. He's sucking a lollipop, too. The woman opens a Pepsi, takes a sip, and sees an old VW Beetle pulling away from the curb out the window. Suddenly, she hauls off and punches the driver, really hard, through the little opening. PUNCH BUGGY!!! She yells.
Cheryl is watching Ally McBeal with me when this thing goes by. What did she say? I asked. Punch Buggy! said Cheryl. But she didn't say Punch Buggy no punch back! Don't these people have kids? Anyway, the super comes on saying Diet Pepsi. Forever young.
Wouldn't make me buy Pepsi muttered Cheryl. But it wouldn't stop me, either. In our house, that's at least a nine!
Barry Base creates advertising campaigns for a living. He creates this column for fun, and to test the unproven theory that clients who find the latter amusing may also find the former to their liking. Barry can be reached at (416) 924-5533, or faxed at (416) 960-5255, at the Toronto office of Barry Base & Partners.
Zulu grows its team and makes a slate of promotions
A director of interactive production for Zulubot is among dozens of new faces and roles at the agency, in response to recent wins.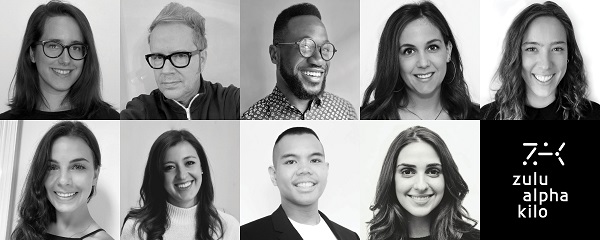 Toronto indie shop Zulu Alpha Kilo had made several new hires and promotions on the heels of new business and also organic growth from existing clients.

Zulu could not officially announce the account wins at this time.

However, it can report that Ece Inan, most recently at Toronto design and tech shop Array of Stars, has been named the agency's new director of interactive production for Zulubot, the agency's production arm. In the new role, Inan will lead AR, VR, voice and other digital innovation projects.

Also on the production side, James Graham, who has spent the last 17 years with Grip, has joined the agency as its studio director.

Zulu has also made numerous additions on the client services side, led by Michael Brathwaite, also from Grip, as account director.

It's also announced a spate of new account supervisors, including Hayley Blackmore (from G Adventures), Risa Kastelic (from BT/A), Kara Oddi (also from BT/A), Emily Anzarouth (also from Grip), Chris Rosario (from FCB/Six) and Sarah Shiff (from Rethink).

In addition to the new hires (pictured above), the agency has also announced several promotions: Alyssa Guttman moves from account director to group account director, while Nina Bhayana, Michelle Fournier, Jenn Gaidola-Sobral and Erin McManus have all been promoted to account director, and Haley Holm to account supervisor. On the strategy team, strategists Carly Miller and Spencer MacEachern have both been promoted to strategy director, while Shaunagh Farrelly, who has been with Zulu for two years in a client service role, moves into a new role as a digital strategist.

In December, the shop also announced that Stephanie Yung would be returning to the agency after a stint in New York as its head of design. Recent wins the agency has been able to announce including work as AOR for the Ottawa Senators, as well as a new arrangement with existing client Consonant Skincare, setting up an in-house team to support growth after taking an equity stake in the company.

Zulu president Mike Sutton says it's wonderful, in a new year, to welcome new faces and energy to the team and says the agency is fortunate to have had so many people across the agency step up to support its clients.

"Simply put, they were rock stars, and the promotions are very well deserved," Sutton says.