Dentyne Ice kisses up to teens with party promo
Agency/Media Company: Bates Canada Client: Warner-Lambert Canada (Adams Brands) Brand: Dentyne Ice Media Team: Lynn Mayer, vice-president, director of planning; Cheryl Fryer, media supervisor Timing: April 26, 1999 to December 31, 1999 Best Plan for a Budget of Less...
Agency/Media Company: Bates Canada
Client: Warner-Lambert Canada (Adams Brands)
Brand: Dentyne Ice
Media Team: Lynn Mayer, vice-president, director of planning; Cheryl Fryer, media supervisor
Timing: April 26, 1999 to December 31, 1999
Best Plan for a Budget of Less Than $1 Million
Best Use of Radio
Best Plan Overall: Runner-up
Best Use of Television: Runner-up
Best Use of Interactive Media: Runner-up
Best Use of Newspaper: Second Runner-up
The Background
In the spring of 1999, romance was in the air. Dentyne Ice – a gum that, for teenagers and young adults, has become the coolest way to freshen your breath for romantic possibilities – was poised to launch its most ambitious and integrated consumer promotion ever.
A multi-tiered initiative, this promotion was designed to drive both brand awareness and sales, while further entrenching brand loyalty with the core target. Seamless, integrated communication via carefully selected media vehicles and promotional partners was key to its success.
Given the fickle and elusive nature of the audience, it was critical to understand how and where they spend their time, and which communication vehicles were available to reach them in the most high-impact and meaningful ways throughout their day. Inspired by Bates Canada's 'be where they are' approach, Dentyne Ice enticed consumers to 'Kiss & Tell' – to explain, in 35 words or less, what they did to land their dream guy or girl. The prize? A chance to groove to a secret band at an 'underground' party.
To pull off this ambitious effort, Dentyne Ice turned to a trio of indispensable communications partners: MuchMusic, MusiquePlus and HMV.
The Plan
Building rapid awareness of the contest was a key objective. During the four-week promotional window, spots produced by MuchMusic/MusiquePlus aired at high frequency, supplemented with VJ chatter. Regular brand-sell spots also ran on both networks, to further entrench Dentyne Ice with the core target.
Speaker's Corner video booths helped to reinforce the concept of 'kissing and telling,' and provided an interactive mode of entry. Eight booths, co-branded with Dentyne Ice and MuchMusic/MusiquePlus, were placed in HMV stores over the course of an eight-week, 12-city national tour. The involvement of HMV, arguably the pre-eminent music retailer in this country, served to complement the partnership with Canada's music stations, added relevance to the 'underground party' prize and helped extend the 'Kiss & Tell' communication to a venue where the target audience spends considerable time and money.
In an effort to further leverage HMV's in-store environment, 'Kiss & Tell' posters were displayed prominently, and rack cards placed in the vicinity of the 'secret' band's CDs. In addition, Dentyne Ice postcards featuring details of the promotion were stuffed into shoppers' bags.
MuchMusic/MusiquePlus brought even more to the promotion with the creation of a 'Kiss & Tell' micro site. This site offered consumers another interactive point of entry, along with a full description of the contest and its rules and regulations. To entice consumers to keep returning to the site, the best entries were posted on a weekly basis throughout the duration of the promotion. And it was on the micro site where the identity of the secret band was first revealed: Wide Mouth Mason.
By the time the 10 grand prize winners were finally announced, during the live broadcast of the MuchMusic Video Awards on Sept. 23, excitement had grown to a fever pitch. Real footage from the Speaker's Corner video booths had been used to refresh the promotional spots on a weekly basis, and to provide inspiration to those who had not yet entered. In addition, a crawl was superimposed on the brand-sell spots to force tuning to the Video Awards. Dentyne Ice virtually owned this latter property, by virtue of the 12 spots that ran throughout the broadcast, on both the English and French networks.
Local market communications directed to the 15-24 age group supplemented the MuchMusic/ MusiquePlus/HMV efforts. To heighten awareness and create a sense of urgency, four-week radio flights were purchased in the 12 cities where the 'Kiss & Tell' video booths toured. Individual promotions were negotiated with the primary teen/young adult station in each market, offering listeners the chance to win two tickets to the 'Kiss & Tell' underground party.
In addition, urban weeklies in 11 of the 12 markets carried small-space teasers, followed by a page-dominant, four-colour ad communicating the promotional concept and details, and listing the HMV tour locations and dates.
A final, critical communications element was the pack itself. More than 22 million packs of Dentyne Ice carried the distinctive 'Kiss & Tell' contest logo, along with the MuchMusic/MusiquePlus logos and contest details. In addition, the pack highlighted a 1-877 line that consumers could call for HMV tour dates, and directed them to the micro site for complete contest details.
The Results
The 'Kiss & Tell' promotion proved highly successful in driving awareness and usage. Continuous tracking showed a 10% increase in unaided brand awareness, and a 13% increase in past-four-week brand usage. The promotion was a major contributor to the brand's double-digit growth in sales over the previous year.
In all, nearly 15,000 consumers shared their romantic stories – and more than 70% of them entered either through the Speaker's Corner video booths or via the micro site. The 10 winners, each of whom was permitted to bring nine close friends, were flown to Toronto, where they enjoyed an exclusive bash at the Reverb with Wide Mouth Mason. As for whether there were romantic goings-on at the party – well, no one was kissing and telling.
Also in this report:
* Bates takes the cake p.BMP2
* MaxAir fires on all cylinders: Multi-tiered plan for high-menthol gum was imbued with irreverence p.BMP3
* Kool-Aid placement reflected fun, refreshment p.BMP6
* Aussie creates 'in your face' presence: Repositions brand as funky, outrageous p.BMP8
* Guerrilla tactics get Panasonic noticed: Campaign used underground channels to reach club crowd p.BMP10
* Much VJ follows his Natural Instincts on air p.BMP12
* Chapters stands out in dot-com crowd p.BMP15
* Campbell's cooks up targeted advertorial: Partners with CTV, magazines to create a presence beyond traditional ad buy p.BMP16
* Looking at Philips through fresh eyes: Redefinition of target market sparked departure from the traditional choice of television p.BMP18
* Jays plan hits home run p.BMP21
* Minute Maid aims for morning ownership p.BMP24
* Western Union a global Villager p.BMP28
* Scotiabank breaks out of the mold p.BMP32
* Clearnet clusters creative: Complementary boards were positioned in proximity to one another to maximize visibility, engage consumer p.BMP38
* The Judges p.BMP43
Zulu grows its team and makes a slate of promotions
A director of interactive production for Zulubot is among dozens of new faces and roles at the agency, in response to recent wins.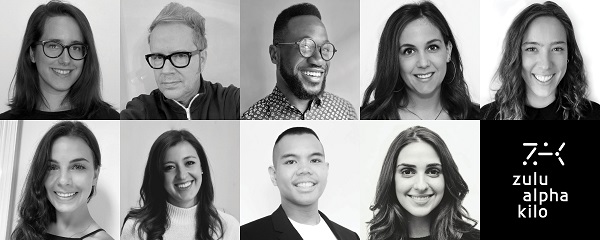 Toronto indie shop Zulu Alpha Kilo had made several new hires and promotions on the heels of new business and also organic growth from existing clients.

Zulu could not officially announce the account wins at this time.

However, it can report that Ece Inan, most recently at Toronto design and tech shop Array of Stars, has been named the agency's new director of interactive production for Zulubot, the agency's production arm. In the new role, Inan will lead AR, VR, voice and other digital innovation projects.

Also on the production side, James Graham, who has spent the last 17 years with Grip, has joined the agency as its studio director.

Zulu has also made numerous additions on the client services side, led by Michael Brathwaite, also from Grip, as account director.

It's also announced a spate of new account supervisors, including Hayley Blackmore (from G Adventures), Risa Kastelic (from BT/A), Kara Oddi (also from BT/A), Emily Anzarouth (also from Grip), Chris Rosario (from FCB/Six) and Sarah Shiff (from Rethink).

In addition to the new hires (pictured above), the agency has also announced several promotions: Alyssa Guttman moves from account director to group account director, while Nina Bhayana, Michelle Fournier, Jenn Gaidola-Sobral and Erin McManus have all been promoted to account director, and Haley Holm to account supervisor. On the strategy team, strategists Carly Miller and Spencer MacEachern have both been promoted to strategy director, while Shaunagh Farrelly, who has been with Zulu for two years in a client service role, moves into a new role as a digital strategist.

In December, the shop also announced that Stephanie Yung would be returning to the agency after a stint in New York as its head of design. Recent wins the agency has been able to announce including work as AOR for the Ottawa Senators, as well as a new arrangement with existing client Consonant Skincare, setting up an in-house team to support growth after taking an equity stake in the company.

Zulu president Mike Sutton says it's wonderful, in a new year, to welcome new faces and energy to the team and says the agency is fortunate to have had so many people across the agency step up to support its clients.

"Simply put, they were rock stars, and the promotions are very well deserved," Sutton says.