The Judges
Don Barnes Media Director, Ogilvy & Mather/OgilvyOne Worldwide Managing Director, OgilvyInteractive Worldwide Toronto Don Barnes has 17 years of experience in the industry, having held senior media and IT positions with a number of Toronto agencies. He joined OgilvyOne Worldwide as...
Don Barnes
Media Director, Ogilvy & Mather/OgilvyOne Worldwide
Managing Director, OgilvyInteractive Worldwide
Toronto
Don Barnes has 17 years of experience in the industry, having held senior media and IT positions with a number of Toronto agencies. He joined OgilvyOne Worldwide as media director in early 1994, and took on the responsibilities of managing director for the OgilvyInteractive group the following year. In 1997, he was handed the media director assignment for O&M, completing his portfolio. In the course of his career, Barnes has worked on a wide range of accounts, including automotive, business to business, entertainment, financial, information technology, packaged goods, retail and telecommunications.
Susan Beck
Media Director
Highwood Communications, Calgary
Susan Beck has 15 years of experience in media planning and buying. She is well known for her knowledge, intuitive abilities and strategic planning skills. Outside the office, Beck enjoys fine wines, and is a self-professed TV sports junkie. She is an avid golfer as well, and freely admits that her scores are some of the grossest rating points she's ever seen.
Jeff Berry
Media Supervisor
Lanyon Phillips Communications, Vancouver
A graduate of Sheridan College, Jeff Berry began his media career seven years ago at Bates Canada. From there, he headed for B.C. (with a little round-the-world-trip along the way) to join BBDO Vancouver. He now heads the media department at Lanyon Phillips, where his current client responsibilities include Boston Pizza International, National Money Mart, BC Hydro and BC Hot House Foods.
Philip Chant
Senior Vice-President, Media
Corporate Communications Ltd., Halifax
Philip Chant joined CCL in 1991. Prior to that, he worked in Halifax with McArthur, Thompson & Law Advertising and Public Relations, Eastern Provincial Airways, Impact Publishing Limited, Wilshar Advertising and Ray Torresan & Associates. A graduate of Ryerson Polytechnical University in Toronto, he came to Halifax by way of Montreal, where he toiled for Torresan, as well as Pepsi-Cola Canada, Air-Time Quality Sales and CFCF Radio.
Hélène Clément
Vice-President, Media Director
Armada Agence de publicité, Montreal
Hélène Clément began her marketing career with The Bay in 1976, as special events and promotions manager. She entered the media business in 1982, working over the years with a number of agencies, including McKim Advertising, Scali McCabe Sloves, BCP and PNMD Communication. Most recently, she joined Armada to develop the media business within the agency. Clément is known for her innovative approaches to media, as well as her passion for and commitment to the media industry.
Alain Desormiers
President
Touché! média-marketing, Montreal
Alain Desormiers possesses some 15 years of media experience, having worked in that time for both media agencies (Stratégem, Mediavision, Media Experts) and media companies (MusiquePlus, Omni and Radiomutuel). In 1995, he launched his own agency, Touché! In 1998, Touché! ranked third among Quebec agencies in Strategy's Best Media Operation survey; Desormiers himself was named Quebec's top media director in last year's report. A graduate of University of Montreal, he serves actively in several industry associations.
Sara Hill
Senior Vice-President, Managing Director
M2 Universal, Toronto
For the past 20 years, Sara Hill has been involved in media planning and buying for a number of Canada's leading national and retail advertisers, in categories ranging from agriculture to automotive, financial services to packaged goods, cosmetics to beer.
Debra Lamb
Vice-President, National Media Director
Parallel, Calgary
Debra Lamb is one of the most experienced media professionals in Western Canada. Her 13-year career has included stints at Palmer Jarvis, FCB/Ronalds Reynolds and Calder Bateman, where she was media manager for two years. At Parallel, she is responsible for a busy department that delivers a wide range of services, including in-depth research, planning, negotiation and post analysis benchmarking. She also oversees Parallel's recruitment practice. Building on her experience in traditional media, Lamb helped to pioneer online advertising in Calgary, scoring major wins with innovative campaigns for both Canadian Airlines and Schlumberger Canada.
Bruce Neve
Vice-President, Media
The Media Edge, Toronto
Bruce Neve began his career in media at Baker Lovick Advertising in the early 1980s. His experience includes stints as vice-president, media director with Saatchi & Saatchi, and as associate media director with Scali McCabe Sloves. He has spent the last 13 years at Young & Rubicam (now The Media Edge). Neve believes strongly in a 'beyond the numbers' approach to media planning and execution, founded on a thorough understanding of the consumer, brands and media pathways.
Karena Phidd
Vice-President, Media
Gee, Jeffery & Partners Advertising, Toronto
Karena Phidd joined Gee, Jeffery in 1998. With 13 years of experience working for agencies such as Palmer Jarvis DDB and Initiative Media, she brings to the job a passion for integration and collaboration, a reputation for developing innovative strategies and an understanding that media is, first and foremost, a creative discipline.
Penny Stevens
Managing Partner
The Media Company/MBS, Toronto
Penny Stevens brings more than two decades of experience to her current position at The Media Company/MBS, a company she first joined 16 years ago. In the course of her career, she has worked on such varied categories as fashion, fragrance, health and beauty, packaged goods, automotive, food and beverage, retail and communications.
Ann Stewart
Vice-President, Media Communications
The Brainstorm Group, Toronto
A media professional for more than 15 years, Ann Stewart joined The Brainstorm Group as partner and vice-president in 1995. Stewart's previous experience includes five years as a sales manager at Mediacom, where she made a significant contribution to business development. She also spent five years at MacLaren McCann as brand planning manager for General Motors of Canada, and three years at Harrison, Young, Pesonen & Newell working on a variety of packaged goods accounts.
Ann Wood
Associate Media Director
MaxxMedia, Toronto
Ann Wood has enjoyed more than 20 years of agency experience in both Toronto and Montreal, with time off for good behaviour and a couple of kids. It has been her good fortune to work with outstanding mentors on some of the strongest media brands in the business, at Ogilvy & Mather, Vickers & Benson, BCP, Grey Advertising, SMW and now MaxxMedia. For the record, she notes that there are two Ann/e Woods in the Canadian agency business – a source of frequent confusion – and identifies herself as 'the old one.'
Also in this report:
* Bates takes the cake p.BMP2
* MaxAir fires on all cylinders: Multi-tiered plan for high-menthol gum was imbued with irreverence p.BMP3
* Dentyne Ice kisses up to teens with party promo: Initiative was designed to drive both brand awareness and sales p.BMP4
* Kool-Aid placement reflected fun, refreshment p.BMP6
* Aussie creates 'in your face' presence: Repositions brand as funky, outrageous p.BMP8
* Guerrilla tactics get Panasonic noticed: Campaign used underground channels to reach club crowd p.BMP10
* Much VJ follows his Natural Instincts on air p.BMP12
* Chapters stands out in dot-com crowd: Multimedia approach helped retailer create perception of market and category dominance p.BMP15
* Campbell's cooks up targeted advertorial: Partners with CTV, magazines to create a presence beyond traditional ad buy p.BMP16
* Looking at Philips through fresh eyes: Redefinition of target market sparked departure from the traditional choice of television p.BMP18
* Jays plan hits home run p.BMP21
* Minute Maid aims for morning ownership p.BMP24
* Western Union a global Villager p.BMP28
* Scotiabank breaks out of the mold p.BMP32
* Clearnet clusters creative: Complementary boards were positioned in proximity to one another to maximize visibility, engage consumer p.BMP38
Kraft Heinz beats the street, but reports slight sales slide
The company's Q2 net sales, while down slightly, reveal continued demand for snacks and pre-packaged meals.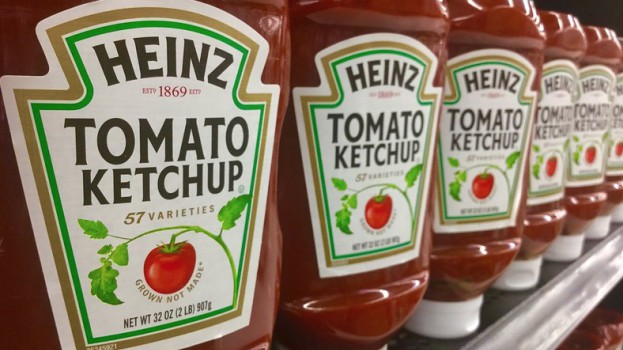 Kraft Heinz is reporting earnings of 78 cents a share, beating Wall Street's estimate of 72 cents a share, thanks to continued demand for snacks and pre-packaged meals. However, the company also reported a net sales decline of 0.5% compared with the same period last year, to $6.6 billion, according to its latest Q2 earnings report, released Tuesday.

The company experienced a favourable 2.3 percentage point impact from currency and a negative 0.7 percentage point impact from its February divestiture of Hormel Foods – including the Planters peanut brand – which closed in the second quarter of 2021.

Its cheese divestiture – which included the sale of its natural cheese division to Lactalis – is expected to close in the second half of 2021, says Kraft Heinz Global CEO Miguel Patricio in this morning's conference call.

Adjusted EBITDA slumped 5.2% versus the year-ago period to $1.7 billion and increased 6.6% versus the comparable 2019 period. Higher transportation and inflation-related goods costs continue to affect the company's bottom line.

Kraft Heinz' organic net sales declined 3.6% in Canada over the last three months compared with a comparable period last year, this as total net sales rose 8.8% year over year. 

However, its overall organic net sales slipped 2.1% compared with 2020 figures. This includes the negative impact stemming from exiting its McCafé licensing agreement. However, this decline was partly offset, Kraft Heinz reports, by "partial recovery in foodservice channels and retail consumption trends."

"Food service is recovering, and recovering fast," Patricio stressed in today's earnings call. He said "the bet to support QSR" early in the pandemic, with individual packets of ketchups and sauces, is paying off.

Channel trends are still normalizing, he warns, and it's too early to see how at home or away from home, will net out. "We have big ambitions for away from home business," he said. Consumers continue to evolve how they eat, with Patricio saying that Kraft Heinz is collaborating with a popular DTC brand for its Philadelphia cream cheese.

Accrued marketing costs, the company reports, rose to $968 million from $946 million in December 2020.

"We are investing more in our brands, and better as well, building a much more creative company," Patricio reported.

Kraft Heinz is also strengthening and diversifying its media presence, he said, driving repeat rates for those discovering and rediscovering the brand. Patricio added that the company is continuing to drive its transformation program forward, modernizing its brands and better connecting with its consumers.