Western Union a global Villager
Agency/Media Company: MediaVest Worldwide Client: Western Union International Team: Brent McKenzie, vice-president, group media director Timing: January 1999 to December 1999 Best Use of Out-of-Home: Second Runner-up (tie) The Background Western Union International is the largest money transfer...
Agency/Media Company: MediaVest Worldwide
Client: Western Union International
Team: Brent McKenzie, vice-president, group media director
Timing: January 1999 to December 1999
Best Use of Out-of-Home: Second Runner-up (tie)
The Background
Western Union International is the largest money transfer company in the world. It has built its franchise on a reputation for trustworthiness, dependable service and superior knowledge of the details of international transfer.
For Western Union, Canada is a fairly typical market. The competitive set comprises various smaller operations, as well as alternative vehicles such as postal services, shipping companies and banks. Typically, these competitors attempt to gain ground by leveraging price advantages against Western Union's premium position.
Within Western Union's vast target are several subgroups, consisting of immigrants to Canada who have left family and friends behind, and wish to (or are obliged to) send money back home. This potentially high-yield group formed the target of the campaign.
The objective was to conduct a campaign against this target that would enable Western Union to (a) enhance its image as 'the best, most trusted way to send money home,' and (b) mine key promotional opportunities on each individual's personal calendar, such as Mother's Day, Father's day, birthdays and national holidays. The campaign was driven by the insight that people are naturally more trusting and accepting when familiar things make them feel 'at home.'
The Plan
Western Union's plan was wholly three-dimensional. But its unique centrepiece was an out-of-home component called 'The Western Union Retail Program,' which employed a new media concept, trademarked Villager(tm). Developed by MediaVest, Villager(tm) combines in situ sales and promotional tools with a uniquely complex delivery methodology.
It was this new media concept that made possible a genuine grassroots program. Its two signal strengths were: (a) It was located where each ethnic minority shopped, and (b) it was administered by local shopkeepers in their own languages and styles.
The program incorporated a 'Take One' brochure mechanism, executed in ethnic-specific centres by representatives who were not traditional Western Union agents. Shopkeepers in some 300 locations were contracted to display and manage customized Western Union message showcases.
Key to executing this complex plan was the recruitment of project co-ordinators. These were individuals well-known either to the target group or to the shopkeeper 'agents.' They were selected based on their track records in dealing with markets of their own ethnicity. Each was a member of the ethnic group being targeted – they spoke the language and were seen as trusted 'kin-folk.'
Based on research, six major ethnic centres in Toronto were identified. Within each of these, the responsibilities of the project co-ordinator included: the identification and selection of retail outlets; the distribution and replenishment of the relevant literature; and the continuous and visible display of the showcase hardware. At key times of year, the co-ordinator was also responsible for heavying-up reminders of the target's reasons for sending money home (Easter, Mother's Day, Christmas and so on).
A combination of transit shelters and outdoor posters was also used to stake out each ethnic centre with language- and culture-specific messages. Transit shelters formed the perimeter, while 10 by 20 posters provided emphasis on each corner, and the in-store program filled in the middle. The result was virtually 100% coverage of each of these hard-to-reach ethnic groups.
Western Union's traditional media choices were also executed. These included radio, television and print – and, as in the past, steps were taken to bind the brand image to various interests of the target groups (through sponsorship of soccer broadcasts on TLN, for example, and radio spots promoting the company's support of Caribana).
The Results
In every way, the program exceeded projections. Transactions were up 18%, revenues were up 10% and audience-reach levels set new highs. Equally important, the program has become an equity. There are now 300 locations in six ethnic centres, plus a network of project co-ordinators – all intact and poised for Western Union's next effort.
A precedent-setting model for marketing to ethnic communities, the program is now being adopted by Western Union in other markets. It has already been expanded to Vancouver, and will be executed throughout the U.S. in 2000. There are also plans for a test in Paris this year.
Also in this report:
* Bates takes the cake p.BMP2
* MaxAir fires on all cylinders: Multi-tiered plan for high-menthol gum was imbued with irreverence p.BMP3
* Dentyne Ice kisses up to teens with party promo: Initiative was designed to drive both brand awareness and sales p.BMP4
* Kool-Aid placement reflected fun, refreshment p.BMP6
* Aussie creates 'in your face' presence: Repositions brand as funky, outrageous p.BMP8
* Guerrilla tactics get Panasonic noticed: Campaign used underground channels to reach club crowd p.BMP10
* Much VJ follows his Natural Instincts on air p.BMP12
* Chapters stands out in dot-com crowd: Multimedia approach helped retailer create perception of market and category dominance p.BMP15
* Campbell's cooks up targeted advertorial: Partners with CTV, magazines to create a presence beyond traditional ad buy p.BMP16
* Looking at Philips through fresh eyes: Redefinition of target market sparked departure from the traditional choice of television p.BMP18
* Jays plan hits home run p.BMP21
* Minute Maid aims for morning ownership p.BMP24
* Scotiabank breaks out of the mold p.BMP32
* Clearnet clusters creative: Complementary boards were positioned in proximity to one another to maximize visibility, engage consumer p.BMP38
* The Judges p.BMP43
Kraft Heinz beats the street, but reports slight sales slide
The company's Q2 net sales, while down slightly, reveal continued demand for snacks and pre-packaged meals.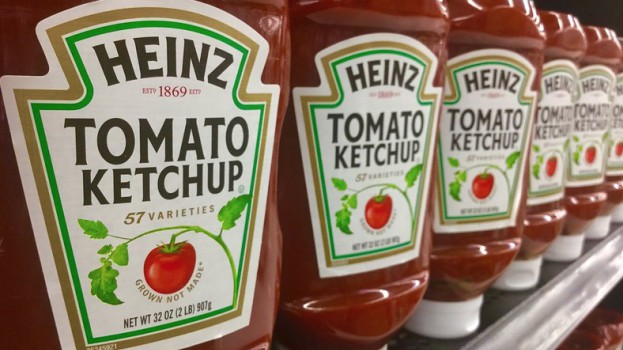 Kraft Heinz is reporting earnings of 78 cents a share, beating Wall Street's estimate of 72 cents a share, thanks to continued demand for snacks and pre-packaged meals. However, the company also reported a net sales decline of 0.5% compared with the same period last year, to $6.6 billion, according to its latest Q2 earnings report, released Tuesday.

The company experienced a favourable 2.3 percentage point impact from currency and a negative 0.7 percentage point impact from its February divestiture of Hormel Foods – including the Planters peanut brand – which closed in the second quarter of 2021.

Its cheese divestiture – which included the sale of its natural cheese division to Lactalis – is expected to close in the second half of 2021, says Kraft Heinz Global CEO Miguel Patricio in this morning's conference call.

Adjusted EBITDA slumped 5.2% versus the year-ago period to $1.7 billion and increased 6.6% versus the comparable 2019 period. Higher transportation and inflation-related goods costs continue to affect the company's bottom line.

Kraft Heinz' organic net sales declined 3.6% in Canada over the last three months compared with a comparable period last year, this as total net sales rose 8.8% year over year. 

However, its overall organic net sales slipped 2.1% compared with 2020 figures. This includes the negative impact stemming from exiting its McCafé licensing agreement. However, this decline was partly offset, Kraft Heinz reports, by "partial recovery in foodservice channels and retail consumption trends."

"Food service is recovering, and recovering fast," Patricio stressed in today's earnings call. He said "the bet to support QSR" early in the pandemic, with individual packets of ketchups and sauces, is paying off.

Channel trends are still normalizing, he warns, and it's too early to see how at home or away from home, will net out. "We have big ambitions for away from home business," he said. Consumers continue to evolve how they eat, with Patricio saying that Kraft Heinz is collaborating with a popular DTC brand for its Philadelphia cream cheese.

Accrued marketing costs, the company reports, rose to $968 million from $946 million in December 2020.

"We are investing more in our brands, and better as well, building a much more creative company," Patricio reported.

Kraft Heinz is also strengthening and diversifying its media presence, he said, driving repeat rates for those discovering and rediscovering the brand. Patricio added that the company is continuing to drive its transformation program forward, modernizing its brands and better connecting with its consumers.