New direction, new handle
The name is gone, but the influence - not to mention the man, himself - remains. After more than 40 years of having the name Wunderman eponymously associated with that of the organization - most recently as Wunderman Cato Johnson -...
The name is gone, but the influence – not to mention the man, himself – remains.
After more than 40 years of having the name Wunderman eponymously associated with that of the organization – most recently as Wunderman Cato Johnson – the global direct marketing agency has renamed itself in a bid to better reflect new service offerings and research and development capability.
Trish Wheaton, managing director of the Toronto office of the newly named Impiric, admits the change is heavy with significance – especially considering founder Lester Wunderman is still actively involved at Impiric's headquarters in New York.
'I've known Lester for years, and I had a very interesting moment with him recently,' Wheaton recounts. 'I looked at him and said, 'So, are you really OK with this?' And he just looked me in the eye and said he was more energized about this company now than when he founded it, and it's exactly what we should be doing.
'We've all been very sensitive about the man whose name is on the door. It's a big moment when it comes down.'
Impiric was actually the second name chosen for the company. The first selection was '~ology,' but it was nixed by corporate parent Young & Rubicam before it could be unveiled.
Wheaton insists the name change is not merely cosmetic.
'It's significant on several fronts,' she explains. 'First of all, changing a name with that much heritage to something totally different certainly is a seismic action, both on the part of this company and how much it resonates in the marketplace. Wunderman has always been the sine qua non of traditional direct marketing. What makes this more significant is that it represents how much this company has changed in the past 20 months.'
Those changes include John Bingle taking over as CEO in summer 1998, and the broadening of the scope of the former WCJ's capabilities to include customer relationship management, teleservices and sales promotion, along with database marketing and traditional direct marketing services.
'The market has changed fundamentally, and it's changed forever,' Wheaton says. 'One narrow bandwidth solution doesn't work for anybody anymore. You have to manage all the different marketing activities and bring them together in a very thoughtful way.
'The Wunderman name telegraphed traditional, below-the-line direct marketing to current clients and prospective clients so much that it was something – as great as it has been and as proud as we are of it – that we had to change to really get clients to look at us in a new way.'
Lester Wunderman will serve as worldwide director of the Impiric Marketing Lab, a research and development facility concentrating on proprietary solutions in CRM, smart card technology, interactive television and Web-based marketing.
Zulu grows its team and makes a slate of promotions
A director of interactive production for Zulubot is among dozens of new faces and roles at the agency, in response to recent wins.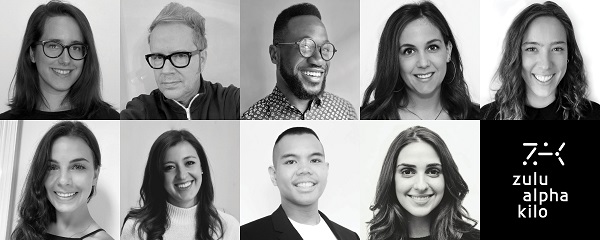 Toronto indie shop Zulu Alpha Kilo had made several new hires and promotions on the heels of new business and also organic growth from existing clients.

Zulu could not officially announce the account wins at this time.

However, it can report that Ece Inan, most recently at Toronto design and tech shop Array of Stars, has been named the agency's new director of interactive production for Zulubot, the agency's production arm. In the new role, Inan will lead AR, VR, voice and other digital innovation projects.

Also on the production side, James Graham, who has spent the last 17 years with Grip, has joined the agency as its studio director.

Zulu has also made numerous additions on the client services side, led by Michael Brathwaite, also from Grip, as account director.

It's also announced a spate of new account supervisors, including Hayley Blackmore (from G Adventures), Risa Kastelic (from BT/A), Kara Oddi (also from BT/A), Emily Anzarouth (also from Grip), Chris Rosario (from FCB/Six) and Sarah Shiff (from Rethink).

In addition to the new hires (pictured above), the agency has also announced several promotions: Alyssa Guttman moves from account director to group account director, while Nina Bhayana, Michelle Fournier, Jenn Gaidola-Sobral and Erin McManus have all been promoted to account director, and Haley Holm to account supervisor. On the strategy team, strategists Carly Miller and Spencer MacEachern have both been promoted to strategy director, while Shaunagh Farrelly, who has been with Zulu for two years in a client service role, moves into a new role as a digital strategist.

In December, the shop also announced that Stephanie Yung would be returning to the agency after a stint in New York as its head of design. Recent wins the agency has been able to announce including work as AOR for the Ottawa Senators, as well as a new arrangement with existing client Consonant Skincare, setting up an in-house team to support growth after taking an equity stake in the company.

Zulu president Mike Sutton says it's wonderful, in a new year, to welcome new faces and energy to the team and says the agency is fortunate to have had so many people across the agency step up to support its clients.

"Simply put, they were rock stars, and the promotions are very well deserved," Sutton says.