H&R Block hoping for many happy returns
It's a tall order, but the marketing mavens at H&R Block think they can do it. 'Our strategy,' says Kevin Mobley, H&R Block's director of international and ethnic marketing, 'is to make tax preparation and filing fun.' Fun? Filing your tax...
It's a tall order, but the marketing mavens at H&R Block think they can do it.
'Our strategy,' says Kevin Mobley, H&R Block's director of international and ethnic marketing, 'is to make tax preparation and filing fun.'
Fun? Filing your tax return?
'I know,' says Mobley. 'But instead of the drudgery people go through every year, we're trying to put a positive spin on it.'
The Kansas City, Mo.-based tax preparer, along with its Canadian subsidiary H&R Block Canada of Calgary, is putting some marketing muscle behind a couple of programs – both online and traditional – in order to make processing all those schedules, slips, calculations and receipts something people can look forward to.
Earlier this month, H&R Block launched its expanded and redesigned Web site, www.hrblock.ca, which features an online tax program. The nearly four million taxpayers who have participated in the federal government's Netfile program can use H&R Block's online program to file their returns directly. In addition to the secure online tax preparation program, the redesigned hrblock.ca also offers taxpayers exclusive, personal assistance from H&R Block tax professionals. There is no software to download or install.
'It's a nice way to grow our business in Canada,' says Mobley of the online program. 'And it offers more than just tax filing. There are also other services, too, such as assistance options, tax tips and occasional live chats with a company tax expert.' For a fee, there is also professional tax guidance available online. Specific questions are answered within 24 to 48 hours for $19.
Using the former Wunderman Cato Johnson – which recently changed its name to Impiric – for global direct marketing, and Landor & Associates for branding, H&R Block also devised the Double Back direct mail campaign.
Double Back is a contest in which H&R Block Canada will match the refund, or pay the balance due – whichever one applies – up to $1,000 for 100 taxpayers. The grand prize winner will get his or her annual income matched by Block up to $50,000.
According to Anneliese Acton, senior account manager at Impiric, Double Back went to approximately 1.2 million customers, many of whom were H&R Block customers last year or the year before, but some of whom were new prospects.
The offer included a certificate entitling the recipient to a scratch-and-win card.
'It's both a retention and acquisition effort,' explains Mobley of the contest, which runs until May 1. 'And it's also a program that we think will create some excitement.'
The company was able to identify non-customers by comparing names on purchased lists in targeted areas to its current customer base.
'We'd learn from that list who were not H&R Block customers but likely to respond to the offer, and so that is who we targeted.'
Recipients who had been H&R Block customers were enticed back to the fold with a 10% discount, says Mobley.
'Double Back seems to be received very well,' he continues. 'There is lots of interest building in it, as people realize they have a chance of doubling their tax refund, or their income.'
The direct marketing and online initiatives are part of a global US$100 million advertising campaign. In Canada, where H&R Block set up shop in 1964, there are nearly 1,000 storefront locations and a steady customer base of two million. Mobley says the Internet and technology – as well as federal government initiatives that simplify and speed up the tax filing process, such as Telefile – have not hurt business.
'We were really one of the first to market with electronic filing, nearly 20 years ago,' he says.
RBC, TD and Lululemon among most valuable brands
Once again, the financial institutions and apparel brand landed in Kantar's top 10 lists for their sectors.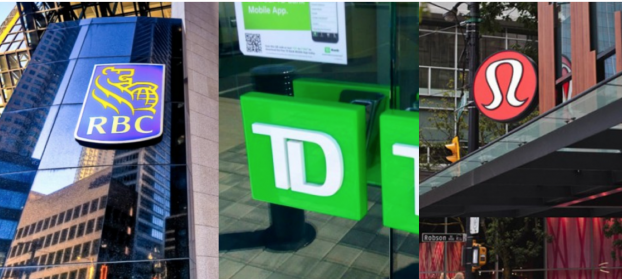 In the recently released 2022 edition of the Kantar BrandZ Top 100 Most Valuable Global Brands survey, several Canadian companies landed in the top rankings, namely in the financial institutions and apparel categories.
Two Canadian brands made an appearance in the survey's global banks rankings: RBC holds second position (57th overall), while TD ranks eighth (72nd overall), with brand values worth US$39.5 billion (up 43% from last year) and US$29.7 billion (up 47%), respectively. TD was among the fastest risers in the overall Top 100 survey, climbing 18 positions.
Lululemon takes fourth place as the most valuable apparel brand, behind Nike, Zara and Adidas. The Canadian athletic-wear company is valued at US$20.4 billion.
"Our 2022 rankings demonstrate both the resilience of our Canadian banking brands and their ability to create brand value by connecting with consumers to outperform other brands on the world stage," said Scott Megginson, president of Kantar Canada in a release. "They are leaders among brands in the global financial services sector and the number one position is coming within reach for RBC.
"It is also encouraging to see how Lululemon has continued to build brand value as people return to work," adds Megginson. "Its reputation for innovation, quality and reliability allows them to command a premium in the market."
Overall, Apple has landed in the #1 position and is projected to become the first trillion-dollar brand. It's brand value sits at US$947.1 billion, and is commended in the survey for its ongoing diversification strategy across its hardware, software and services portfolio. Apple moved up from second position in 2021.
Google has taken the second top spot, up one from the previous year, increasing its brand value by 79% to US$819.6 billion. In third place, Amazon dropped down two spots from last year's #1 position, and this year its brand value equates to US$705.6 billion.
In 2022, more than three quarters of brand value originated from U.S. companies, with media and entertainment, business solutions and technology providers and retail categories contributing to over half the total value of the Top 100.
According to Kantar, sector leaders emerged from a variety of industries, with technology and luxury brands growing the fastest – 46% for consumer technology and 45% for luxury. Automotive growth grew by 34%, and banks by 30%, compared to other sectors such as apparel at 20% and personal care by 17%.
Combined, the value of the world's Top 100 most valuable brands has increased by 23% to US$8.7 trillion in the last year. Set for release in October 2022, Kantar will rank Canada's top 40 most valuable brands, along with reports and insights for its market.