Bay's challenges escalate as Norris moves on
Change is good. With its top marketing post still vacant, an agency search underway, and its fashion-forward repositioning just six months into the bag, executives at the Bay must surely have adopted this expression as their mantra. Complicating matters, on March...
Change is good. With its top marketing post still vacant, an agency search underway, and its fashion-forward repositioning just six months into the bag, executives at the Bay must surely have adopted this expression as their mantra.
Complicating matters, on March 31, Rob Norris, the Bay's executive vice-president, left the company he's called home for the past 21 years.
'It's something that's been in the works for quite a bit of time,' the departing Norris said in an interview with Strategy, declining to offer any indication where he was headed. 'It's strictly a personal decision,' he added. 'It has nothing to do with where the company's heading or anything else.'
Among retail industry analysts, Norris' departure is said to have created a strategic void at the Bay, where a fairly extensive repositioning is underway.
Norris' departure has also been cited as one of the factors that prompted Vancouver agency Palmer Jarvis DDB to withdraw from competition for an account that only a week earlier agency president Frank Palmer said he'd love to handle.
'(The Bay) hasn't filled the void of a good, strong marketing professional,' Palmer says. 'And until they've got their top marketing individual in place, I think it's just best that we back away from the process.'
Palmer says that Norris' leaving will simply add to the uncertainty, and since the account is only for creative and not strategic work, he no longer has an interest in pitching it.
Although he declined to discuss details surrounding the Bay's search for a new vice-president of marketing, Norris maintains the marketing department has both good leadership and a clear sense of direction. 'We have a strategy and we have a structure in place.'
He says the company has been busy 'fixing' its print communication with its customers and has begun tweaking its radio advertising to ensure it's in line with the new positioning. 'We're now going out to find an agency to help us bring the brand to life in terms of television.'
Back in January, the Bay said it was delaying its search for a new agency until it could replace former vice-president of marketing Barry Agnew, who resigned last spring. But on March 20, with no new body in sight, the Bay submitted an invitation to 25 members of the Institute of Canadian Advertising. The account, for creative only, is valued at $15 million, and is said to include eight to 10 television spots and 120 radio spots annually. The Bay has said it will not reveal its shortlist.
While Norris insists it's clear where the company is heading, the Bay is obviously grappling with the fact that it must define its position in a retail landscape that's already toppled some big players of late: Eaton's collapsed last year, Dylex is in the midst of a break-up, and when Marks & Spencer pulled out of the country last spring, it called Canada one of the worst retail markets in the world in which to make a buck.
Then there's the competition: With Paul Walters at its helm, Sears Canada has become a formidable player in the middle market and analysts say will soon be duking it out with the Bay in the burbs. And even if the Bay manages to position itself a bit further upmarket than Sears, they say, it will face competition from a revived, more upscale Eatons in all its marquee locations.
It's not an easy spot to be in, but Norris says he's confident the Bay will flourish as a result of changes to its internal structure to help drive the 'Stylish Ideas Made Easy' positioning it adopted late last year.
'Once the strategy and positioning were in place, it was clear we had to invest in our people as well,' said Norris. 'So we've hired a number of marketing managers and a marketing director as well.'
The new marketing director is Tony Scala, who, in the absence of a vice-president of marketing, will report directly to company president Marc Chouinard. Scala joined the Bay in January from Prepaid Solutions, a small cellular phone company. His background includes four years as director of retail distribution for Mobility Canada. Before that, he was senior vice-president, retail, at Doner Canada.
Along with Scala comes a new set of marketing managers, aligned along merchandise categories. They include: Carolyn Davis, formerly manager of creative services at Saffer Advertising; Danny Kyriazis, whose agency experience includes the Holt Renfrew brand relaunch at LA Ads; Mario Chiofolo, whose background is with Cotton Ginny, Thriftys and Nygard; Jennifer Radway, a long-time fashion marketing and merchandising person; and two people from the Bay, Neil Levine and Sue McDermott.
'One of the things we're trying to do,' says Norris, 'is position ourselves as the dominant retailer of choice in terms of merchandise offerings and depth of assortment. [We're] trying to fulfill the needs of the core customer so that when we're talking with them a year from now, they'll be talking about that fabulous linen department and all the things that co-ordinate.'
The company is also continuing to renovate its suburban stores in order to tackle Sears head-to-head. Norris says a new concept for a more upscale urban store will begin to take shape over the next three months, although neither Norris nor Scala would elaborate.
Six months into the repositioning, in-store changes are just beginning to become visible with a more stylish Fashion Guide, more consistent colours, and more cross-merchandising of clothing accessories. But it's too early to say whether the Bay is getting it right, says retail analyst Richard Talbot of Talbot & Thomas Consultants International in Unionville, Ont.
Talbot says it appears the Bay is attempting to tailor its merchandising mixes for local markets, a strategy that should help staff to communicate more effectively with the company's customers. He cautions, though, that while the Bay is moving in the right direction, it must avoid the mistakes that others have made in the past and make sure that it's able to deliver on its promises.
'The sooner the better,' he adds. 'They're really scrambling to do that.'
Kraft Heinz beats the street, but reports slight sales slide
The company's Q2 net sales, while down slightly, reveal continued demand for snacks and pre-packaged meals.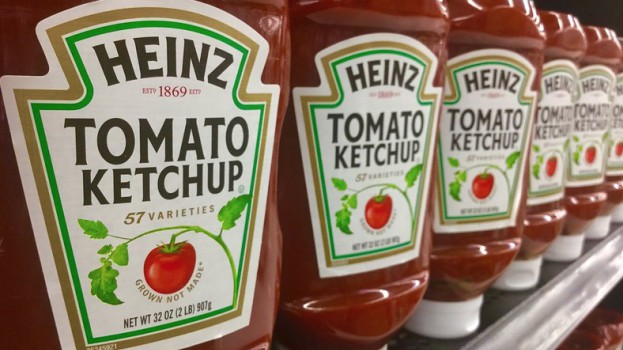 Kraft Heinz is reporting earnings of 78 cents a share, beating Wall Street's estimate of 72 cents a share, thanks to continued demand for snacks and pre-packaged meals. However, the company also reported a net sales decline of 0.5% compared with the same period last year, to $6.6 billion, according to its latest Q2 earnings report, released Tuesday.

The company experienced a favourable 2.3 percentage point impact from currency and a negative 0.7 percentage point impact from its February divestiture of Hormel Foods – including the Planters peanut brand – which closed in the second quarter of 2021.

Its cheese divestiture – which included the sale of its natural cheese division to Lactalis – is expected to close in the second half of 2021, says Kraft Heinz Global CEO Miguel Patricio in this morning's conference call.

Adjusted EBITDA slumped 5.2% versus the year-ago period to $1.7 billion and increased 6.6% versus the comparable 2019 period. Higher transportation and inflation-related goods costs continue to affect the company's bottom line.

Kraft Heinz' organic net sales declined 3.6% in Canada over the last three months compared with a comparable period last year, this as total net sales rose 8.8% year over year. 

However, its overall organic net sales slipped 2.1% compared with 2020 figures. This includes the negative impact stemming from exiting its McCafé licensing agreement. However, this decline was partly offset, Kraft Heinz reports, by "partial recovery in foodservice channels and retail consumption trends."

"Food service is recovering, and recovering fast," Patricio stressed in today's earnings call. He said "the bet to support QSR" early in the pandemic, with individual packets of ketchups and sauces, is paying off.

Channel trends are still normalizing, he warns, and it's too early to see how at home or away from home, will net out. "We have big ambitions for away from home business," he said. Consumers continue to evolve how they eat, with Patricio saying that Kraft Heinz is collaborating with a popular DTC brand for its Philadelphia cream cheese.

Accrued marketing costs, the company reports, rose to $968 million from $946 million in December 2020.

"We are investing more in our brands, and better as well, building a much more creative company," Patricio reported.

Kraft Heinz is also strengthening and diversifying its media presence, he said, driving repeat rates for those discovering and rediscovering the brand. Patricio added that the company is continuing to drive its transformation program forward, modernizing its brands and better connecting with its consumers.