High-tech PR expertise in short supply
Here's the PR challenge: Your client, a dot-com enterprise targeting the business market, is eager to make its mark at the upcoming Internet World show. How do you ensure that the firm gets the kind of attention it wants? Do you:...
Here's the PR challenge: Your client, a dot-com enterprise targeting the business market, is eager to make its mark at the upcoming Internet World show. How do you ensure that the firm gets the kind of attention it wants?
Do you: (a) send out as many press releases as time allows; (b) get on the phone and start calling venture capital companies in the hope that they'll listen to your story; or (c) rent a tank?
If you chose (c), congratulations! You may well have what it takes to specialize in high-technology public relations – in which case, there are some PR agencies that would very much like to speak with you.
The tank idea, as it happens, is one that Toronto-based Cohn & Wolfe has developed for client Salesdriver.com, a firm offering sales incentive programs over the Internet. And, according to Carol Panasiuk, C&W's senior vice-president and general manager, it serves to illustrate an important point about high-tech public relations: It may be complex new terrain for some practitioners, but it still demands the same basic skills as a more traditional practice area, such as packaged goods.
Now that said, it's also true that many high-tech clients prefer working with public relations professionals who can talk the talk – who have a sound grasp of the technology fundamentals, and know how to speak the language. And industry insiders say there just aren't enough practitioners out there with that kind of skill set.
'There's a huge demand for people to service [the high-tech] sector,' says Ruth Clark, vice-president, human resources with Toronto-based Hill & Knowlton.
The technology practice at H&K employs approximately 30 people. There are openings at all levels, Clark says, but it's the junior positions that tend to be easier to fill.
'You see a lot of graduates coming out of school now for whom technology has always been a part of their lives,' she explains. 'They're already comfortable with the technology. It's very intuitive for them.' (Indeed, junior candidates for high-tech positions will often refer Clark to their own Web sites to promote their skills.)
As a rule, good senior people prove somewhat more difficult to find. 'There's not much out there,' says Panasiuk, who notes that Cohn & Wolfe recently ran into difficulties trying to recruit a vice-president to lead its technology practice.
It's not necessary to grasp how a microchip works in order to help a technology client tell their story, Panasiuk says. Dot-coms and other high-tech firms, after all, have the same communications needs as companies in any other sector: crisis management, investor relations, the handling of mergers and acquisitions, and so on.
When it comes to recruiting high-tech practitioners, she argues, the best approach is to hire a candidate with top-notch communications skills who's capable of learning the essentials of the technology.
It's not hard to figure out why there's such an under-supply of high-tech PR practitioners these days, says Sandra Matteson, president of Matteson Management, a Toronto-based firm specializing in public relations recruitment. Dot-com enterprises have proliferated in the past several years, and a growing number of them are beginning to realize the importance of PR to their overall communications strategy. At the same time, many high-tech specialists from the agency world are breaking away to start their own boutiques dedicated to serving dot-com clients, and are poaching skilled staff from other agencies or technology firms – all of which just serves to heighten the perceived shortage.
Matteson says the PR industry as a whole needs to work on reducing this under-supply. For starters, she argues, agencies should be more willing to take well-educated generalists and teach them the necessary technological knowledge.
When students in PR programs come to her, Matteson says, she generally points them toward high-demand practice areas such as technology or pharmaceutical. And it would be helpful, she suggests, if there were more effort throughout the industry to steer young people in these directions. Agencies, for example, could offer workshops for PR students while they're still in school. 'Where else are we going to find these people?'
Also in this report:
* Dot-coms put best face forward: PR playing a larger role in communication strategies of online enterprises p.B2
* Branding dot-coms with PR poses challenges: Companies must resist impulse to move too quickly, or to shift positioning constantly p.B4
* PR meets investor relations: Disciplines converging in high-tech world p.B5
* PR firms must show creativity in hiring p.B7
* Web impacting corporate reputation: Companies want to know what's being said about them online – and by whom p.B8
Zulu grows its team and makes a slate of promotions
A director of interactive production for Zulubot is among dozens of new faces and roles at the agency, in response to recent wins.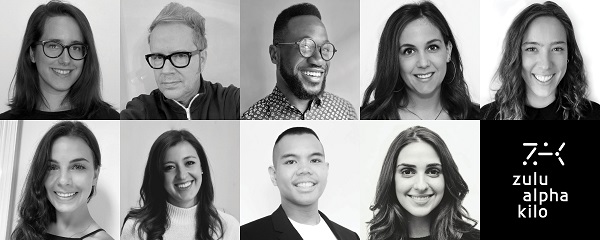 Toronto indie shop Zulu Alpha Kilo had made several new hires and promotions on the heels of new business and also organic growth from existing clients.

Zulu could not officially announce the account wins at this time.

However, it can report that Ece Inan, most recently at Toronto design and tech shop Array of Stars, has been named the agency's new director of interactive production for Zulubot, the agency's production arm. In the new role, Inan will lead AR, VR, voice and other digital innovation projects.

Also on the production side, James Graham, who has spent the last 17 years with Grip, has joined the agency as its studio director.

Zulu has also made numerous additions on the client services side, led by Michael Brathwaite, also from Grip, as account director.

It's also announced a spate of new account supervisors, including Hayley Blackmore (from G Adventures), Risa Kastelic (from BT/A), Kara Oddi (also from BT/A), Emily Anzarouth (also from Grip), Chris Rosario (from FCB/Six) and Sarah Shiff (from Rethink).

In addition to the new hires (pictured above), the agency has also announced several promotions: Alyssa Guttman moves from account director to group account director, while Nina Bhayana, Michelle Fournier, Jenn Gaidola-Sobral and Erin McManus have all been promoted to account director, and Haley Holm to account supervisor. On the strategy team, strategists Carly Miller and Spencer MacEachern have both been promoted to strategy director, while Shaunagh Farrelly, who has been with Zulu for two years in a client service role, moves into a new role as a digital strategist.

In December, the shop also announced that Stephanie Yung would be returning to the agency after a stint in New York as its head of design. Recent wins the agency has been able to announce including work as AOR for the Ottawa Senators, as well as a new arrangement with existing client Consonant Skincare, setting up an in-house team to support growth after taking an equity stake in the company.

Zulu president Mike Sutton says it's wonderful, in a new year, to welcome new faces and energy to the team and says the agency is fortunate to have had so many people across the agency step up to support its clients.

"Simply put, they were rock stars, and the promotions are very well deserved," Sutton says.