Is TV worth the money?
Sherland Forde is president of Toronto-based MediaVest Worldwide....
Sherland Forde is president of Toronto-based MediaVest Worldwide.
Accountability is one of our industry's most pressing topics today – a buzzword that crops up frequently in the far-reaching pay-for-performance debate. And it is an issue with profound implications for the future of television as an advertising medium.
Accountability and the new marketer
At the heart of the accountability issue are the realities facing the new breed of marketer.
Already competitive by nature, today's marketers are further driven by a whole host of new pressures: globalism, consolidation, economies of scale and revolutionary leaps in technology and communications. Integration means that the days of one target/one map are gone. Whole new combinations of tools and tactics have raised the performance standards by which everyone is measured.
Nowhere is this more evident than in the new marketer's attitude toward the brand and its value and utility. Despite the industry's general renewal of faith in branding, and the rise of the newly developed science of brand valuation, today's marketer frequently displays a curious ambivalence toward the venerable brand. Too often, short-term promotions pass for brand-building communications. Shareholder sentiment and stock value are sometimes treated as more urgent issues than brand equity.
The new marketer has an ever-expanding array of tools from which to choose. With the stakes rising, and corporate interests dictating that choices be made on the basis of proven, predictable performance, many ask whether television is worth the investment.
Does television pay out?
Countless case studies have pointed toward the effectiveness of television – and ongoing advertiser commitment of billions of dollars serves to further reinforce this faith in the medium. But does television really provide an accountable, guaranteeable pathway?
Even after 50 years (and who knows how many trillions of dollars) we still lack a scientific formula linking television advertising with successful brand development. The best that media professionals have been able to do is to provide statistical dots, which visionary clients have then connected to form their own conclusions. And since that's all we're ever likely to be able to do, it's imperative that we find better dots.
How? Well for starters, there are some questions we should be asking.
Key questions for agencies and media specialists
Do you care enough to send your very best? The value of the medium cannot exceed the quality of the people making decisions about its use. Are you really sending your best people to help clients make tough media decisions? Some suggest that agencies are, in fact, not doing all they can to connect with clients at the most senior levels.
Are you asking hard questions of the medium? As an industry, we've put a lot of effort over the years into arm-twisting for better rates. But have we expended the same kind of energy ensuring that the qualitative goals of advertisers were being met? It's time now to address this issue, with or without the input of TV's handlers.
Are you developing new and more relevant media models? Television remains the medium of choice for mass marketers looking to build a brand quickly. In the future, however, that choice will be neither automatic nor single-minded, thanks to the emergence of effective new media and the evolution of proven integration models.
Has media been involved in the creative development process? U.S. research indicates that no more than a third of all ad campaigns – in TV or otherwise – have any impact whatever. Even fewer impart any lasting value. This can't just be a matter of the right message in the wrong medium. In addition to helping resolve strategic issues, media professionals must be called upon for their critical insight into the actual messages themselves.
Are you tough enough with clients on measurement criteria? Advertisers will continue to look for impressive cost-per-response figures, while at the same time fostering brand-building as a core corporate goal. The two are not mutually exclusive. It is, however, vital that all parties agree on the precise nature of the desired response.
Key questions for broadcasters
When did you last seriously question your research methods? In the newspaper industry, there is a growing call for publishers to rethink the applicability of terms like "read" and "read yesterday" as descriptors of audience value. Similarly the television industry must revisit the terms and tools traditionally used to quantify and qualify the viewing audience. Retiring the whole concept of ratings would be a good start. More broadly based people metering would also be welcome. And terms such as GRP, CPM, "viewer," "watcher" and "surfer" should – at the very least – be rescaled.
How accurate are the numbers, really? The television industry has done little to enrich our understanding of audiences and the real cost of reaching them. But advertisers and their media specialists, increasingly suspicious of value received, will not be denied the hard, empirical evidence they need to plan responsibly. Much better, then, for the industry to produce the kind of reliable, insightful data that enables advertisers to plan and buy television – and to defend their decisions.
How much time do you spend growing your knowledge base? Within five years of graduating, most engineers and physicians would be largely obsolete, were it not for ongoing research and development efforts in those fields. TV needs to take a page from their book. Over the past 30 years, the industry has done a terrible job of maintaining leading-edge knowledge bases. That may be one of the reasons why advertising has been pushed so far down the agenda of many corporations. By taking more of a leadership role in gathering and disseminating fresh insights into television advertising, the industry can give itself an enormous boost, on both the credibility and value scales.
Also in this report:
- Shorter formats a double-edged sword: By opting for spots of 15 seconds or less, advertisers can stretch their advertising dollar — but they may also be contributing to the problem of clutter p.TV1
- CCM arouses interest with sperm spot p.TV4
- Painting the smaller canvas: How creatives make their mark in 15 seconds or less p.TV4
- Red Rose resurrects brand with funeral spot: Retires 'Only in Canada…' tagline in favour of 'A cup'll do you good' p.TV6
- Ford Focus puts the squeeze on credits: Sponsored previews of top-rated shows in bid to give campaign added impact p.TV8
- Jetta campaign a brand-new love story: Automaker bids farewell to popular Phil and Loulou characters p.TV10
- BTV blurs line between editorial, advertorial: Companies featured on business show pay about $10,000 for repackaged material p.TV13
Meat and plant-based sales are both strong at Maple Leaf
Both priority areas performed well in the company's full-year results, helped by a boost in marketing for new products.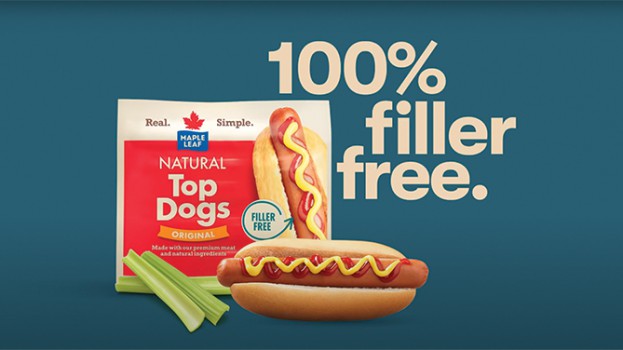 Maple Leaf Foods reported higher Q4 and full-year 2020 sales, driven by its sustainable meats and plant-based proteins. 

The CPG co. reported quarterly sales of $1.13 billion, up from $1.02 billion for Q4 2019, as well as net earnings of $25.4 million, compared to $17.5 million for the same period the year prior (an increase of 45.2%).

For full fiscal 2020, the company reported a total increase of 9.2% in sales, driven by what it says is "strong growth in both the meat and plant protein groups."

"We have repositioned our portfolio towards two high-growth categories now representing 20% of our annual sales generating a compounded growth rate in excess of 25% over the last three years," says Michael McCain, the company's president and CEO.

Meat protein group sales – comprised of prepared meats, ready-to-cook and ready-to-serve meals, snack kits, value-added fresh pork and poultry products that are sold to retail, foodservice and industrial channels, and agricultural operations – grew 11.3% for the quarter. 

Meanwhile, sales of plant protein products – refrigerated plant protein brands such as Lightlife and Field Roast, premium grain-based protein, and vegan cheese products sold to retail, foodservice and industrial channels – was up 5.5% over the same period. 

Sales growth for its meat portfolio was driven by "a favourable mix-shift towards sustainable meats and branded products," but also growth in exports to Asian markets, and pricing actions implemented to mitigate inflation and other structural cost increases, according to the company. Strong demand in the retail channel was offset by lower volume in foodservice as a result of COVID-19.

For its plant-based offerings, sales for 2020 were $210.8 million compared to $176.4 million last year, representing a growth of 19.5%, or 18.1% after excluding the impacts of foreign exchange. The segment was driven by expanded distribution of new products, continued volume increases in its existing portfolio, and pricing actions implemented to mitigate inflation and other structural cost increases.

SG&A expenses totalled $144 million for the plant group alone in 2020, with investments focused on advertising, promotion and marketing to build awareness, as well as supporting brand renovation and new product innovation. SG&A for meat proteins were $346.6 million for the full year, and the company says it expects SG&A levels and marketing investment in 2021 to be largely in line with where they were in 2020.

The company, which in 2019 announced it had gone carbon neutral, says it's amplifying this commitment while "focusing on eliminating waste in any resources it consumes, including food, energy, water, packaging, and time."