Red Rose resurrects brand with funeral spot
According to a Southam News report, Copps would explain to the elderly rocker that he couldn't have a star on the Walk because he wasn't Canadian. His scripted reply: "Only in Canada, you say? Pity."...
According to a Southam News report, Copps would explain to the elderly rocker that he couldn't have a star on the Walk because he wasn't Canadian. His scripted reply: "Only in Canada, you say? Pity."
Mick, of course, wouldn't have got the joke. But there are precious few Canadians over the age of 15 who could possibly have missed the reference. The "Only in Canada …" line, which was employed in television spots for Red Rose Tea for more than 20 years, is arguably one of the best-known and most beloved slogans in this country's advertising history.
Still, time takes its toll on all things – pop stars and advertising concepts alike. Which is why Red Rose has, at last, retired its famous tagline.
With no television support for several years, and an image that had grown increasingly staid, Red Rose was beginning to lose its bloom, says Mike Welling, vice-president, brand development for Toronto-based Lipton Canada.
"As nice as it was to say 'Only in Canada' and sell it as the Canadian brand of tea, the advertising and the brand identification was a little less relevant to people," he says. "It was coming across as a bit older, British and stuffy."
To counteract this, Lipton launched a campaign in February that introduces a new positioning for Red Rose.
The new tagline for the brand is "A cup'll do you good" – a slogan that Welling says reflects the role that tea plays in people's lives.
Television is the primary medium for the campaign, which was created by Toronto-based J. Walter Thompson. The first of the spots began airing in February, and will run through the spring.
Welling says the advertising plays on the idea that "a cup of tea helps to facilitate conversation." The new television spot, for example, takes place at a funeral, where the wife of the deceased sits weeping. When a priest appears with a tray of Red Rose and offers some to "Mrs. Wright," she pipes up in reply – as does the woman sitting next to her. Soon the two Mrs. Wrights are sharing a cup of tea, and trading notes on the late Mr. Wright.
Lipton did considerable research before setting out to give Red Rose a face-lift. From this, they learned that consumers associate tea-drinking with bonding.
"People find tea to be an icebreaker," says Rick Kemp, senior vice-president, creative director with J. Walter Thompson. And if any brand is capable of owning that territory, it's Red Rose.
While the brand may have adopted a new positioning, it hasn't abandoned its sense of pride in being Canadian. The second spot in the series, which will begin airing in summer or early fall, features a World War Two veteran from Canada visiting a former battlefield in France. There, he meets a German counterpart. After an awkward moment, the Canadian breaks the ice by offering a box of Red Rose. "It's Canadian," he says. In return, our hero is handed a set of keys – "It's German" – and the spot ends with him driving happily away in a new Mercedes-Benz.
Kemp says this spot trades on the brand's Canadian heritage, and reflects the same wry sense of humour that has long been part of the Red Rose character.
While the original "Only in Canada…" campaign relied almost entirely on television, today the brand is employing multiple media channels in an effort to reach its target audience.
"It's a cluttered marketplace out there, and we have to find more ways to reach our consumer," says Matt Scholes, vice-president, management director with J. Walter Thompson.
With this in mind, Red Rose is supporting the TV advertising with a print campaign, running mainly in women's magazines. The full-page ads downplay the humour, focusing instead on the warmth and simplicity of tea, and its role as a conversation catalyst.
In addition, Lipton has redesigned the brand's packaging, and launched a Red Rose Web site, www.time-for-tea.com.
Karen Kilcullen, tea brand manager at Lipton, says the Web site is lifestyle-oriented, offering recipes, gardening tips and even a recommended reading list (since many people enjoy a mug of tea while relaxing with a good book). Visitors can also join the brand's "Time for Tea" club and receive a free set of Red Rose note cards for filling out an online questionnaire.
Lipton has taken Red Rose into other media, Kilcullen says, because it's important to reach consumers wherever they may be – and not all of them are guaranteed to be found in front of the TV anymore.
Still, television remains central to the brand's media strategy. No other avenue, says Welling, would enable Red Rose to forge the same kind of emotional bond with consumers.
Also in this report:
- Shorter formats a double-edged sword: By opting for spots of 15 seconds or less, advertisers can stretch their advertising dollar — but they may also be contributing to the problem of clutter p.TV1
- CCM arouses interest with sperm spot p.TV4
- Painting the smaller canvas: How creatives make their mark in 15 seconds or less p.TV4
- Ford Focus puts the squeeze on credits: Sponsored previews of top-rated shows in bid to give campaign added impact p.TV8
- Jetta campaign a brand-new love story: Automaker bids farewell to popular Phil and Loulou characters p.TV10
- Is TV worth the money? p.TV12
- BTV blurs line between editorial, advertorial: Companies featured on business show pay about $10,000 for repackaged material p.TV13
Meat and plant-based sales are both strong at Maple Leaf
Both priority areas performed well in the company's full-year results, helped by a boost in marketing for new products.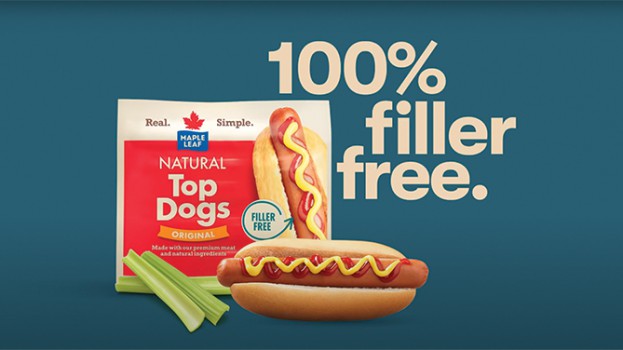 Maple Leaf Foods reported higher Q4 and full-year 2020 sales, driven by its sustainable meats and plant-based proteins. 

The CPG co. reported quarterly sales of $1.13 billion, up from $1.02 billion for Q4 2019, as well as net earnings of $25.4 million, compared to $17.5 million for the same period the year prior (an increase of 45.2%).

For full fiscal 2020, the company reported a total increase of 9.2% in sales, driven by what it says is "strong growth in both the meat and plant protein groups."

"We have repositioned our portfolio towards two high-growth categories now representing 20% of our annual sales generating a compounded growth rate in excess of 25% over the last three years," says Michael McCain, the company's president and CEO.

Meat protein group sales – comprised of prepared meats, ready-to-cook and ready-to-serve meals, snack kits, value-added fresh pork and poultry products that are sold to retail, foodservice and industrial channels, and agricultural operations – grew 11.3% for the quarter. 

Meanwhile, sales of plant protein products – refrigerated plant protein brands such as Lightlife and Field Roast, premium grain-based protein, and vegan cheese products sold to retail, foodservice and industrial channels – was up 5.5% over the same period. 

Sales growth for its meat portfolio was driven by "a favourable mix-shift towards sustainable meats and branded products," but also growth in exports to Asian markets, and pricing actions implemented to mitigate inflation and other structural cost increases, according to the company. Strong demand in the retail channel was offset by lower volume in foodservice as a result of COVID-19.

For its plant-based offerings, sales for 2020 were $210.8 million compared to $176.4 million last year, representing a growth of 19.5%, or 18.1% after excluding the impacts of foreign exchange. The segment was driven by expanded distribution of new products, continued volume increases in its existing portfolio, and pricing actions implemented to mitigate inflation and other structural cost increases.

SG&A expenses totalled $144 million for the plant group alone in 2020, with investments focused on advertising, promotion and marketing to build awareness, as well as supporting brand renovation and new product innovation. SG&A for meat proteins were $346.6 million for the full year, and the company says it expects SG&A levels and marketing investment in 2021 to be largely in line with where they were in 2020.

The company, which in 2019 announced it had gone carbon neutral, says it's amplifying this commitment while "focusing on eliminating waste in any resources it consumes, including food, energy, water, packaging, and time."