Labatt employs dry humour
Watch out for those sensitive bullshit meters. If there's one thing that Labatt Breweries of Canada has learned from its efforts to promote responsible drinking to the campus crowd, that's it: If you want smart, skeptical university and college students to...
Watch out for those sensitive bullshit meters. If there's one thing that Labatt Breweries of Canada has learned from its efforts to promote responsible drinking to the campus crowd, that's it: If you want smart, skeptical university and college students to take your message seriously, then you'd better make sure it rings true to them.
Labatt has been preaching moderation on Canadian campuses for more than a decade now, says Sharon McKay, the brewery's director of public affairs. And in developing and refining its message, the company has relied on insights gleaned from ongoing conversations with the target audience.
Indeed, Labatt's current on-campus "responsible use" program – known as "Fresh Heads" – was essentially designed by and for students.
"It's their program," she says "They've developed it. And it's their input, ownership and reaction that determines the program's success."
Fresh Heads is now in its second year. Created with the assistance of Toronto-based agency Axmith McIntyre Wicht, the program employs "dry" events and elected student co-ordinators to spread the moderation message.
This year's effort, for example, will include orientation week comedy shows and mid-term pajama parties at the 12 Canadian post-secondary institutions that take part in the program.
Popular events like comedy nights fit into the campus lifestyle, and help get the point across to students in their own language, rather than in a preachy or parental fashion, says Brian Howlett, partner and associate creative director at Axmith McIntyre Wicht. "We've learned that's the best way to deliver the message."
The program is supported with ongoing awareness advertising. Howlett says the ad campaign is essentially a "guerrilla" effort designed to weave naturally into the fabric of everyday campus life. Stickers are plastered in locations such as pay phones and laundromats, while specially designed tray liners and pillowcases pop up in cafeterias and residence halls. Ads designed to look like handmade "for sale" or "lost and found" notices also appear on bulletin boards.
"The campus is its own little world and I think what we're doing is acknowledging the rules of that world," Howlett says. "The ads have that wonderful unpaid-for feel – it's more street-wise advertising."
The 18-24 target group is quick to tune out slick advertising, he adds. So the "responsible use" creative is meant to look cheaply produced, "as if a bunch of students were doing it."
One bulletin board poster, for example, advertises a room available: "Hardwood floors, lots of lighting, furniture, spacious, etc…. Rent negotiable. Last roommate kicked out of school. No partyers." The only indication that this is, in fact, a corporate message is the presence of the Labatt "Know When to Draw the Line" slogan.
"It's advertising, and we're writing it," Howlett says, "but we're writing it after having heard [students] tell us what they're thinking about. I doubt we could have come up with this stuff without them."
During the conceptual stages of Fresh Heads, Labatt partnered with Toronto-based youth marketing consultancy d-Code, which conducted online research with Canadian students via chat rooms.
Students were later brought in to assist with the development of the program, McKay says – and the brewery continues to consult with them in its efforts to improve Fresh Heads. Campus wellness centres and student unions have also proven invaluable in identifying areas of student concern.
Labatt is now in the process of rolling out a Fresh Heads Web site (www.freshheads.labatt.com). Initially, the site will be purely informational. But with the help of students, McKay says, the brewery hopes to develop it into a "community- and content-oriented destination" for the target audience.
"We'd like to create a sense of community through the program, whereby students can share ideas to get this message out," she says.
Also in this report:
- Those cool Chupa Chicks: Chupa Chups' grassroots efforts to lick Canada has edgy scooter girls taking to the streets and talking up the club crowd p.B2
- Advertising to kids in Quebec no picnic: Know the rules or suffer the consequences p.B10
- Dentyne Ice locks lips with youth target: Has built ongoing campaign on theme of anticipating first kiss p.B14
- Grads more valuable than you know p.B15
Zulu grows its team and makes a slate of promotions
A director of interactive production for Zulubot is among dozens of new faces and roles at the agency, in response to recent wins.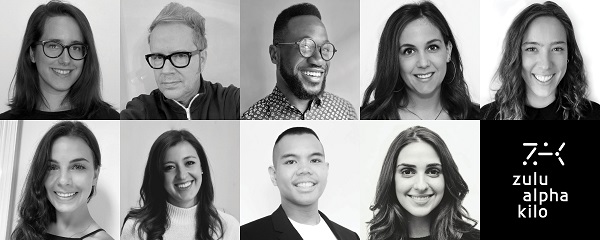 Toronto indie shop Zulu Alpha Kilo had made several new hires and promotions on the heels of new business and also organic growth from existing clients.

Zulu could not officially announce the account wins at this time.

However, it can report that Ece Inan, most recently at Toronto design and tech shop Array of Stars, has been named the agency's new director of interactive production for Zulubot, the agency's production arm. In the new role, Inan will lead AR, VR, voice and other digital innovation projects.

Also on the production side, James Graham, who has spent the last 17 years with Grip, has joined the agency as its studio director.

Zulu has also made numerous additions on the client services side, led by Michael Brathwaite, also from Grip, as account director.

It's also announced a spate of new account supervisors, including Hayley Blackmore (from G Adventures), Risa Kastelic (from BT/A), Kara Oddi (also from BT/A), Emily Anzarouth (also from Grip), Chris Rosario (from FCB/Six) and Sarah Shiff (from Rethink).

In addition to the new hires (pictured above), the agency has also announced several promotions: Alyssa Guttman moves from account director to group account director, while Nina Bhayana, Michelle Fournier, Jenn Gaidola-Sobral and Erin McManus have all been promoted to account director, and Haley Holm to account supervisor. On the strategy team, strategists Carly Miller and Spencer MacEachern have both been promoted to strategy director, while Shaunagh Farrelly, who has been with Zulu for two years in a client service role, moves into a new role as a digital strategist.

In December, the shop also announced that Stephanie Yung would be returning to the agency after a stint in New York as its head of design. Recent wins the agency has been able to announce including work as AOR for the Ottawa Senators, as well as a new arrangement with existing client Consonant Skincare, setting up an in-house team to support growth after taking an equity stake in the company.

Zulu president Mike Sutton says it's wonderful, in a new year, to welcome new faces and energy to the team and says the agency is fortunate to have had so many people across the agency step up to support its clients.

"Simply put, they were rock stars, and the promotions are very well deserved," Sutton says.