Harry gets hip with casual campaign
What will Harry Rosen customers be wearing today?...
What will Harry Rosen customers be wearing today?
Chances are it's not the standard corporate uniform of five or 10 years ago. The workplace environment is changing – and with it, traditional notions of what constitutes business attire.
It's no surprise, then, that Toronto-based Harry Rosen – arguably this country's pre-eminent menswear retailer – has decided to change its own look. Or at least, the look of its consumer advertising.
In March, the company unveiled a $3-million newspaper campaign, its first new effort since the launch of the much-lauded "Whatever Suits You" campaign in 1996. The ads, created by Toronto-based Roche Macaulay & Partners Advertising, take aim at a younger and more contemporary customer, by positioning Harry Rosen as a source for the full range of menswear – not just suits and ties.
(The campaign is also Roche's swan song as AOR for Harry Rosen. In early May, the agency departed to take on the Holt Renfrew and Co. account.)
The "Whatever Suits You" newspaper ads, which depicted famous Canadians sporting their outfits for the day, attracted more attention than any other effort Harry Rosen had undertaken since the 1960s.
Increasingly, however, the upscale retailer has become interested in cultivating younger customers. As company president Larry Rosen notes, some 56% of its customers are now under the age of 40, and 22% are under 30.
"The more mature guy already knows us fairly well," Rosen says. "We wanted to speak in a fun, intelligent way to our younger customer."
With the rise of the new economy, many younger businessmen are dressing much more casually than their counterparts of a generation ago, Rosen adds. Lawyers and MBAs jumping from traditional firms to dot-com businesses are shedding their suits. And the company felt the need to acknowledge that shift.
"We wanted a campaign that was modern and that showed we're current with what's happening," Rosen says.
"What's business wear today would have been defined as 'casual Friday' five years ago," notes
Geoffrey Roche, president and creative director of Roche Macaulay. "Harry has to attract a different audience, not just a suit-and-tie person."
At the same time, the campaign also needed to reinforce the retailer's brand image as a source of expertise on men's attire.
"We're in the business of assisting men develop a confident personal image for any time, any place, any occasion," Rosen says. "We can't help you with your daily life, but what we can do is make sure you're dressed appropriately for any occasion."
The half-page newspaper ads depict businessmen – all clad in designer duds from Harry Rosen – suffering everyday mishaps. A hand-written daytimer entry in the upper left-hand corner of each ad provides ironic counterpoint. The campaign tagline is, "You'll face a number of dilemmas in a day, what to wear shouldn't be one of them."
One execution shows a man on a golf course, just completing a swing. In the distance is another man who has fallen to his hands and knees and is clutching his head in pain, having clearly been beaned with the ball. The daytimer entry reads, "Golf with Boss."
Another portrays a man casting a nonplussed glance at a teenage punkette, who sports a nose ring, tattoos and spiked collar. The caption: "National bring your kids to work day."
A third – clearly done with dot-com executives in mind – shows an executive reacting in horror as a faulty washroom tap splashes his crotch with water, just moments before a big Web site presentation.
While the somewhat edgy humour of the ads may be atypical for an upscale retailer, it's very much part of the Harry Rosen tradition, says Sandra Kennedy, the company's marketing manager.
"We've always been a touch irreverent," she says. "It's part of our brand character."
(One execution may have been a little too irreverent. It featured a man standing on the subway, unaware that the doors have just closed on the leash he's holding, trapping the unfortunate canine on the other side. The daytimer entry read, "Walk Nancy's dog." Some unfavourable press coverage led to the ad being pulled.)
While Harry Rosen has explored various media options, Kennedy says, newspaper remains the most effective vehicle for maintaining the retailer's brand.
The "dilemma" ads have been running in rotation in a number of major dailies – The Globe and Mail, the National Post, La Presse, Les Affaires, the Calgary Herald, The Vancouver Sun, the Winnipeg Free Press and The Gazette in Montreal – as well as on boards at Scotia Plaza in Toronto's business district. The campaign will wrap up in June.
As for the "Whatever Suits You" campaign, its retirement is by no means permanent.
"We haven't abandoned it," Larry Rosen says. "We may use it again in the future. People still refer to it. If we had the right person and the right event, we'd re-inaugurate it in a flash."
Also in this report:
- POP progress slow but sure: With the promise of credible data, point-of-purchase is poised to prove its worth as a medium p.25
- Interactive merchandising on the rise: Just one of several trends apparent at GlobalShop 2000 show in Chicago p.25
- North West Co. nurtures roots: Retailer supports local activities in remote communities throughout the north p.27
- Traditional retailers can thrive in online world p.27
Zulu grows its team and makes a slate of promotions
A director of interactive production for Zulubot is among dozens of new faces and roles at the agency, in response to recent wins.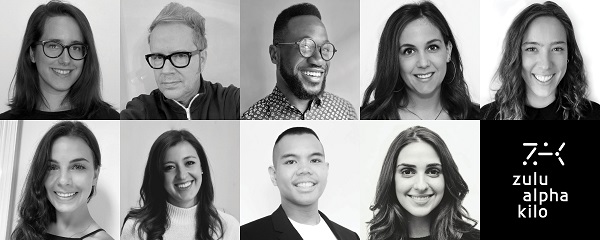 Toronto indie shop Zulu Alpha Kilo had made several new hires and promotions on the heels of new business and also organic growth from existing clients.

Zulu could not officially announce the account wins at this time.

However, it can report that Ece Inan, most recently at Toronto design and tech shop Array of Stars, has been named the agency's new director of interactive production for Zulubot, the agency's production arm. In the new role, Inan will lead AR, VR, voice and other digital innovation projects.

Also on the production side, James Graham, who has spent the last 17 years with Grip, has joined the agency as its studio director.

Zulu has also made numerous additions on the client services side, led by Michael Brathwaite, also from Grip, as account director.

It's also announced a spate of new account supervisors, including Hayley Blackmore (from G Adventures), Risa Kastelic (from BT/A), Kara Oddi (also from BT/A), Emily Anzarouth (also from Grip), Chris Rosario (from FCB/Six) and Sarah Shiff (from Rethink).

In addition to the new hires (pictured above), the agency has also announced several promotions: Alyssa Guttman moves from account director to group account director, while Nina Bhayana, Michelle Fournier, Jenn Gaidola-Sobral and Erin McManus have all been promoted to account director, and Haley Holm to account supervisor. On the strategy team, strategists Carly Miller and Spencer MacEachern have both been promoted to strategy director, while Shaunagh Farrelly, who has been with Zulu for two years in a client service role, moves into a new role as a digital strategist.

In December, the shop also announced that Stephanie Yung would be returning to the agency after a stint in New York as its head of design. Recent wins the agency has been able to announce including work as AOR for the Ottawa Senators, as well as a new arrangement with existing client Consonant Skincare, setting up an in-house team to support growth after taking an equity stake in the company.

Zulu president Mike Sutton says it's wonderful, in a new year, to welcome new faces and energy to the team and says the agency is fortunate to have had so many people across the agency step up to support its clients.

"Simply put, they were rock stars, and the promotions are very well deserved," Sutton says.