Traditional retailers can thrive in online world
The honeymoon's over. So it appears, anyway, for the countless upstart "e-tailers" that have staked out their territory in the dot-com realm over the past several years. Recent studies have warned of an impending shake-out that will see many online retailers...
The honeymoon's over. So it appears, anyway, for the countless upstart "e-tailers" that have staked out their territory in the dot-com realm over the past several years. Recent studies have warned of an impending shake-out that will see many online retailers close their virtual doors for good. And April's technology-stock meltdown on Wall Street didn't exactly bode well for the future of this particular business.
Still, it's not quite a total doomsday scenario. Internet retail still has a promising future, experts say – but its standard-bearers, ironically, may turn out to be established players from the good old-fashioned bricks-and-mortar retail world.
"I think the big hype for the first wave of online e-tailers is over," says Beat Richert, principal of Montreal-based 2B Interactive Communication Marketing.
Web-based retail operations like CDNow may enjoy the advantage of having got there first, he says, but the average consumer is still loyal to traditional retail brands. So those real-world retailers with a foothold in the dot-com realm now should be well-positioned to thrive in the future.
Traditional retailers are going to win on the Web, affirms Roman Bodnarchuk, president and CEO of Toronto-based N5R – but only if they get their act together now.
Even if they're not ready to begin selling product online, Bodnarchuk says, they should be laying the groundwork for e-commerce by building their databases and establishing the means to communicate with customers via e-mail. Some U.S. retailers, he notes, have begun asking shoppers in-store to provide e-mail addresses, with precisely this objective in mind.
The challenge for bricks-and-mortar retailers is to figure out just how to use the Web most effectively, says Doug Keeley, president of Toronto-based ICE Integrated Communications & Entertainment. The secret, he argues, is to offer something of value that gives users a reason to keep coming back.
Transition to the Web can prove a slow and difficult process, says Cara Vogl, marketing manager with Mont Royal, Que.-based Le Chateau, which is currently in the midst of efforts to leverage its well-established brand online. The popular clothing retailer launched its Web site last June, and has recently rolled out a revamped version (www.lechateau.ca).
"You want to catch up to what everyone else is doing – but if you go too quickly, you're putting yourself in a potentially very dangerous position," she says. "So we're taking baby steps."
Rushing to establish an e-commerce capability isn't necessarily the way to go, adds Darrell Heaps, partner with Nkaos, the Toronto-based Web developer responsible for the Le Chateau site.
Rather, he argues, the key to long-term success is to create a rich user experience, through a focus on building "communities" online.
The original Le Chateau site, for example, succeeded in attracting 11,000 users per month, despite the fact that it sold no merchandise. What it did have to offer was a variety of community-building features, including message boards and random mini-surveys designed to provide entertainment value while helping the retailer collect user data.
While not necessarily product-oriented, Heaps says, features like these go a long way toward adding what Web developers call "sticky value" to a site – that is, the ability to attract and hold users.
"The amount of return traffic and brand loyalty that's being built is massive," he says.
The new Le Chateau site will be more product-oriented, to help the retailer begin to ease into e-commerce. Having devoted effort up front to building community, Le Chateau now believes it has a large audience primed and ready to purchase its products online.
"As we get ready to launch e-commerce capability…what we'll be doing is deploying it to a captive audience," says Heaps. "The audience is essentially waiting to be sold to."
Also in this report:
- Harry gets hip with casual campaign: Upscale retailer makes a play for younger, "new economy" business executives p.24
- POP progress slow but sure: With the promise of credible data, point-of-purchase is poised to prove its worth as a medium p.25
- Interactive merchandising on the rise: Just one of several trends apparent at GlobalShop 2000 show in Chicago p.25
- North West Co. nurtures roots: Retailer supports local activities in remote communities throughout the north p.27
Kraft Heinz beats the street, but reports slight sales slide
The company's Q2 net sales, while down slightly, reveal continued demand for snacks and pre-packaged meals.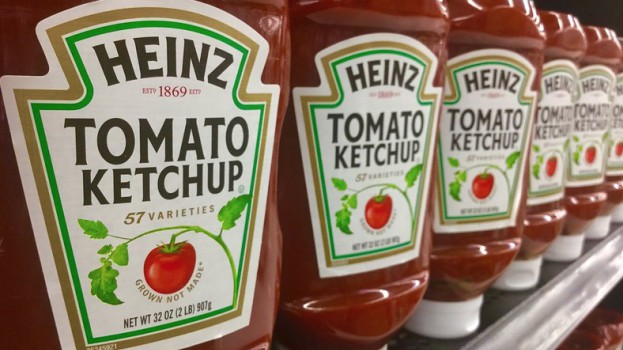 Kraft Heinz is reporting earnings of 78 cents a share, beating Wall Street's estimate of 72 cents a share, thanks to continued demand for snacks and pre-packaged meals. However, the company also reported a net sales decline of 0.5% compared with the same period last year, to $6.6 billion, according to its latest Q2 earnings report, released Tuesday.

The company experienced a favourable 2.3 percentage point impact from currency and a negative 0.7 percentage point impact from its February divestiture of Hormel Foods – including the Planters peanut brand – which closed in the second quarter of 2021.

Its cheese divestiture – which included the sale of its natural cheese division to Lactalis – is expected to close in the second half of 2021, says Kraft Heinz Global CEO Miguel Patricio in this morning's conference call.

Adjusted EBITDA slumped 5.2% versus the year-ago period to $1.7 billion and increased 6.6% versus the comparable 2019 period. Higher transportation and inflation-related goods costs continue to affect the company's bottom line.

Kraft Heinz' organic net sales declined 3.6% in Canada over the last three months compared with a comparable period last year, this as total net sales rose 8.8% year over year. 

However, its overall organic net sales slipped 2.1% compared with 2020 figures. This includes the negative impact stemming from exiting its McCafé licensing agreement. However, this decline was partly offset, Kraft Heinz reports, by "partial recovery in foodservice channels and retail consumption trends."

"Food service is recovering, and recovering fast," Patricio stressed in today's earnings call. He said "the bet to support QSR" early in the pandemic, with individual packets of ketchups and sauces, is paying off.

Channel trends are still normalizing, he warns, and it's too early to see how at home or away from home, will net out. "We have big ambitions for away from home business," he said. Consumers continue to evolve how they eat, with Patricio saying that Kraft Heinz is collaborating with a popular DTC brand for its Philadelphia cream cheese.

Accrued marketing costs, the company reports, rose to $968 million from $946 million in December 2020.

"We are investing more in our brands, and better as well, building a much more creative company," Patricio reported.

Kraft Heinz is also strengthening and diversifying its media presence, he said, driving repeat rates for those discovering and rediscovering the brand. Patricio added that the company is continuing to drive its transformation program forward, modernizing its brands and better connecting with its consumers.