Montreal and Toronto encourage cheating
Tourism Toronto and Tourisme Montreal joined forces to launch a street-level interactive portal between the two cities.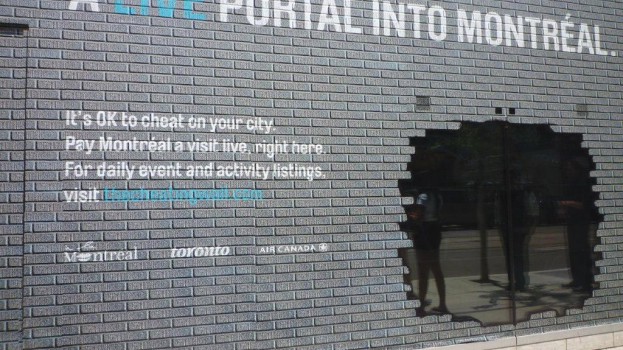 Ever wanted to cheat on your city? Last month, Tourism Toronto and Tourisme Montreal downright encouraged it.
The two cities created The Cheating Wall, a street level Skype-style screen showcasing a live 24/7 feed of the other city. The campaign, which was promoted in local restaurants and bars in both cities, aimed to break down the long storied rivalries between Toronto and Montreal and encourage urban dwellers to visit the other city, says Andrew Weir, VP, communications, Tourism Toronto.
"As much as we have fun with that rivalry we also want to break down the psychological barrier between the two cities," he says. "You can be a true Torontonian and go have some fun in Montreal for the weekend and we won't tear up your Toronto card."
The Toronto Cheating Wall was erected for a week at the TIFF Lightbox on King Street West and the Montreal wall at 350 de Maisonneuve Boulevard, at the corner of Bleury Street.
Each day, Toronto and Montreal citizens could interact and also participate in events like fashion showdowns, joke contests, breakdance-offs and a long distance dinner party.
Creative and media for the screen was handled by the Toronto office of CP+B, with the Toronto office of media agency Smak handling the street-level promotion in Toronto and Montreal, and Monster Media working on the technology side.