Maxwell House brews optimism in Toronto
The coffee brand's latest Optimism Cafe aims to create a positive emotional connection with 35- to 45-year-olds.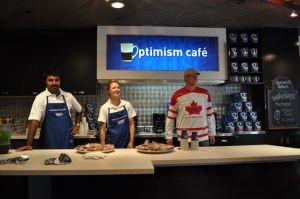 Maxwell House consumers like their coffee cup half full and so the brand decided to give them just that, on the house.

The Kraft brand along with NHL star player, Corey Perry (who served as guest coffee server and speaker), has opened the doors of its second Optimism Café in the Beaches area of Toronto with the promise of free coffee for the month of July. The first of the branded stores was launched in Montreal earlier this year.

The new café provides consumers with a physical place to take a break and reflect on the good things in life, says Rena Nickerson, senior brand manager, Maxwell House.

"Our goal is to enhance the emotional connection to the brand. The coffee category is a very loyal one and Maxwell House has a lot of heritage and trust," she adds. "The consumers are very rooted in the values that matter to them."

Promotional tactics used to promote the café, with creative from Ogilvy and media by MediaVest and , involve print ads in local newspapers as well as out-of-home posters in the Beaches area.

The campaign has been directed at a target audience of 35- to 45-year-old adults with a passion for kindness and their community, says Nickerson.

The opening is an extension of Maxwell House's Brew Some Good campaign, where Canadians are encouraged to take an optimistic moment and post positive video clips and letters to its dedicated website. The campaign (also by MediaVest and Ogilvy) includes TV ads which have aired on major networks across Canada in English and French. Brewsomegood.ca is also home to the campaign's Optimism Tweet Stream with users posting their level of optimism as #halffull or #halfempty.