NOS gives consumers the power
The Coca-Cola energy drink targets young adult males with a choose your own adventure-style movie.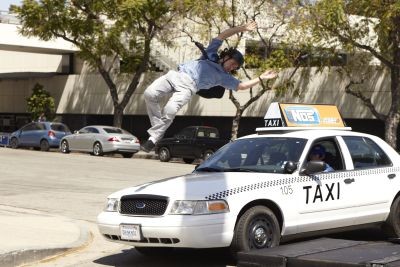 Coca-Cola energy drink NOS is putting a spin on its traditional campaign strategy with the launch of an interactive short film.

The Have a NOS Day interactive short film starts with Nick, a young lad, over-sleeping and darting out the front door, only to face a dilemma: should he jump on his skateboard or take the bus because three pouting and preening young women are apparently waiting to get on board at a nearby bus stop.

But no sooner do we see a head-scratching Nick ponder how to resolve his dilemma than the video screen freezes and splits so the viewer can decide the direction of the film's narrative: skateboarding or hottie carpool.

And so begins a recurring pattern for the interactive short film developed by The Hive, with media by Universal McCann, where the viewer directs what Nick does over a 24-hour period.

What makes Have a NOS Day even more noteworthy is that it was shot by Hollywood director Elliott Lester, whose latest movie is the Jason Statham-starrer Blitz.

David Pullara, senior brand manager strategy and architecture manager, energy, at Coca-Cola, says the campaign targets the brand's core market of 19-to-25 year-old males.

"We thought the idea of putting the NOS drink fans in charge of their own adventure was a great, powerful idea," he says. "We know empowerment is a big deal to our fans, they want to know they are in control."

The interactive video will live on the brand's Faceboook page and be promoted with a YouTube takeover on Aug. 24, as well as through Facebook ads. But Pullara says the brand is relying on consumers to make the video go viral.

The campaign will also feature one-day online coupons for consumers to print off and take into their local Mac's, Couche-Tard, or Circle K convenience stores to get a 650 ml bottle of NOS Energy Drink for 49 cents.

With files from Val Maloney.