Shoppers Drug Mart focuses on beauty
The retailer has launched its first multi-platform campaign centered around its cosmetic products.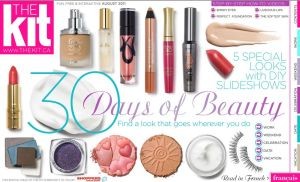 Shoppers Drug Mart has launched the "30 Days of Beauty" event, the retailer's first multi-platform campaign to focus solely on the cosmetic side of its stores, says Sandra Sanderson, VP marketing, Shoppers Drug Mart.

"We did a research study in March which showed Shoppers Drug Mart is associated as much with pharmacy products as it is for beauty," she says. "We thought it was time to put a concerted focus on beauty. This is the third campaign of the year to feature beauty, but the first to focus exclusively on it."

With creative done in-house and media by Toronto-based Jungle Media, the campaign is targeted at females aged 18 to 54, says Sanderson.

The digital component of the campaign includes a one-day ad takeover on Sympatico.ca, a beauty blog featuring content from Shoppers Drug Mart staff and a custom-made edition of TorStar-owned online beauty magazine The Kit. The special edition of the magazine will be distributed to The Kit's list of email subscribers, as well as Shoppers Drug Mart Optimum points members, says Sanderson.

"Using content from our Shoppers Drug Mart beauty advisors on the website leverages their credibility with consumers, as well as allowing for cross-country content," she says. "For instance, it allows for content from beauty advisors in Quebec which will resonate with that audience."

The "30 Days of Beauty" campaign also features print ads running in national newspapers across Canada as well as in female-targeted magazines, like Canadian Living and Elle Canada. Television ads, which showcase Shoppers Drug Mart beauty vendors, promote the campaign's Beauty Gift with Purchase week at the end of the month and the company's Optimum card bonus points, running on specialty networks like HGTV and Showcase Diva. Radio ads, which feature call-outs to various brands throughout the month of promotion, round out the media buy, which runs until Sept. 11.