Toronto Port Authority celebrates centennial with cinema
Land lubbers and boaters alike are being treated to three nights of water-themed films.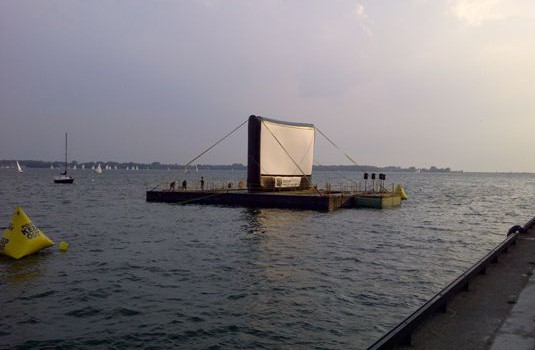 The Toronto Port Authority is celebrating its 100th birthday by putting an aquatic spin on the drive-in theatre. On Friday it launched the Sail-in Cinema, a three-day event offering Torontonians the opportunity to pull up a lawn chair, or boat, to check out some classic water-themed films.

Located on a floating barge just off of Toronto's Sugar Beach, the two-sided 40' x 24' screen, facilitated by Fresh Air Cinema, is the brainchild of Toronto-based Birthplace. The agency was brought on board to help ideate after Suzanna Birchwood, director, communications and public affairs, Toronto Port Authority (TPA), was tasked with devising a way of making the TPA's centennial an "open" celebration. Ultimately, Sail-In Cinema was chosen out of ten ideas. From Aug. 18 to 20 it's featuring free, first-come first-serve water-themed screenings.

"We all agreed that the Sail-In Cinema was the most appropriate of the lot given our goal, which was to raise awareness and have people come down and give them a sense that we too can have fun at the waterfront," says Birchwood. "We wanted to bring people down to a part of the waterfront that they aren't necessarily familiar with. The eastern part is kind of unknown and it's where our traditional home is, in terms of where the port and our marina is."

The TPA kicked off promotions for the event back in May when, after announcing the idea over Facebook and Twitter, they asked people to  suggest water-themed movies to feature, resulting in 400 suggestions. On top of continued social media chatter and media outreach, the event was promoted leveraging sponsorships with the Toronto Star and radio station Q107, all managed by the TPA. Redpath Sugar is serving as a lead partner in the endeavour, with additional sponsors including Pier 27 and Toronto Harbour Tours.

Thursday night featured a screening of 20,000 Leagues Under the Sea with Jaws being the draw on Friday. The Sail-In Cinema will pull anchor only after featuring family-friendly Finding Nemo on Saturday evening. Birchwood says that feedback regarding the event has been extremely positive and the TPA will keep its website up as ideas for a potential repeat next year have been pouring in. Though Birchwood says it's too early at this point to know if the Sail-In Cinema will return to Sugar Beach next year, she admits the idea is something they would certainly consider.