TIFF: Diet Coke launches an 'extraordinary' look
The beverage brand will be using the festival to introduce its new voice to Canadians.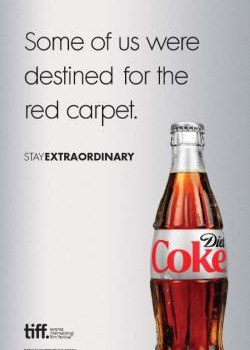 Diet Coke will be showing off its new slogan, "Stay Extraordinary," at the Toronto International Film Festival as it uses the fest as a launch pad for its campaign targeting consumers aged 19 to 24.

The "Stay Extraordinary" campaign will be supported by TV spots, out-of-home signage and a digital component implemented by Toronto-based UM Canada with creative by Zulu Alpha Kilo in Toronto and Publicis in Quebec.

When it comes to promotional efforts, Diet Coke has yet to receive very much attention north of the border, says Mark Ferris, manager of integrated marketing and communications, Coca-Cola Trademark Brands.

"We are in a position where we need to recruit a new generation of drinkers for the brand," says Ferris. "We're really trying to reinvent and refresh the brand to develop a new voice and a new drinker base."

While the new slogan and identity was launched in the US in early 2010, the brand decided to roll out a sophisticated, witty voice in Canada starting this week at TIFF, aiming to reach an audience of film enthusiasts, says Ferris.

"We have learned through working in the US and doing consumer research in Canada that the brand really needs to have wit," he says. "And using an asset like TIFF will help us to re-invigorate Diet Coke."

Ferris says that the brand will be using a strategy it calls "BFF," promoting to consumers through beauty, fashion and film activations.

The beauty and fashion elements were activated in July when Diet Coke partnered with Joe Fresh in the "Beauty Boost" campaign, says Ferris. The month-long campaign involved a branded truck making stops in cities across Canada with ambassadors giving free manicures and makeup touch-ups to consumers.

The TIFF sponsorship will be a part of its film activation with Diet Coke giving out sample bottles of the sugar-free beverage to consumers waiting in line at film venues as well as within press and VIP lounges.

The brand will also hold contests on Twitter in which participants must tweet that they would like to win tickets to TIFF films and gala events. Consumers will be rewarded with 102 Diet Coke TIFF prize packs containing tickets to screenings or tickets to its Exclusive Diet Coke Stay Extraordinary Gala event held on Sept. 12 with performing artist Estelle.