Virgin 95.3 amps up its OOH
The Vancouver radio station is using real-time RSS feed billboards that display song titles exactly when they play.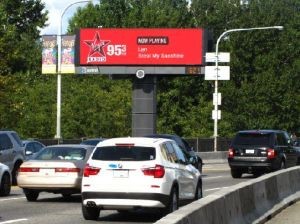 If you drove past a billboard that told you what song is playing on what station at that exact minute, would you be curious enough to tune in and listen?

Vancouver's Virgin 95.3 is banking on it, persuading commuters to change the dial on their car radios with RSS feed billboards that transmit song titles exactly when they play on-air, says Lesley Conway, executive vice-president of sales, Astral.

Virgin 95.3 saw this as the "ultimate" sampling opportunity for the station, she says. "The digital boards allow Virgin 95.3 to interact with listeners and potential listeners by encouraging their tuning behaviors immediately while also being able to reward them with a favourite song."

The billboards are in nine high-traffic areas, and according to Conway this isn't the first time Astral has implemented the real-time digital boards. The mediaco has worked with a number of brands to create billboards that provide immediate interaction with its viewers, she says.

For example, the billboards were used to display hockey game scores during the Stanley Cup, she says. Lucky Penny wine launched a Facebook campaign that allowed consumers to have their good luck messages relayed to their friends and family on the digital billboards. Danone also recently used the technology as an incentive to get consumers to vote for their favourite yogurt flavour and in turn, have their photos displayed on billboards in Toronto, Montreal and Vancouver.

While it is too early to quantify the impact of the radio station's campaign, Conway says that feedback has been positive and Virgin 95.3 is eager to launch additional executions.

"The incredible flexibility of the digital medium used in large format OOH is still in its infancy and it is so exciting. We welcome every challenge our clients bring us," she adds.