Smartset's 'in-between' campaign
The Canadian retailer has launched a multimedia effort targeting women in their late 20s.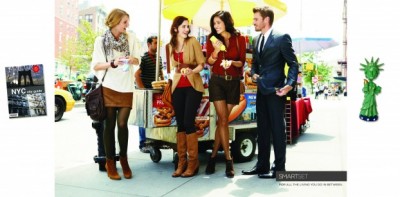 Smartset has reinvented itself to stay in step with the needs of its evolving customer base. The Canadian retailer, which boasts 158 stores across the country, has launched a rebranding effort that's letting fashion-conscious women know it has stylish clothing options for "all the living you do in-between."

Targeted to women in their late 20s, the new positioning was developed with creative from the Montreal and Toronto offices of Bos and media by Media Experts. The campaign includes TV, print, online ads and in-store POS.

The ads tout clothing options that help women celebrate the moments in-between relevant big life occasions, like getting engaged, or moving out on their own. One TV ad, for example, focuses on a woman who's on the path to meeting Mr. Right. Smartset offers her just the right outfit she needs along the way, even though it involves first meeting Mr. Wrong.

"If you look at most fashion advertising it's about the clothes and that's where it stops," says Gary Watson, CD, Bos Toronto. "We figured it was time to turn the camera around and really try and get into the lives of our target and understand what's important to them, the whole idea being to really connect with them on a more emotional basis rather than doing the traditional fashion spread."

Led by the advertising launched this week, Smartset's in-house creative department will be helping Bos's graphic design team roll out the retailer's new look over the next few months.

The rebrand, however, isn't just superficial. Smartset will be revitalizing its merchandise to mix glamour with real life and it will also expand its accessories division to provide a selection that reflects customers' life needs, according to a company release.