Kraft shows What's Cooking online
The food and beverage brand has launched an interactive online recipe book on its YouTube page.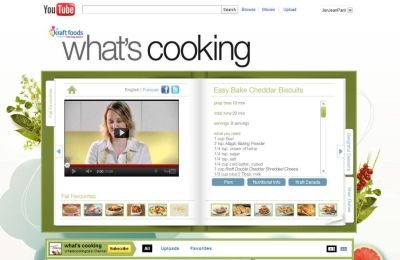 Kraft Canada's What's Cooking magazine is hardly lacking in meal recipes for readers to consider when thinking of what to make in the kitchen.

But Gillian Fripp, director, customer relationship marketing, Kraft Canada, says that the brand is looking to steer away from the one-way conversation of its print content and take on a new direction with its YouTube channel, providing consumers with instructional videos on how to make meals geared toward the different seasons and allowing them to exchange tips and ideas with other viewers.

"With the magazine, we push food solutions out there without a chance for our consumers to comment back," she says. "The channel really gives our consumers an opportunity to comment and create a dialogue."

The What's Cooking online video library that complements its TV show, was launched two weeks ago and is the first of its kind in Canada, says Fripp.

It has garnered over 130,000 page views with a subscriber base of around 300, and to increase those numbers, Kraft is promoting through masthead and pre-roll video ads on YouTube as well as ads on Google, she says. The brand collaborated with MediaVest on the planning and 360i on the creative.

By using YouTube to deliver frequently updated Kraft content, says Fripp that the brand will have more success in reaching its target audience of Canadian home-makers and newbie cooks.

"We are trying to bring together a community of like-minded consumers who have a shared interest," says Fripp. "We want to reach them where they are and when they want with relevant content."

"What is really exciting is that this gives us the opportunity to be available 24 hours [a day]. People are on different schedules and it allows them to find content exactly when they need," she adds.