Canadian Geographic and Shell go on an energy diet
The magazine and petrol company launch an online contest that challenges families to reduce and reuse.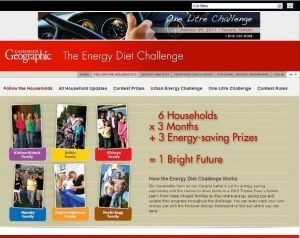 Canadian Geographic and its sponsor partner Shell have enlisted six families across the country to go on a diet that involves cutting down on their household energy intake with the objective of convincing other Canadians to do the same, says Andre Prefontaine, publisher and president, Canadian Geographic.

The Energy Diet Challenge will run for the next three months and will involve the families working to conserve energy in any way possible. Each household will compete to earn points to win a Toyota Prius. They have been asked to blog and submit videos to the contest site showing visitors how they plan to cut down on their carbon footprint.

The site, which received over 7,000 visitors on Monday when it launched, gives Canadians the chance to vote for their favourite family as well as educate themselves on how to become energy literate, says Prefontaine.

"Some of them, just out of curiosity, might use our tools for measuring energy consumption and be engaged with what is on the site," he says.

When asked about Canadian Geographic's partnership with Shell, Prefontaine says that the brands share the same values as they look to foster better energy choices. The petrol company has also sponsored the magazine's Canadian Environmental Awards for the past five years, so it was a natural fit, he says.

Canadian Geographic is geared toward educated and higher income consumers aged 35 to 54 and it plans to promote the challenge to readers through content in the magazine, says Prefontaine.

On top of Canadian Geographic using its own publication to promote  the challenge, it has also inserted 125,000 Energy Diet booklets, created and planned by Calgary-based Strut Creative, within newspapers in Quebec. It will also have ads on both brand websites, and use their social media channels to advertise the contest.

"One of the objectives is to have the families themselves leverage their own networks and bring more people to the website," Prefontaine adds.

The challenge will culminate at the end of December. Prior to the finish date, the participating families will come together to compete in an urban race in Calgary on Oct. 1 and then in Toronto on Oct. 29, where they will battle to see who can travel the longest distance using one litre of gas.