Retail on the couch: tapping into the emotional brain
Fresh Intelligence analyzes the emotional state of Canada's retail landscape to diagnose the shopper psyche within major grocery brands.
By Corrine Sandler
Fun-seekers go where the fun is. And, apparently, they flock to Food Basics. A recent survey* of shoppers at four leading Canadian grocery chains – which also included No Frills, Real Canadian Superstore and Walmart – reveals that Food Basics customers are by far the most playful, while their No Frills counterparts are a significantly more serious crowd.
It all has to do with consumers' "emotional" brains. Every shopper's distinct emotional spectrum is active at each step along the path to purchase. And only by tapping into their emotional wiring can retailers and manufacturers effectively influence their purchase behavior.
The store experience, the product mix, the category being shopped and in-store stimuli all play a part in determining the emotional command system being activated – and within the same channel and same demo, different emotional blueprints emerge by store, by banner.
Of the four grocery chains studied, each has a distinct emotional blueprint. As illustrated below, Walmart customers are both assertive (a high "fighter" instinct) and cautious – their "on guard" instincts (correlating to fear and the flight to safety) are also high. RCS customers are their polar opposites, neither aggressors nor worriers.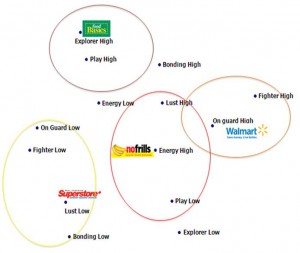 Food Basics customers crave entertainment and welcome new experiences, while No Frills customers are far more businesslike in their approach to shopping and more efficient, yet more easily tempted.
Each grocery chain would benefit by playing to their customers' emotional hot (or cold) points; by, for instance, upping the play quotient in Food Basics stores with plenty of experiential activity; or by downplaying such activity at No Frills.
But there is additional opportunity around the untapped emotional cues. For example, consumers with high bonding instincts – those for whom nurturing and familial comfort are major priorities – currently fall outside any of the four chains' spheres of emotional influence. By creating an atmosphere – via advertising, in-store experiences and product assortment – that emphasizes family, friends and a sense of inclusion, these same shoppers could easily be brought into the fold.
Nor is the paradigm exclusive to the grocery sector. The same emotional principles and patterns can be applied across any sector, and every retailer that learns to create and implement marketing strategies based on authentic emotional connections will be rewarded with higher customer loyalty and increased short- and long-term revenue.
Corrine Sandler is the founder and CEO of Fresh Intelligence Research Corp., focused on uncovering insights through unique quantitative and qualitative market research approaches. www.freshintelligence.com, info@freshintelligence.com
*The study was conducted in April 2011 through an online survey using a proprietary methodology of loyal shoppers (n=1,000) in 14 grocery chains in Canada.