AToMiC Brand Integration
Coca-Cola sings its way to gold with "Coca-Cola Covers." Danone takes silver and Doritos gets bronze.
GOLD: Coca-Cola has teens covered
Coca-Cola needed to reconnect with youth 12 to 19. It needed to make a connection and move the needle on brand love.
To leverage the powerful role that music plays in teen life, Coke partnered with the MuchMusic Video Awards (MMVAs) to create "Coca-Cola Covers," giving teens a shot at fame. The campaign challenged fame-seekers to videotape their own renditions of popular songs and post them online at Covers.muchmusic.com, while also pushing them out through their own social media feeds. The website was filled with user-generated content and allowed fans to vote on their favourite "Covers."
After 10 weeks, votes were tallied, deciding the fate of 10 semi-finalists. Over the next five weeks they were challenged to cover new songs and leverage their social media prowess to win more votes and views. Three finalists rose to the top, earning live performances on New.Music.Live and press features, while creating even more original videos.
On June 19, the finalists arrived at the 2011 MMVAs where Danyka Nadeau was given the first Coca-Cola Covers Award.
Covers created a compelling connection with teens, with 1,200 videos uploaded and almost 52 hours of total content created – triple the estimates. The website generated over 330,000 visitors and two million page views. Over two million impressions were delivered across social media platforms.
Key equity indicators increased amongst teens, with brand love scores ("For someone like me") increasing by +8.1% vs YAG. Also, media impressions reached over six million for the campaign.
Credits:
Client: Coca-Cola Canada
Agency: UM
Senior Media Manager, Integrated Marketing: Karen Lee
Creative Director: Trevor Bozyk
Connection Planning Supervisor: Sam Galanis
Manager, Broadcast Investments: Cheryl Luciani
EVP, managing director:  Shelley Smit
Creative Strategy & Execution Manager, Coca-Cola: Rani Chatoorgoon
Associate Manager, Integrated Marketing Communications, Coca-Cola: Jenn McFarlane
Marketing Director – Coca-Cola: Michael Samoszewski
Director, Brand Partnerships, MuchMusic: Chad Beamish
Coordinator, Brand Partnerships, MuchMusic: Melissa McClelland
Director, Brand Partnerships, MuchMusic: Dave Caporicci
Communications Manager, Coca-Cola: Teresa Pavlin
SILVER: Danone 'coolides' with Splatalot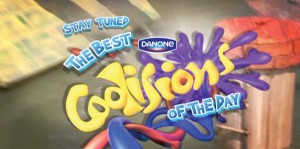 When Danone wanted to reach tweens, it saw a connection between its Coolision yogurt and the demo for Splatalot, a show on Corus's YTV that's a children's spin on Wipeout.
Due to kids TV regulations, the advertiser was unable to utilize traditional product placement, so it had to be inventive.
The integration begins in the opening sequence and is carried through in the form of a bumper and the "Best Coolision of the Day," a look back at the best splats and falls from the episode.
The cool quotient of the show was leveraged through billboards, tune-in spots and a contest for the chance to be a contestant.
Facebook and Twitter updates kept fans engaged, and there was a masthead presence throughout the show site, as well as a Castle Coolision-themed game, a microsite and exclusive videos.
Splatalot was a Top 20 show for the broadcaster and Danone kids volume was up 25% over last year.
Credits:
Client: Danone
Company: Corus Entertainment
Media agency: MPG
Executive Producers: Mark J.W. Bishop, Ted Brunt , Matthew Hornburg
Producer: Julie Dutrisac
Creative Director: Johnny Kalangis
Designer: Allen Martin
Post Production Supervisor: Ajeeth Parkal
Technical Lead: Martin Sieg
Series Producer: Steve Sloan
Supervising Producer: Stephen Turnbull
Media Manager: Elizabeth Brennan
Media Planner: Laura Ritchie
Director of Integration: Robert Armour
Vice Presidents, Original Programming: Vibika Bianchi, Jocelyn Hamilton
Director of Production: Sadia Butt
Online Production Manager: Tracy Christopher
Online Quality Assurance: Andrew Durnford
Director, Client Marketing: Frank Duyvelshoff
Online Creative Director: Noel Ilavsky
Online Project Manager: Odona Jong
Jr. Production Manager: Seema Kapadia
Account Executive: Colleen Kennedy
Project Manager: Ania Krysa
Flash Producer: Calvin Marr
Broadcast Creative Director: James Marshall
Account Executive: Kathy Mauchner
Producer: Alex Molenaar
Director of Interactive: Caitlin O'Donovan
Production Manager: Fay Philavanh
Animator: Noi Sackda
Web Producer: Lianne Stewart
Account Manager: Tania Taylor-Trainor
Copywriter: Adam Wenn
Production Executive, Original Programming: Leah Wolfson
BRONZE: Doritos writes the end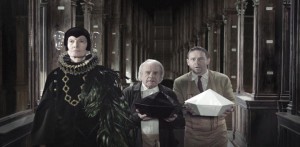 To appeal to its young target, Doritos gave consumers ultimate control of the brand by asking them to choose one of two new flavours: Onion Rings n' Ketchup or Buffalo Wings n' Ranch.
A TV spot introduced the flavours during the Super Bowl, but the last 20 seconds was left to be written. Over six weeks, people could visit Writetheend.ca where more than 30,000 endings to the spot were written.
A panel of judges picked the winner out of 14 peer-chosen finalists.  On May 5, the  finished spot and winner were revealed on MuchMusic and MusiquePlus. Mélanie Normandin won $25,000 and + 1% of all future Onion Rings n' Ketchup sales.

Credits:

Agency: BBDO Toronto

Client: Frito Lay Canada

Client: Andrew Sutherland

Product: Doritos

SVP, Executive Creative Director: Carlos Moreno/Peter Ignazi

Writer/ACD: Ryan Spelliscy

Art Director/ACD: Karen Larmour

Account Team: Tim Welsh, Brent Dunn

Agency Producer: Terry Kavanagh

Production Company:  Somesuch & Co.

Production Co. Producer: Rachel Dargavel

Director: Nick Gordon

Cinematographer: Edu Grau

Editor & Editing House: David Baxter, Panic & Bob

Music: Oli Julian, Soundtree Music

Sound Design: The Eggplant

Post Production/Type Design: Julia Deakin, Crush Inc.

TV & Integrated Entries:

Writer: Melanie Normandin

Website:

3D Illustrator: Steve McArdle

Web Designer: Nick Bujnak

Interactive ACD: Jeff Vermeersch

Jump to: