GOLD: James Ready brings fun to discount
Also won: Gold AToMiC ROI
James Ready competes in Ontario's discount beer segment, which accounts for 40% of total beer sales, but is incredibly fragmented with over 35 brands.
The brand has had to fight for every possible share point since it launched four years ago. In 2010, it wasn't getting any easier. The big players were getting bigger and tastes were changing, with spirits gaining ground. And just when the brand was achieving traction on its tiny budget, legislative changes affected the price of beer and one of the brand's key claims.
And yet, James Ready's share, sales volume and shipments continued to flourish this year.
Although younger drinkers (19 to 24) love the taste of premium beers, these beers are too expensive to be their volume brands. Discount beers, by contrast, have the price young drinkers want, but not the fun that they thirst for in their main brand. JR's opportunity was to address this unmet need for a fun, social brand and engage its drinkers in a way that was uncommon in the category.
JR asked fans to participate and actively co-create with them. Every beer drinker who helped keep costs down would in turn become a zealot for the brand, helping drive engagement and, of course, volume.
One request was to help a young couple get married, so the brand decided to throw them a James Ready wedding. JR assumed the role of wedding planner, florist and even caterer. They designed everything from the centrepieces to the groom's cufflinks to the DJ's set list. And on May 1 over 100 cheerful and beer-chugging guests enjoyed the bliss of wedlock, and a bar stocked with ice cold JR.
Next, JR bought billboards in selected towns in the parking lots of Beer Stores. They offered free haircuts and free portraits right under the billboards so people could save money and buy James Ready beer.
As part of an in-case promotion, JR gave away a calendar found inside each 2-4. Drinkers had to collect all 369 unique beer caps that went with each day and stick them on the calendar. Fans loved sharing their completed and semi-completed calendars on Facebook, even trading doubles for their missing days.
The agency then created the first ever mobile pop-up billboard that went to places that JR drinkers frequent, and offered deals on things they need. JR's Facebook page let people know the exact location of each billboard and details about the limited-time discounts.
After a printing screw-up left millions of JR beer caps blank, fans asked "WTF?" To make amends, JR launched the Blank Cap Recall. Any drinker who received a blank cap could mail it back to JR and in return it would give them something from the brewery as compensation, like a tiny plastic dinosaur. Thousands of drinkers participated, and JR's irreverent response helped cement their love of the brand.
Against 2009 as a base, JR's sales in hectolitres grew 29.2% by the beginning of 2011. JR's market share grew from 1.04% in 2009 to 1.39% by the beginning of 2011, translating into a 25.2% increase over that period. That share level equates to more than $30 million in sales annually.
Finally, JR succeeded in taking share from the leading brands in the discount segment, Carling and Lakeport. From 2008 to 2011, while JR share increased by 47%, Carling market share fell by -14% and Lakeport share fell by -22%.
JR has received thousands of fans' stories, pictures and videos. When a person loves a brand so much they get it tattooed on their body, they're doing something right.
Credits:
Client: James Ready
Agency: Leo Burnett
Chief Creative Officer: Judy John
Creative Directors: Judy John, Lisa Greenberg
Copywriters: Steve Persico, Sean Barlow
Art Directors: Anthony Chelvanathan, Paul Giannetta
Group Creative Directors: Paul Giannetta, Sean Barlow
Illustrators: Josh Rachlis, Kimberley Pereira
Account Exec: Jordan Lane
Account Directors: Natasha Dagenais
Group Account Director: David Buckspan
Producer:  Franca Piacente
Agency Producer (radio only):  Melanie Palmer
Print Producers: Gladys Bachand, David Eades
Editor: David Nakata
GOLD: Worldwide Short Film Festival's viral direction
Also won: Silver Best Broadcast Engagement
The Canadian Film Centre (CFC) needed to create buzz around its Worldwide Short Film Festival (WSFF) that would ultimately translate to ticket sales.
These days it's easy for anyone to record something and post it online for the world to see. The biggest challenge was convincing an audience who can easily watch short videos at home for free, to pay to watch short films at the Worldwide Short Film Festival.
Since audiences are spending more time watching videos online than in theatres, Doug & Serge decided to demonstrate the difference between the two: quality. That led to the concept that anyone can upload but few can direct.
Three short film directors were asked to re-imagine the most popular online amateur video to ever go viral, "Charlie Bit My Finger," with over 300 million views worldwide, using three film genres. Real movie posters were created and posted throughout Toronto directing people to a page within the WSFF website where they could watch the original Charlie video and the three short film remakes.
On the first day of the campaign, YouTube's view counter literally froze as total views reached 50,000 in just under an hour. Views rose to over 100,000 by day three and over 200,000 after the first week. After three weeks, total views rose to over half a million.
The short film remakes popped up on video blogs, in Twitter feeds and in nearly every major publication in Canada. Over 200 different websites featured the videos, including Mashable, IMDB and Reddit.
At a time when festivals, operas and theatres are experiencing a steady decline, the WSFF total box office revenue was up 10% from last year and attendance went up 28%. Visits to the website rose 60% and total YouTube hits reached 847,000 in just under a month, a 945% increase from last year. With nearly one million views and increased festival attendance, it was clear consumers agreed that anyone can upload, but few can direct.
Credits:
Client: The Canadian Film Centre
Agency: Doug & Serge
Chief Creative Officer: Doug Robinson
Creative Director: Ian Schwey
Senior Art Director: Mike Jones
Copywriter: Cameron Hudson
Account Manager: Karelle Steiner
Account Manager: Tom Stephenson
Canadian Film Centre:
Dir. Marketing & Communications: Barry Patterson
Marketing & Communications Coordinator: Jane Chisholm
BRONZE: Subaru's lively launch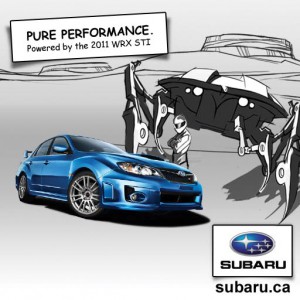 The objective was to introduce the all-new 2011 Subaru
WRX-STI and re-establish it as a "true-performance" car, as well as increase sales by +25% after 12 months of flat sales.
The biggest challenge was to launch a performance car under strict ASC guidelines that didn't allow the demonstration of performance – no speeding, no drifting, no jumping – in other words, no fun.
Using film as the driving force, DDB created a real, living flipbook commercial that comes alive only when the WRX-STI passes it, using no post or CGI.
In addition to paid and social media, a multi-angle video shoot at an off-road rally race created a series of YouTube videos allowing the viewer to change the camera angle in real-time, giving them control over the action.
Views for "Pure Performance" content online have surpassed 750,000 and the campaign crushed all sales expectations. Sales more than doubled during the campaign period to 449 cars (+126% vs. the previous year).
Credits:
Client: Subaru Canada
Agency: DDB Canada
CDs: Andrew Simon, Todd Mackie, Denise Rosseto
ACD/art direction: Paul Wallace
Art Director: Yusong Zhang
Copywriter: Daniel Bonder
Senior VP, Business Unit Director: Michael Davidson
Account Supervisor: Peter Brough
Account Executive: Sarah Thornley
Account Executive: Julia Morris
Community Cultivation: Parker Mason
French Account Manager: Tanya Foulem
SVP Director of Strategic Planning: Tony Johnstone
Managing Director Digital and Social: Andrew McCartney
Creative Technologist: Barry Lachapelle
Director of Broadcast Production: Andrew Schulze
Digital Producer: Cathy Kim
Director of Print Production: Rose-Ella Morrison
Studio Artists: AdRules
VP Product Planning & Marketing, Subaru: Ted Lalka
Director Marketing, Subaru: Geoff Craig
Other winners in AToMiC Idea Category:
Gold for John St. – Stanfield's Guy at Home in his Underwear
Bronze for Saatchi & Saatchi – @Random Documentary Project for Tourette Syndrome

Jump to: