Sahara Blog: Day 4
The NABS team finds a sense of community on their fourth day racing in the desert.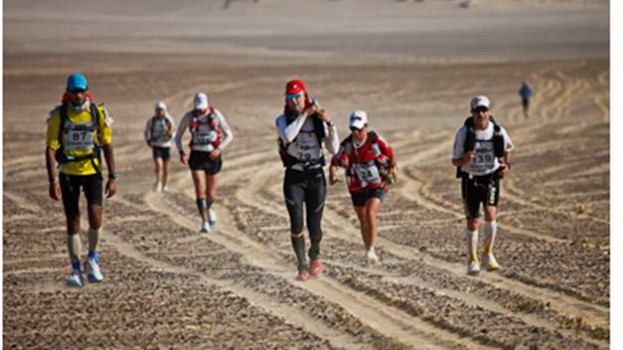 Mandrake CEO Stefan Danis is racing across the Sahara with a team of eight Toronto marcom executives to raise money for NABS. Follow his progress as he blogs about the experience…

Day 4

All our NABS tent mates are in. It looks like the feeling of community has hardened and everyone looks after the other. A few are clapping when one finishes, others carrying their bag to the tent with their new supply of water. It is a little village and they are bonded for life. Some are running together, like Gav and Alison, and others go with another participant of their speed level, or solo. They are all here for their own reasons and will leave with new insights. Anne-Marie returned to the race today and finished triumphantly. Colin is getting healthier and intends to run tomorrow. He and Mariska greeted us at the finish line and it is an incredible moment when you have a friend hug you. Gavin has turned out to be the strongest desert runner of the group and he also can claim the best toes. Pat and David are hurting (David got worst toe award) and they will summon their experience having led companies to get this one done. Mariska is day to day with an infected toe – but her will is to do it. Alison was in sick bay tonight, dehydrated, and is now day to day. We walked back to the tent and she was her usual enthusiastic self. She is the most experienced and perseverant runner of the group, and if she can have a good night sleep, she will likely take the start. Sandy is sick but finishing every day with a 1,000-watt smile. Right now, they are all thinking about how impossible it is to run 80 km+.

As Mehmet has told me, if you are still in the race, no one quits on the long day. You've come this far; all participants want that $2 medal…

Mehmet wasn't in his usual position when we finished, banging the bongo. He was sleeping. Can you believe it? I guess when you go through the desert twice as fast as others, a little cat nap can be excused. It is awesome to tent and run with him, that is for the first km until he disappears. Louie is having a wonderful race; he stands seven minutes ahead of us overall.

As a team, we had a great outing today. We stayed with the Italians for the first 10k and then they disappeared. We basically never saw them again. Without that visual contact, it becomes more challenging to push – without that navigational compass you can feel lost – but somehow we managed to be beaten by only 15 minutes or so. We were thrilled with our effort. Ernie was strong and likes to lead, and Sophie wins the courage award as she had nausea all day and somehow, she buried it somewhere in the desert until we crossed the finish line. I just finished giving her Reiki to heal away her troubles. She is one tough girl. For me, oddly, I think the altitude training is paying benefits as it has been easy thus far, easiest yet anyway. Odd to say but the desert agrees with me despite the drilled toenail and eight blisters. I don't even know they are there, yet if you saw any of our feet you wouldn't believe we can actually run. Mehmet explained, "sensory receptors scan for acute and dull pain and dull takes over." I guess this explains why the pain goes away – nice to have a Dr. in the tent.

We have worked very hard, every minute of the race, to put ourselves in striking position and that day, the long day, has now arrived. Today, until we lost the leaders, their captain was constantly looking back to assess our progress; nice badge of honor to have the 5th ranked ultra-marathoner in the world (see his website) think we are a threat. I sense that strategy may succeed but 12 hours of looking over their shoulders might be tough on their team as I learnt personally in the Gobi as I spent too much time playing defense versus doing my own race. We huddled and have agreed to make small adjustments to leverage our preferences but we will run our own race with a strong finish and let the chips fall where they may. Given the three of us have won as part of a team before, we know what to expect. That is our advantage – we are confident! Either way, it will have been an amazing experience. We are running through the Valley of the Whales which will provide exquisite views.

Now it is all about not getting sick – sanitary conditions have deteriorated with 25 with a virus. We need to be able to fight for about 12-14 more hours before a few photo ops at the pyramids of Giza. No blogging on Day 6. Speak soon.

Thanks for all the kind words.

Carpe diem

Stefan

Read more about Danis' journey on his blog at 4deserts.com, and learn more about the cause or donate at Running4NABS.com.