Mobile deal-making heats up
Brands like Bombardier are testing new geo-targeted deal aggregators, as more options and models launch in Canada.
Shopper marketing is going mobile. Geo-locating technologies are increasingly being implemented, with brands sending deals to customers on their smartphones when they're out and about.
Toronto-based mobile marketing company Mobile Fringe launched Push a Deal in September, a service available in Toronto, Vancouver and Montreal that targets consumers who cross a 500-metre "geo-fence." People who opt in by downloading the app to their iPhone, iPad, BlackBerry or Android phone will automatically receive a push text enabling deals or discounts when in proximity to a participating store. Users can also check deals close to their location offered by other services aggregated by Mobile Fringe, including LivingSocial and Groupon. The service will be rolling out in other Canadian cities over the next year.
This video presents a more detailed explanation:
"People are getting quite a few different emails and forms of deals right now," says Mike Egan, business development manager, Push a Deal. "[Push a Deal] gives them a more convenient way to receive deals when they're actually close to a location. You will only ever get a deal sent to you via text message or email – it's your choice – when you actually get close to one of those deals."
So far Push a Deal, which has amassed just over 5,000 sign-ups, has Bombardier as a trial partner and has been speaking to others about trial including the Toronto Rock lacrosse team, Moxie's, Harvey's and Pumpernickel's.
Bombardier is using Push a Deal to locally augment a current national campaign, promoting seasonal products like ATVs and skidoos, offering things like accessories and clothing with purchases, though deals can vary based on the retail location to include things like free service, or discounts on vehicles.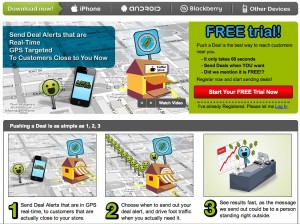 The allure, says Scott MacWilliam, district sales manager, Bombardier, is not just Push a Deal's pricing model (it asks for 25% of the deal the advertiser is offering as opposed demanding large cash discounts on potentially premium products), but also the convenience it provides customers.

"That's pretty innovative from a consumer standpoint," says MacWilliam. "From a manufacturer standpoint, or marketer standpoint, it's great that you can tailor different offers depending on where people are right on the fly."

Another Canadian company, Toronto-based mobility provider Unified Mobility, is also getting into the location-based shopping game through a partnership with Boston-based in-store mobile commerce solutions provider AisleBuyer. Since the beginning of October, Unified Mobility has been licensed to market and sell AisleBuyer's mobile commerce platform and applications to Canadian retailers. It will allow them to not only send push notifications pertaining to potential deals based on geo-fencing tech, just like Push A Deal, but also enhance the shopping experience in-store.  Since it launched in August in the US, AisleBuyer has been working with beta partner Magic Beans, a Boston-based baby retailer partner, and uses a transaction-based cost model with its partners. It is set to announce its first blue-chip retail partner this month.

Available for iPhone, Android, Blackberry and tablet devices, the apps, all powered by the AisleBuyer engine, are tailored to specific retailers. The AisleBuyer mShop mobile self-checkout app allows shoppers to scan barcodes to access product info (even in competitor locations), get coupons and checkout without having to wait to pay the cashier. AisleBuyer's mDine app enables people to place orders and pay in real-time from their mobile devices.

The benefit to retailers is the data they can collect, which allows them to tailor customer shopping experiences based on  buying habits. Unified Mobility, like AisleBuyer in the US, is using a transaction-based cost model, but has also incorporated a second option, a software-as-service model of payment.

Established Canadian digital deal aggregator WagJag is another example of a company that's entrenched itself in the space with an iPhone app it launched in August. WagJag Express gives users access to deals in their immediate vicinity. All they have to do is open it on their phone to check out what's nearby. The service differs from the company's traditional deal-by-committee offering as the deals offered through WagJag Express must be bought and used right away. It's partnered with many small retailers, QSRs, restaurants and salons across the country.

This video from Media in Canada features Candice Faktor, head of new ventures, WagJag, explaining more about WagJag Express:

What marketers must keep in mind if it's to truly work, says digital sage Jason Chaney, VP, strategy, Tribal DDB, is the need to understand the consumer's individual needs and immediate context.

"Many deal sites are failing at delivering the right message at the right time to the right audience," says Chaney. "Trading relevance for reach only serves to irritate the disinterested and decrease the perceived value of both the offer and the brand, setting the tone for future relationships. We need to value understanding fewer consumers over knowing how to reach a ton of people with the same message and offer, in order to create services that deliver on the ability to combine location, relationship history and context."