David Suzuki Foundation warns Canadians
The environmental organization puts a speed limit on global warming with a stunt on the streets of Vancouver.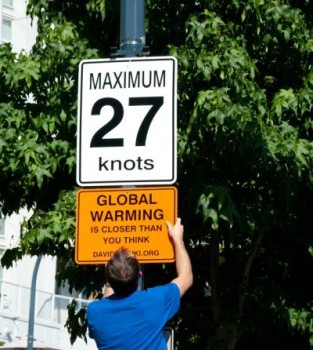 "Global warming is closer than you think."
So says the David Suzuki Foundation in a recent guerilla campaign that featured road signs with the speed limit in knots (the measurement used at sea) and placed on street poles in areas of Vancouver.
The foundation, with Vancouver-based Spring Advertising, created the trial marketing stunt in an effort to conceptualize the effects of global warming on the West Coast as ocean levels continue to rise, says Eli van der Giessen, creative services lead, David Suzuki Foundation.
"The stunt was an experiment to see how people would react as we prepare for our upcoming campaign in the fall," he adds.
According to Ben Hudson, copywriter at Spring Advertising, the stunt is also an extension of the foundation's "Tideline Project," which was executed around the same time last year and involved the placement of barnacles and muscles on street poles.
"A lot of global warming campaigns tend to be found in avenues where you are preaching to the already converted," says Hudson. "We wanted to do it in a way that was really subtle, instead of screaming at people about the issue."
Viewers were also directed to the foundation's website to find out more through a QR code placed on an accompanying sign that cautioned them about global warning.