Sport Chek rebuilds from the ground up
The Forzani retailer launches a new OOH campaign and reveals details about its rebranding plans.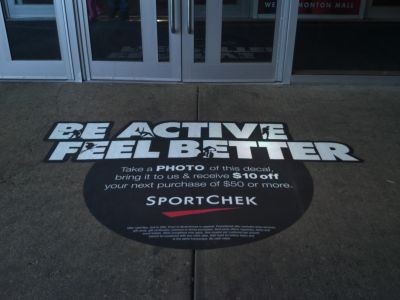 Sport Chek is stepping on new ground (pun intended) with an OOH campaign that has media agency Made You Look Ads placing promotional decals on floors of mall entrances in Ontario and Alberta.
Shoppers will be granted a $10 discount off their next $50 purchase at a Sport Chek store when they take a photograph of the signage.
Bryan Albert, director of business development at Made You Look Ads, says that the traffic-driving execution takes place in an area that is uncluttered and unused by other brands and helps to create awareness of the landlocked store in the mall.
"You aren't necessarily aware of every store in the mall," says Albert. "So, this helps to make the brand stand out and get [shoppers] into their stores."
Earlier this year, Sport Chek (and other brands in the Forzani Group such as Nevada Bob's Golf and Sport Mart) were acquired by Canadian Tire and yesterday the corporation announced that the sports retailer will undergo a rebranding.
Sid Lee has been listed as the agency in charge of the transformation that Duncan Fulton, CMO, Canadian Tire, says will take effect next year.
Fulton says that while the brand has had a successful sales and growth history, the marketing strategy was not exactly up to par.
"We have a great transactional relationship with our customers but they don't have an overwhelming emotional connection to us," he says. "Looking at the brand today, there are a lot of different messages and the creative doesn't all hang together like it should. They don't all tell the same story."
The end-goal is to have a brand that can relate to the complex and diverse audience that the sports and athletics industry appeals to, says Fulton, adding that Sport Chek must cater to interlocking customers in the adventure, outdoor, family and personal fitness categories.
He says to expect to see a heavier push on digital, as the brand will invest in its online presence and explore new avenues. Which makes sense given that over 75% of the brand's customers are under the age of 45, he adds.
Previously, the brand relied on print, TV and flyers to market its products. Albert infers that the brand's willingness to look at new marketing opportunities, while going through a transition of ownership, is in line with the floor execution his agency has been enlisted to do.